Us Weekly: Justin Timberlake cheated on Jessica Biel with Olivia Munn (update)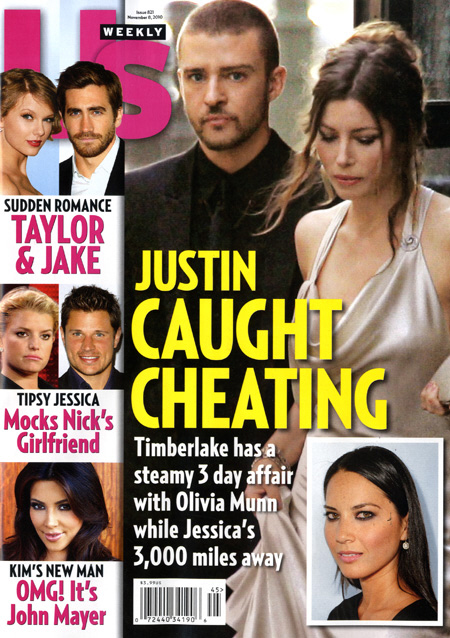 I just can't wait for Us Weekly to release any online excerpts of their cover story. This is too juicy, too interesting. Okay, Us Weekly's cover story this week is all about Justin Timberlake cheating on Jessica Biel… with Olivia Munn. The Olivia Munn who is dumb and unfunny and some kind of female affirmative action hire on The Daily Show. The one who thinks she's clever because she takes off her clothes and makes fart jokes. ZOMG Jenny McCarthy!
The cover line says "Timberlake has a steamy 3 day affair with Olivia Munn while Jessica's 3,000 miles away". I'm going to go out on a limb and say that Us Weekly might have this story nailed down if they're calling JT out so hard on their cover. They must have more than just some eyewitness testimony – they might have receipts or something. Plus, I think Us Weekly has some sources deep within the Timberlake camp – it was Us Weekly who went after JT and Jessica Biel's relationship last year, and basically said that JT was trying to dump Biel, but that she was clinging to him. Hard. We'll see. I'll update or add a new story when it comes online. Oh, there is this, from Hollywood Life:
Is their trouble in paradise? Things may looks good between JT and live-in-love Jessica, but the singer spent one weekend last month hot and heavy with Olivia!

Justin Timberlake and Jessica Biel may have looked so in love Oct. 25 at the Glamour Reel Moments event in LA, but the singer was definitely not thinking about Jess last month while hanging with actress Olivia Munn in NYC! US Weekly reports, "Munn, 30, and Timberlake, 29, [had] a passionate sexual liason … and worse, she believed it was more than physical!" Uh-oh!

The sparks between Olivia and Justin began to fly on Sep. 26, when Olivia interviewed Justin for his new film, The Social Network. Then, on Sep. 27 and 28, "his driver dropped the new pair off at her hotel, the Gansevoort Park Avenue NYC."

Sources say the pair were openly affectionate on Sep. 27 while sitting at a back table at Avenue nightclub. "At one point, Olivia did a seductive little dance with Justin," one said. "Then, while he was dancing, she came up behind him and he held her hand behind his back."

Olivia has been linked to actors including Chris Pine and Bryan Greenberg while Justin famously dated Cameron Diaz and Britney Spears. Justin and Olivia have not been spotted together since their steamy weekend rendezvous, but this is certain to not sit well with Jessica!
[From Hollywood Life]
Okay, it sounds like eyewitness testimony plus a source in Team Munn. This should show you how dumb Munn is – she has a fling with JT?!? What is she, a backup dancer?
UPDATE: Okay, Us Weekly just released an excerpt online. Basically, they say that JT "chased" Olivia after meeting her in late September, and that Olivia initally resisted because she didn't want to fool around with a dude with a girlfriend. But, she relented because JT has been telling her (and other people) that "it's over with Jessica, even though 'the reality is he's just doing it behind her back.'" Olivia thought that JT might get serious about her, then, so she brought him back to her hotel where sources say "they were openly affectionate." Then an insider tells the mag that JT and Olivia had "amazing sex that night." Us Weekly also notes that "Timberlake's rep strongly denies the allegations; Munn's rep does not comment on her personal life."
Posted in
Jessica Biel
,
Justin Timberlake
,
Olivia Munn