Miley Cyrus voted worst celebrity influence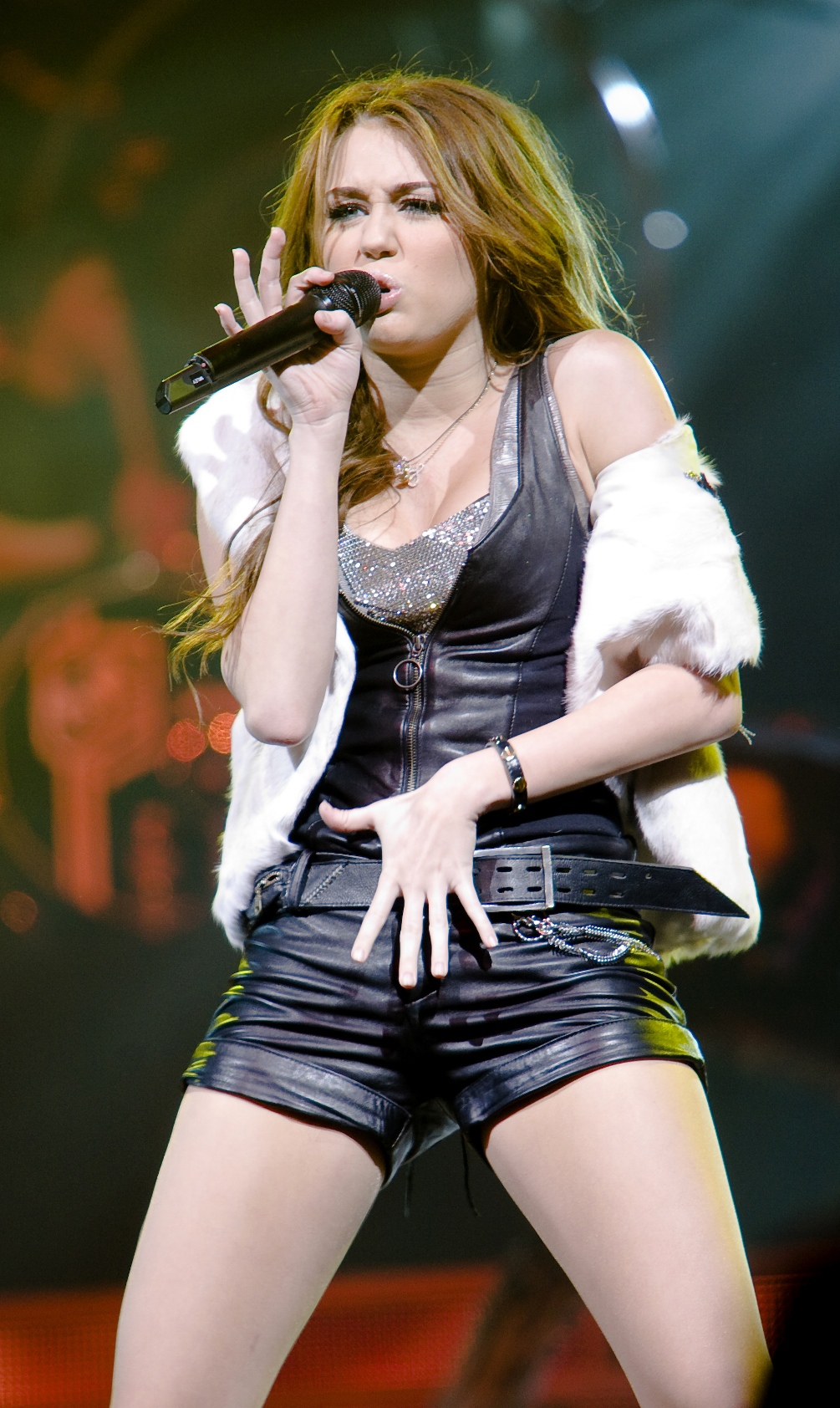 Miley Cyrus' desperate attempts at making sure no one dares see her as sweet young Hannah Montana anymore have been successful! Miley has been voted the number one worst celebrity influence by tweens and teens on AOL's Just So You Know website. Congrats! No one has put more effort into successfully alienating their fan base and making sure they gyrate their hips into eventual irrelevance and bankruptcy. Your manager must be thrilled.
Who'd Miley beat out? Britney Spears and Kanye West, who came in second and third. That's right, Kanye's rushing the stage and stealing the spotlight from Taylor Swift (amongst all his other selfish and rude shenanigans) still doesn't make him as bad an influence as Miley. So let that be a warning to you, 9 to 15-year-olds: it is more okay to blog in rage caps and get drunk off your ass at awards shows than it is to kinda-sorta-maybe pole dance. Frankly your parents would probably prefer you do neither, but if you've got to do one or the other, follow Kanye's lead before Miley's.
Miley Cyrus, one of Disney's hottest stars of the past three years with hit records and hit films, has been voted the worst celebrity influence of 2009 by the very people who made her a star, tweens and teens, according to an online poll on Wednesday. Cyrus, 16, took 42 percent of votes in the poll for AOL's JSYK.com (Just So You Know) website aimed at 9-15 year-olds, pushing Britney Spears and rapper Kanye West into second and third places, respectively, in a section on worst celebrity influences of the year.

No reasons were given for the poor showing of the singer-actress and the popular star of Disney Channel's "Hannah Montana" television series. But the ranking follows a year which has seen Cyrus controversially dating a 20 year-old model, making "slant eyes" in an informal snapshot criticized as mocking Asians, and being accused of pole-dancing on a teen awards show.

Cyrus also came in No. 4 in the category of favorite female artist, behind 19-year-old country sensation Taylor Swift, "I Kissed a Girl" singer Katy Perry and R&B star Beyonce. The poll attracted almost 50,000 votes. "I think Miley is in an interesting space where she is trying to graduate from being 'Hannah Montana' and a Disney channel celebrity and coming into her own and having a career beyond Disney," said Stephanie Cohen, editor of JSYK.com.

"I think her fans still want her to be the sweet Hannah Montana and she is trying to age up…Parents are definitely resisting it," Cohen told Reuters.
[From Reuters]
All kids and teenagers want to be older than they are. It's that constant desire to grow up too fast. And it's the parent's responsibility to do everything they can to slow it down. But Miley's parents were chomping at the bit to help their little girl wear skimpy outfits and take inappropriate webcam photos. Because it gets her more attention, and attention equals dollars. Congrats, Cyruses!
The editor of JSYK goes on to talk about how well Taylor Swift has done this year, and she chalks it up to a few important things: first, Taylor is talented. And pretty, though she doesn't mention that. But secondly, Taylor's gotten most of her attention for coming across as genuinely kind, smart, well-raised with excellent manners, and she writes songs kids and teens relate to. I'm not really a fan of her type of music, but I'm going to force myself to be. I love that Taylor proves you can be rich and famous for being good instead of being naughty. And if I were a betting girl, I'd bet Taylor will be much richer and more famous than Miley in ten years' time.
And to think… she probably doesn't even know how to pole dance.
Here's Miley performing in concert at the United Center in Chicago on Tuesday. I have no idea why even teenagers would find this inappropriate. Images thanks to WENN.com .

Posted in
Kanye West
,
Miley Cyrus
,
Taylor Swift