Keith Richards is still shocked to be in Disney movies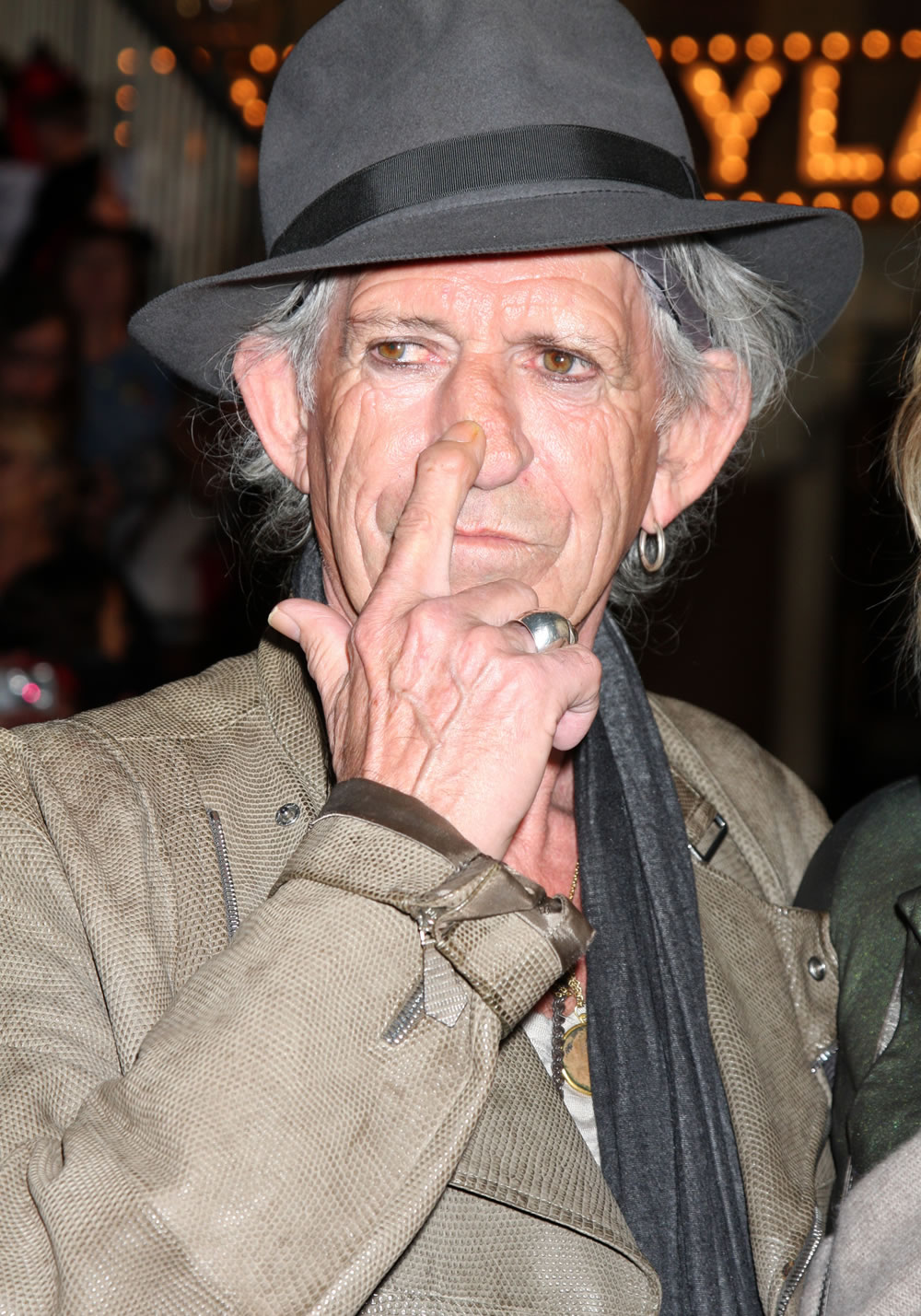 Over the weekend, Kaiser already covered the Disneyland premiere of Pirates of the Caribbean: On Stranger Tides, but the movie's promotional tour continues in full force, so here are some more photos of Keith Richards at the premiere and some highlights from a rather endearing interview from LA Times Hero Complex. Even though he's a global musical superstar as part of the Rolling Stones, Richards just seems so humble and amazed to be part of such a huge movie franchise. If you don't adore the guy already, you probably will after this interview:
On His Turn As A Disney Darling: "No one is more surprised by all of it than me," the Rolling Stones guitarist said with a wink. "I never expected to work for the Disney organization for a while. I'm still shocked, but, hey, it's all good fun."

On Working With Johnny Depp: Richards first got on board for a cameo in the 2007 film Pirates of the Caribbean: At World's End – he played the scoundrel father, Capt. William Teague, to a scoundrel son, Capt. Jack Sparrow. Sparrow is, of course, portrayed by Johnny Depp, whom Richards describes as a "blood on blood" friend, and it's quite apparent they have a jolly good time playing pirate together. "If Johnny says he wants to do something, well, it doesn't take much to get me to show up," Richards said with a rasp of a laugh. "Well, basically, I tell Johnny what to do at one point, and then I get out of there."

On The Success Of His Memoir, Life: "I was blown away, actually. I don't know what I expected, but what we heard back was so strong," Richards said. "There were really good reviews from some really hard critics too, and I was amazed that we were able to get the story across to people and to those critics and they all mostly liked it. I mean, my records don't get such good reviews."

On Being Recognized By Kids: "Not everybody that likes pirate movies necessarily likes rock 'n' roll, right, and so this all gives me another chance to communicate with different people," Richards said. "Now everywhere there's all these young people who know me as Capt. Teague, not as Keith Richards. 'That's Jack Sparrow's dad!' And that's cool, man."

On Life On A Film Set: "This is so different than what I usually do, and I love to see how's it made, you know, and this is one 3-D with the big cameras and all, and I'm interested in that, and I get to see the latest techniques. And I don't have to really do a lot of work. We did it in London at Pinewood Studios, and it was the usual thing. You get there early, and you wait around a long time. The makeup takes a long time' it's an incredible amount of makeup, and sometimes you're sitting there next to a guy who's getting scales put on. 'Hey, how you doin'?' It's a lot of preparation to do something that will be short, but it's amazing stuff, as you expect."
[From Hero Complex]
As a side note, it has been revealed that Johnny Depp suffers from a condition called "weird eye," which merely means that he's one of the very small percentage of people who cannot process 3D movie effects. (I'm so jealous!) But getting back to the point, it is rather hilarious that Keith Richards, whose name is synonymous with "rock 'n' roll debauchery" and once joked about snorting his own father's ashes, now appears in Disney movies. Of course, it's (virtually) standard practice that many of the young Disney tartlets do drugs during their tenure, so why should anyone get hung up on Richards appearing as a semi-dangerous pirate of the amusement park variety? Exactly. So Richards proudly walked the premiere red carpet with his wife (of 28 years), Patti Hansen, who has truly earned whatever monetary status she shares as Richards' wife. I mean, I totally love the guy, but waking up (day after day) next to that face would easily scare the crap out of me at a certain point.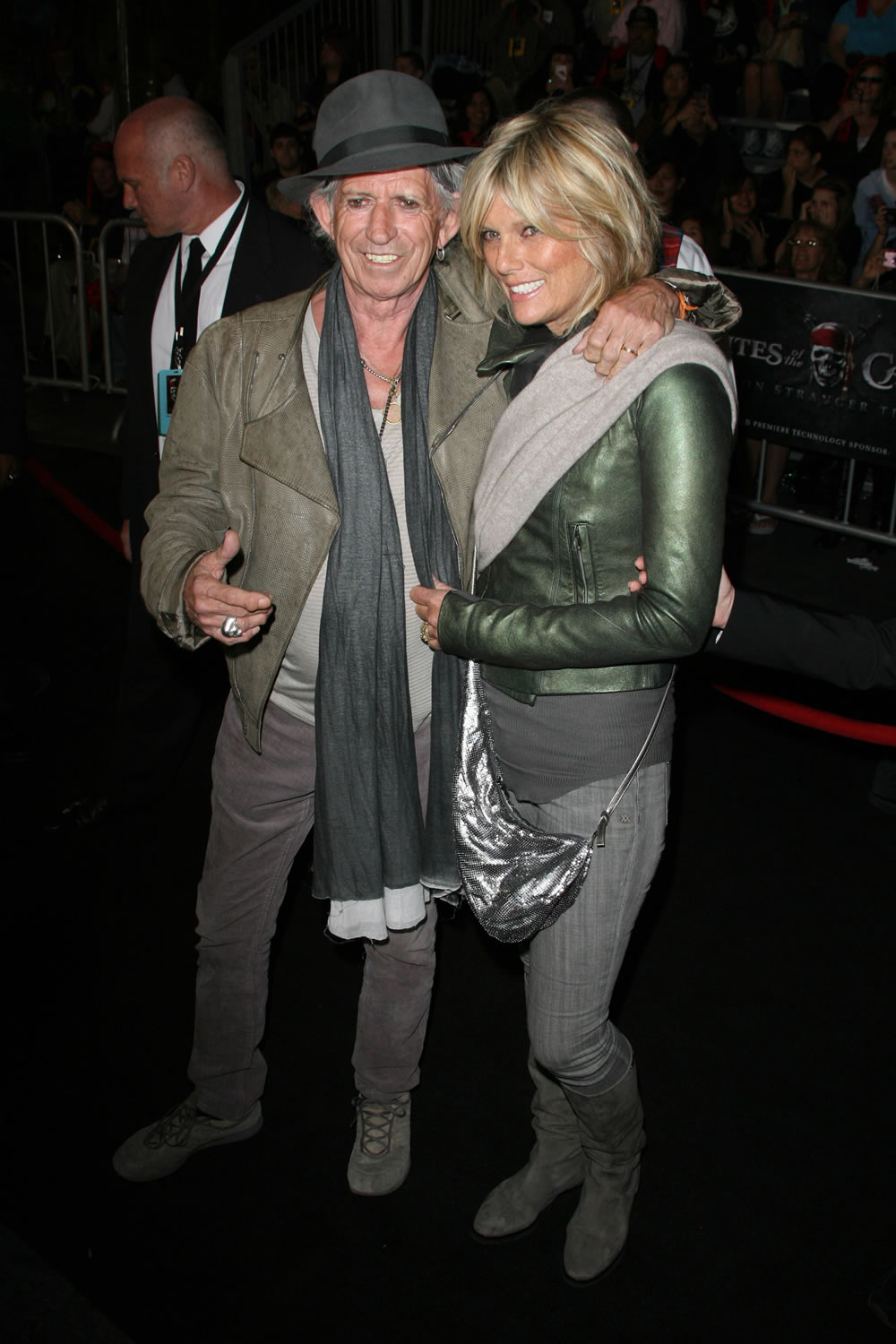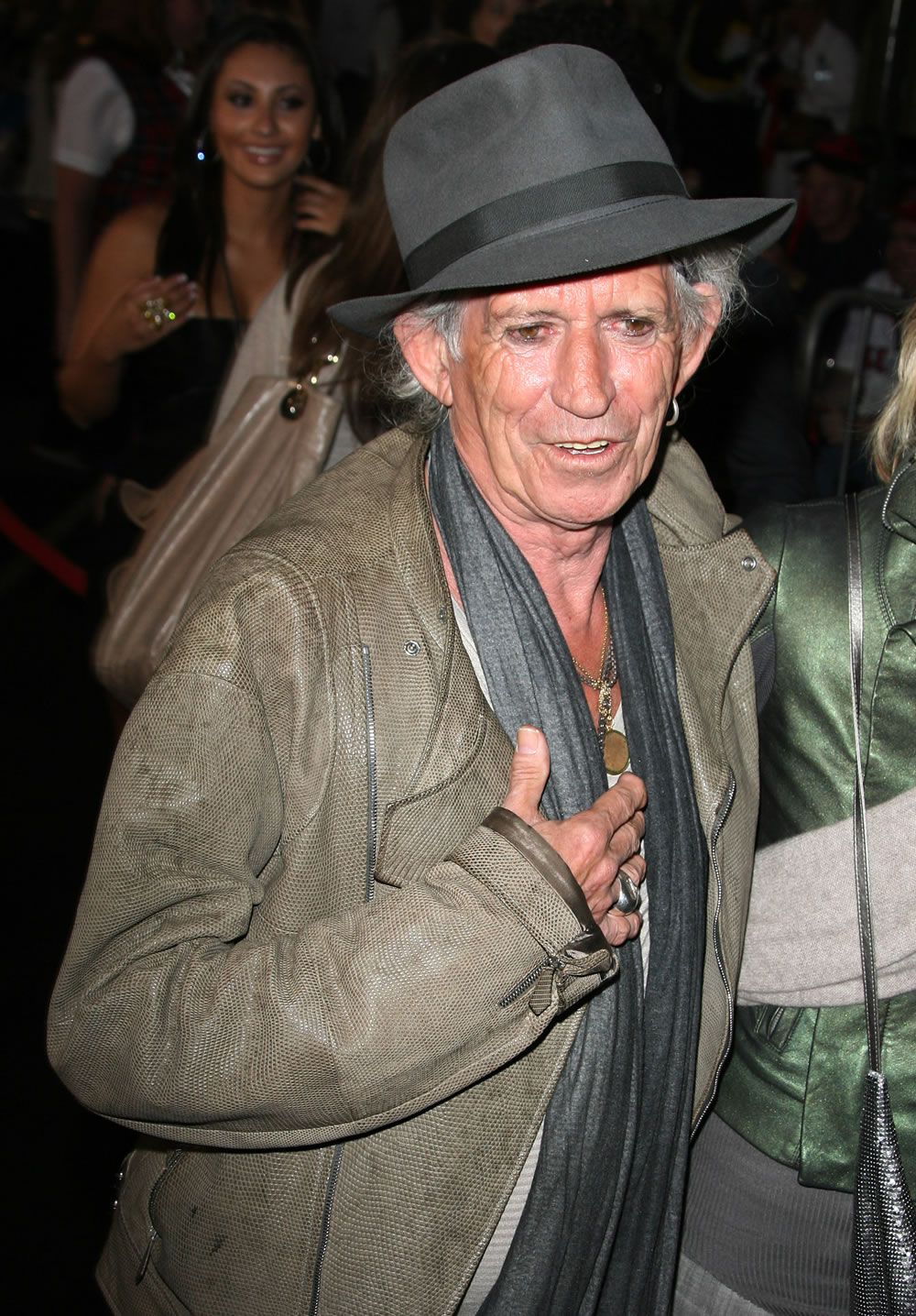 Photos courtesy of WENN
Posted in
Johnny Depp
,
Keith Richards