Levi Johnston married his second baby mama, Sunny Oglesby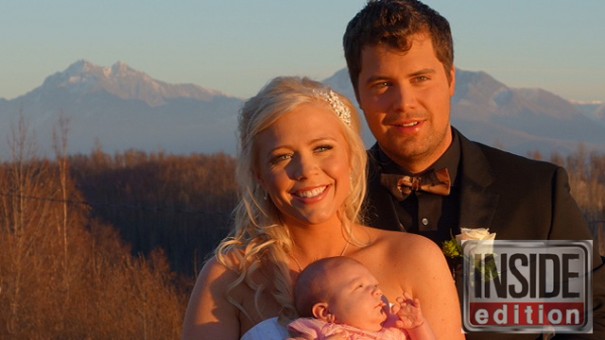 Above we have a photo of 22 year-old Levi Johnston's weekend nuptials to his second baby mama, Sunny Oglesby, 20. These photos are courtesy of Inside Edition, which also carried the momentous news that Levi and Sunny were expecting a baby, after, in Levi's words "we went to the cabin and forgot the birth control pills and, you know, about a month later we found out we were having a baby." He's far from the sharpest tool, with tool being the operative word. US Weekly has some details of Levi and Sunny's wedding, which included 100 guests and was held in their hometown of Wasilla, Alaska. Levi and Sunny's six week old daughter, Breeze Beretta (named after the gun company) was there, but unfortunately his son Tripp, 4, with Bristol Palin, wasn't. The Palins didn't come through with visitation for Levi that weekend so Tripp had to miss his dad's wedding. Here's more:
As much as Levi Johnston wanted his four-year-old son, Tripp, with ex Bristol Palin, to be present at his Oct. 28 nuptials to Sunny Ogelsby, the little man could not make it.
Inside Edition reports that Johnston, 22, did not tell his ex he was tying the knot over the weekend, instead simply asked for custody of his son. "I wanted him to be my ring bearer," Johnston said. Palin denied his request.

Though Tripp was not at the Wasilla, Alaska ceremony Sunday, Breeze Beretta, Johnston's one-month-old daughter with his bride, took part in her parents' special day. Officiated by Johnston's friend Crosby Marrow, the couple's nuptials took a lighthearted turn when the groom fumbled his vows and elicited chuckles from guests in attendance.

"To have and to hold, whatever you say," Inside Edition reports Johnston as saying. Clad in a Hugo Boss red label tuxedo accessorized with a camouflage vest and bow tie, Johnston is said to have sweated profusely during the event.

It is the first marriage for both Johnston and his girlfriend of just over one year, 20, who teaches in Wasilla, Alaska. The couple welcomed daughter Breeze Beretta — named for the Italian firearm manufacturer — on Sept. 12, 2012, two years after he called off his engagement to Palin.
I love how US Weekly includes the facts that Levi was sweating and wasn't able to repeat his vows properly. Inside Edition also has the detail that Levi wanted to wear a camouflage suit (they do make them and you can even rent them!) but that Sunny put her foot down so he just ended up with a camo bow tie. Levi said of his camo suit that his "Wife wouldn't let me do it. I had to dress a little bit nice."
Did any of you see Game Change on HBO? (I haven't read it, but I did see the movie.) It was excellent, and Levi Johnston featured exactly once in that movie, in a scene at the RNC convention when Sarah Palin told him that he looked better without his mullet. He was a very minor player in a political miscalculation from the 2008 election. He tried to spin that into some sort of media career for himself, but he didn't have the personality or the looks (to be blunt, but the dude was in Playgirl) to pull it off. So now he's selling his personal life to the highest bidder. He's probably hoping to land a reality show that will never happen.
I'll say something nice, though, these two look really good for each other, in the way that couples start to look alike. That doesn't mean I think they'll last.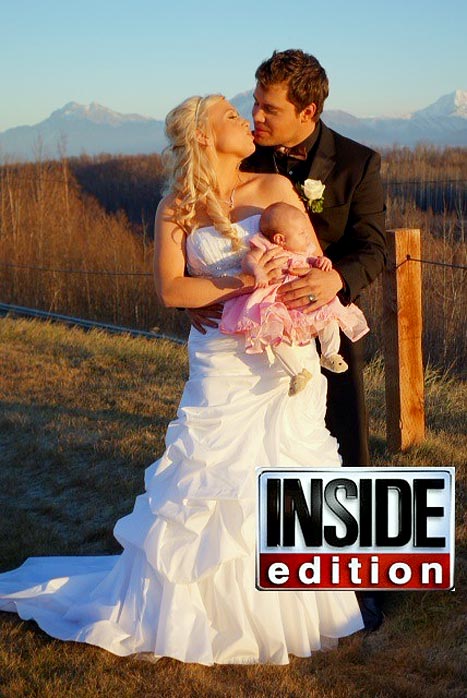 Posted in
Levi Johnston
,
Sunny Oglesby
,
Weddings