Victoria's Secret model Adriana Lima is pregnant, due in winter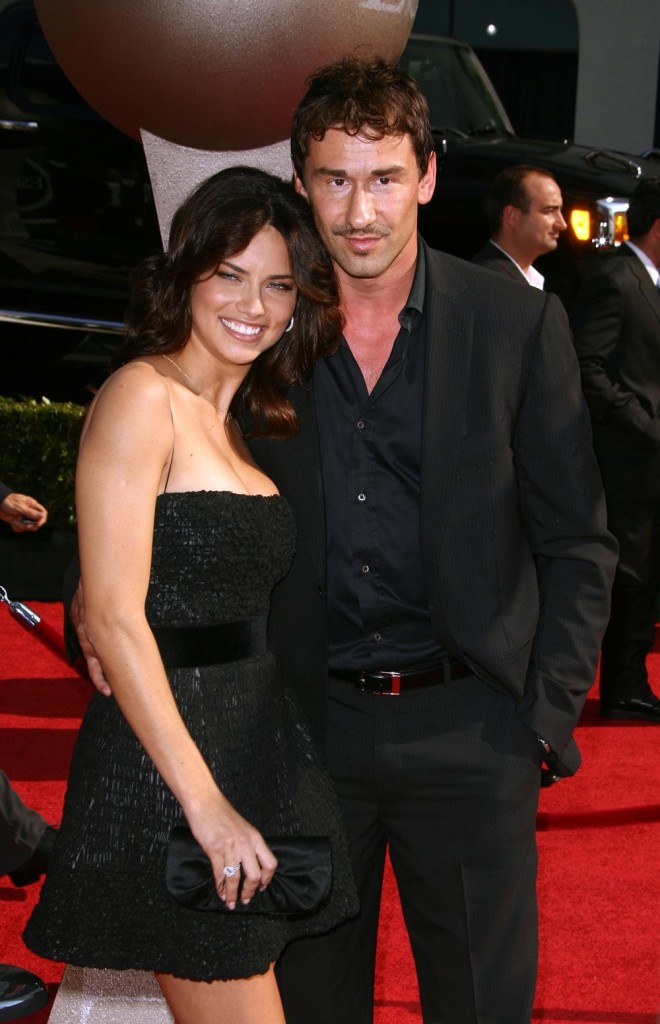 Adriana Lima is officially pregnant. After rumors swirled for the better part of a day, she finally confirmed that she and husband Marko Jaric are expecting. Marko is some big deal in the NBA, but I don't follow the football. Yes, I'm joking… I know "NBA" stands for something involving… baseball? Ballet? No matter. Adriana and Marko were married on Valentine's Day of this year, and Adriana is confirming that she's due "this winter". Which probably means December-ish. Which means Adriana got knocked up really quickly after getting hitched.
Adriana rather famously said in 2006 that she was going to be a virgin until she got married. Mm-hm, famous last words. She told GQ, "Sex is for after marriage. [Men] have to respect that this is my choice. If there's no respect, that means they don't want me." So either she saved herself until Valentine's Day 2009, or she didn't. It really makes no difference to me, but it's interesting to think that she might be so old-school as to not only save herself for marriage, but get knocked up two seconds after getting hitched:
Brazilian supermodel Adriana Lima is going to be a mom!

Lima, a Victoria's Secret Angel, and her husband NBA star Marko Jaric, are expecting their first child together, reps for the couple confirm to PEOPLE exclusively. Lima is due this winter.

"Adriana and Marko are overjoyed that they are expecting their first child together and are excited to share the happy news and start their family together," say reps.

The couple eloped on Valentine's Day this year, tying the knot in a small, private civil ceremony in Jackson Hole, Wyoming.

"We are so excited about our future together," Lima told PEOPLE at the time.

Lima and Jaric, who plays for the Memphis Grizzlies, met in 2006 and got engaged two years later on Lima's 27th birthday.
[From People]
Perhaps this is impolite to say, but I think Adriana Lima could have done much better. Marko isn't bad looking, but he does give off sort of a creepy vibe. Add to that a little incident that happened right around the time of their elopement – a woman accused Marko of sexual assault in Philadelphia, but the district attorney decided not to prosecute. Marko can't be held accountable for every claim that is made against him, but it will be interesting to see what happens to Marko and Adriana in the long run. In any case, congratulations to the happy couple!
Adriana Lima is shown at an event promoting a Victoria's Secret fragrance on 5/8/09. Credit: Fame Pictures. She is also shown with Marko Jaric at the ESPY awards on 7/15/08. Credit: Juan Rico/Fame Pictures
Posted in
Adriana Lima
,
Marko Jaric
,
Pregnant