Michelle Williams left the Met Gala hand-in-hand with a mystery man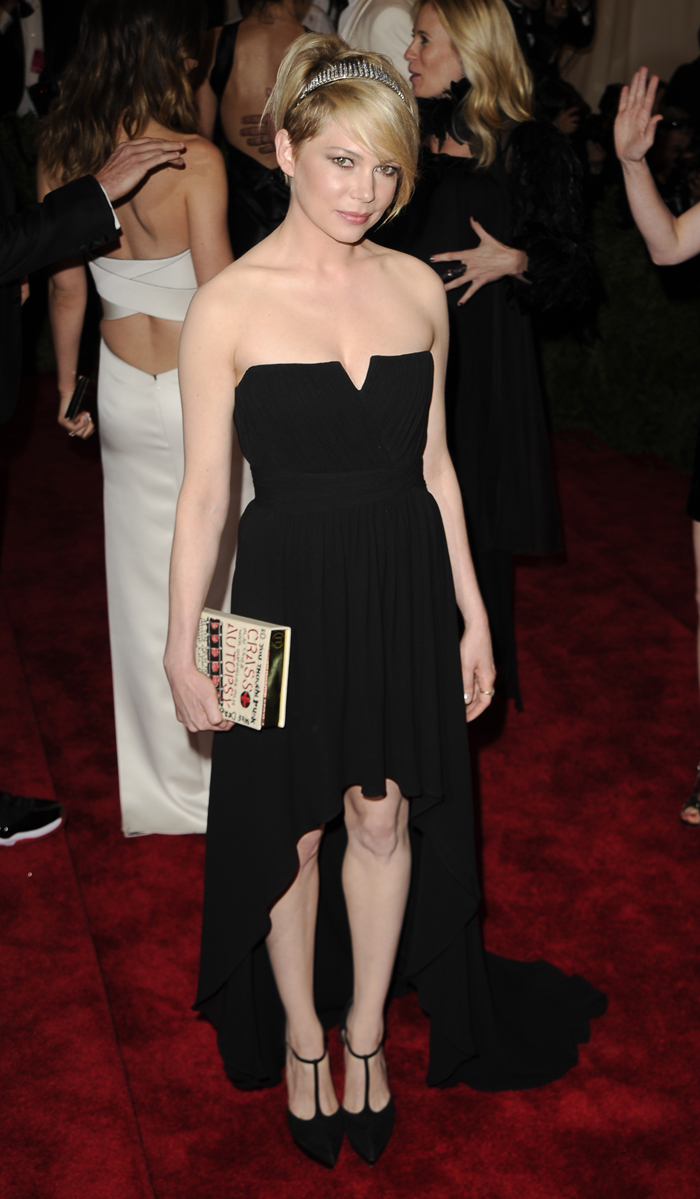 We forgot to cover Michelle Williams' appearance at the Met Gala during yesterday's fashion frenzy, so here are some photos. Michelle was wearing this black Saint Laurent mullet dress that was more pretty than punk. Her hair looked very cute while tousled around a rhinestone headband, but I've grown rather bored of the book-clutch trend. Is that still a trend?
Meanwhile, Michelle's love life has been met with much speculation over the past handful of years. Most recently, she dated Jason Segal for about a year before they broke up in February, possibly because Michelle wasn't ready to commit, or maybe it had something to do with Segal's alleged love of alcohol. Who knows.
Now it looks like Michelle has a new guy, and they were spotted leaving the Met gala together on Monday evening. The Mail has some photos of Michelle holding hands with this dude, who looks like he could be the scrawny, coffeehouse-dwelling kid brother of Seth Rogen. Here are the details: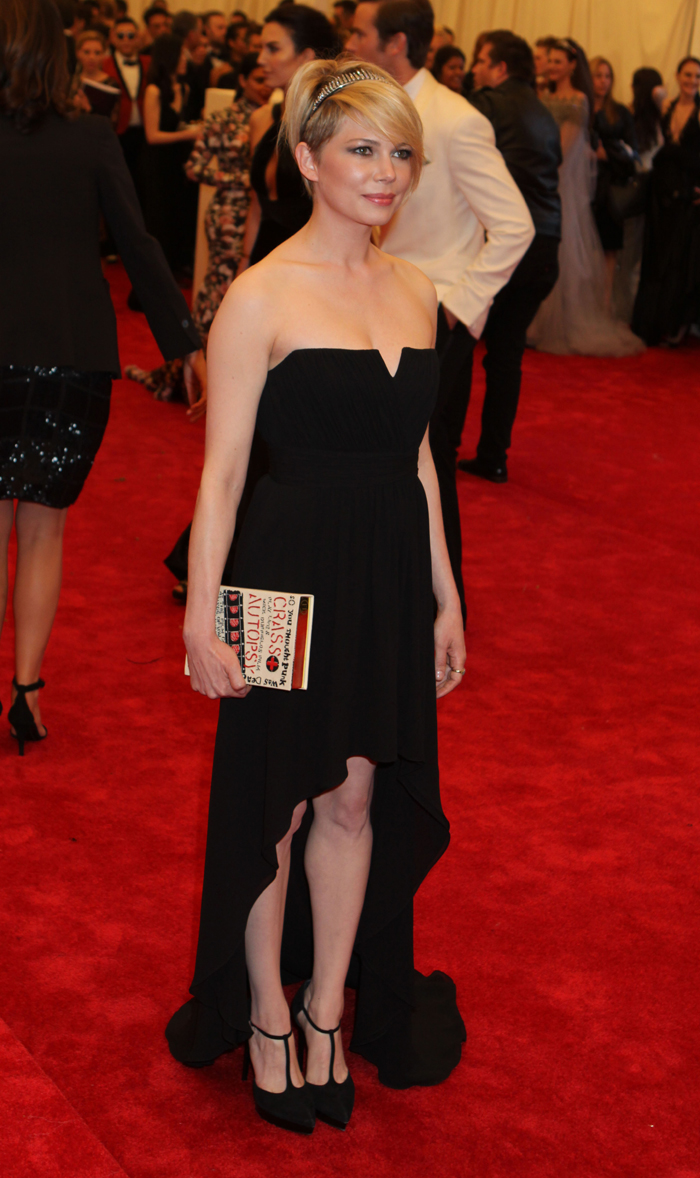 Michelle Williams bolted from a 2013 Met Ball after-party with a mystery man looking a bit bedraggled after earlier flaunting her dress on the red carpet.

The 32-year-old Brokeback Mountain actress was spotted early Tuesday leaving the fashion world's annual event in New York City with a bespectacled, bearded, curly-haired man.

The two clutched hands as they hurriedly made their way to the unidentified man's vehicle.

It seemed to be a nail-biting experience for the actress, as she kept her right hand up to her mouth as they departed.

The Shutter Island star looked like she had a long night and slumped in the passenger seat pulling a coat over herself once inside the car.

She appeared on the red carpet for the fundraising gala on Monday night wearing a black strapless Yves Saint Laurent gown with a literary Olympia Le-Tan clutch and Fred Leighton jewels.

Michelle had been cutting a lonely figure of late since her February breakup with boyfriend of one year, actor Jason Segel.
[From Daily Mail]
Man, Michelle really has had an hankering for slightly goofy looking dudes ever since she and Heath Ledger broke up. First there was Spike Jonze, then Jason, and now this dude. Good for her — I hope she finds the right guy who will make her happy, if that's what she wants.
Update by Kaiser: The Mail has ID'd the guy as an artist named Dustin Yellin, but they don't know if Dustin & Michelle are together.
Here are some photos of Michelle at last month's Tribeca film festival for the premiere of A Case of You. I'm so glad she's growing her hair out. Short hair is cool, but Michelle had definitely fallen into a bit of a style rut.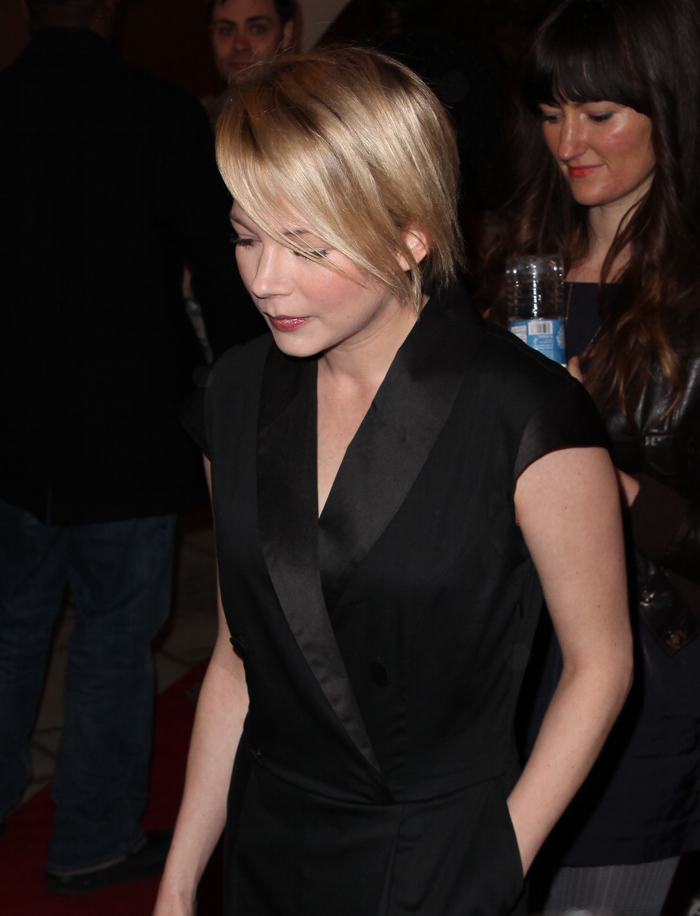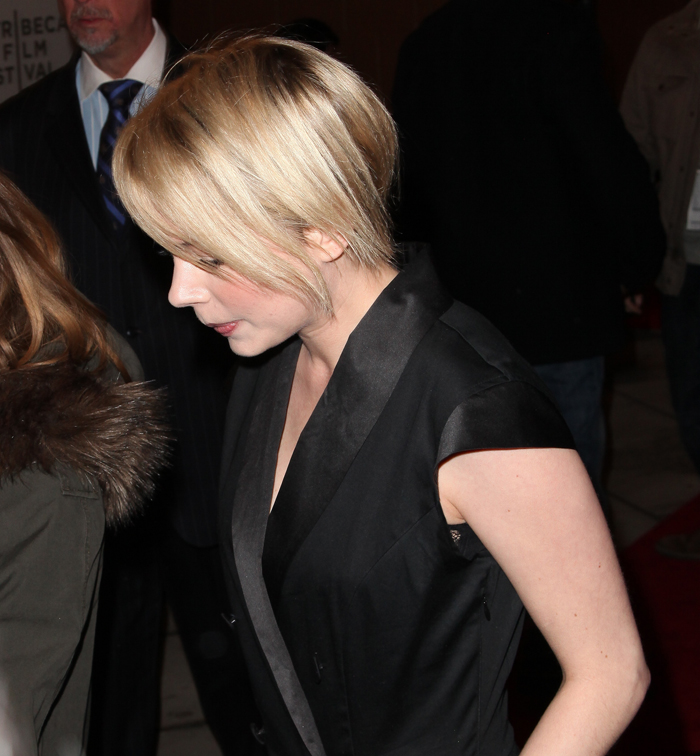 Photos courtesy of WENN
Posted in
Michelle Williams