Penelope Cruz in vintage red Gianni Versace: very hot or too matchy matchy?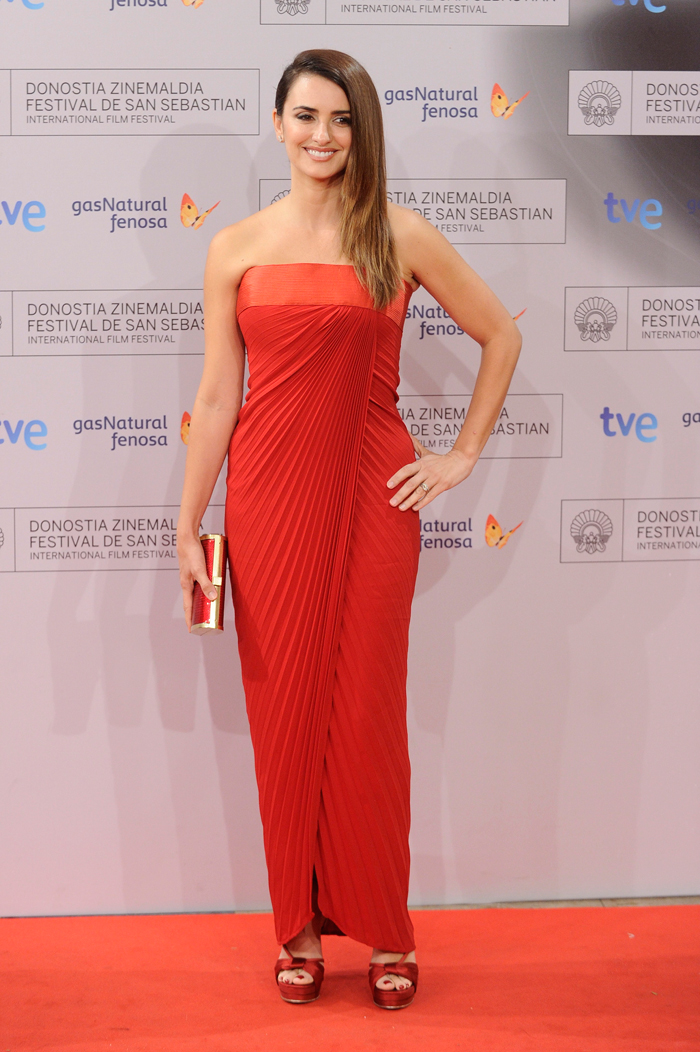 Penelope Cruz has strutted her delicious stuff at the official Venuto al Mondo premiere at the San Sebastian festival, and I am experiencing very mixed feelings towards this look compared to yesterday's photocall event. Penelope is wearing a vintage red Gianni Versace dress here, and Kaiser has remarked that the dress feels a bit too short. I agree — this dress feels very glamorous and like it should be floor length, but instead, we're getting an odd view of a pair of too matchy-matchy Ferragamo sandals. Penelope's hair and makeup are very sleek and fitting for this look, so it's really only the odd dress length holding up this outfit.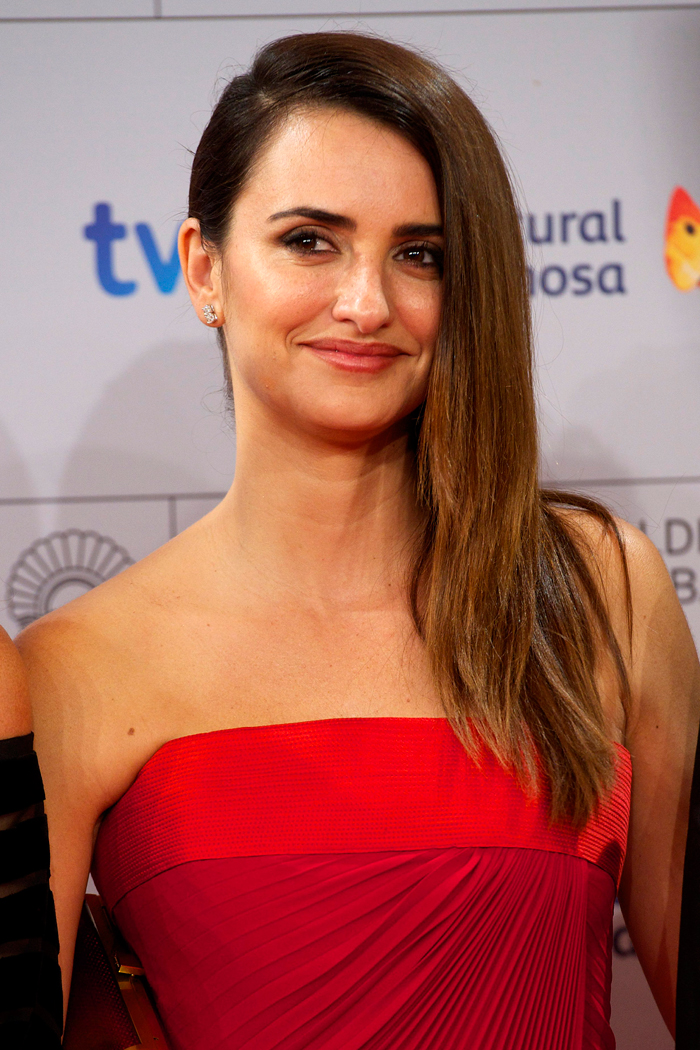 Other than fashion, Penelope has many more things on her mind. For example, she's very concerned about the economic plight of her native Spanish people, so she has promised to produce a few films per year in Spain that will create jobs for hundreds of workers. Behold: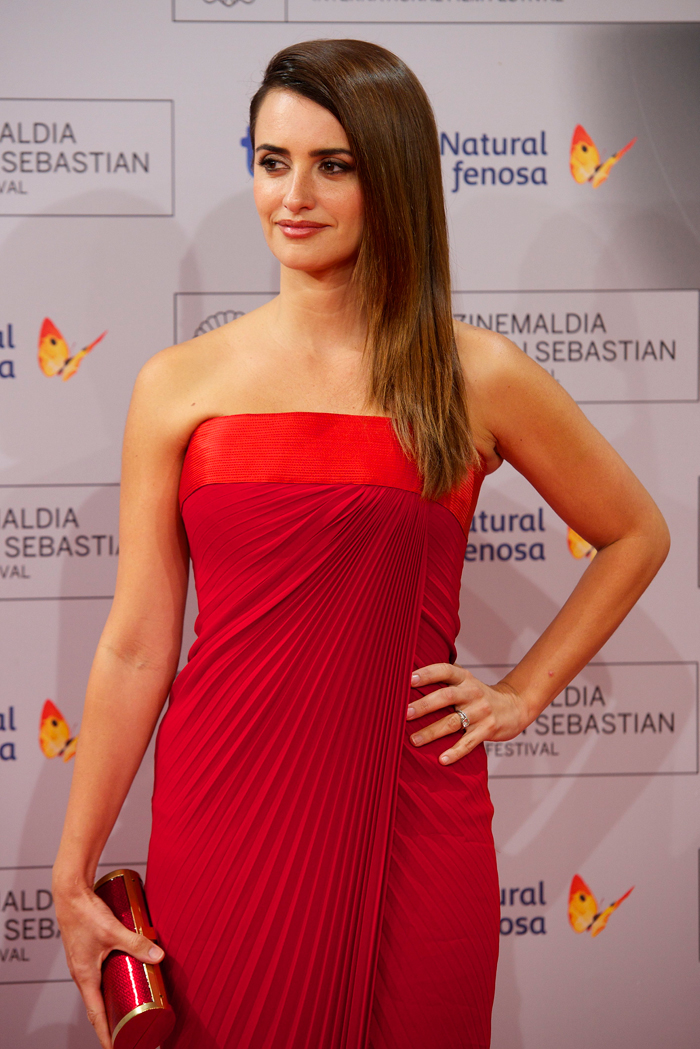 Spanish actress Penelope Cruz said in an interview published Saturday by Italian daily La Stampa that she plans to produce at least two films a year in her homeland to create jobs amid sky-high unemployment.

"I want to bring jobs to my people … I'll use my privileged position. It's what interests me the most right now. I know it's a grain of sand in the desert, but it's a responsibility I think I have," Cruz said. "I'll produce a couple of films a year. A way to give work to hundreds of people. It's a set idea I have."

Cruz, winner of a best-supporting actress Oscar for her role as an unstable artist in Woody Allen's 2008 comedy-drama Vicky Cristina Barcelona, said she has worked hard but also has had a lot of opportunities in life.

The talents of "an entire generation of highly trained young people" are being wasted, Cruz said, adding that though they have lots to offer there is nothing for them to do but "bang their heads against the wall or go out in the street and protest."

"The disaster in Spain and the problems in Italy are visible to everyone, but also think about what's happening in Syria or Africa. It's unacceptable, painful and sad. Like Robert Redford said, today the world's not a good place," Cruz said.

Regarding the global economic slowdown, the actress said the decisions governments have adopted to solve the problem "are wrong-headed and are creating more and more desperation."

Referring specifically to Spain, she said only that she is in "total disagreement" with the policies of conservative Prime Minister Mariano Rajoy's administration.

Spain's economy has been battered in recent years by the collapse of a massive real-estate bubble in the context of the 2008-2009 global recession. The country also is seeking to bring its budget deficit as a percentage of gross domestic product into line with European Union mandates.
[From Fox News Latino]
At this point, I wish that this story revolved around the subject of parenthood, which is controversial in its own way but is something with which I at least have a bit of experience, but economics? That's a tough one. Penelope's been delving a bit towards the political lately. And I'm not even talking about the above interview because the film that she's promoting has a lot to do with it since it's set against the backdrop of the Balkan Wars. Penelope also stated her general opinion on war: "I think war is always useless, but if you are going to ask me for the solution of conflict, I have nothing. But I don't think war is the one." Certainly, it's a tricky topic. Most people would agree that war for the sake of war is wrong, but an alternative is very hard to come by these days.
However, I do admire Penelope for putting some money where her mouth is and producing films in Spain to create jobs. A lot of actors will whine and complain about political injustices (ahem, Sean Penn), but at least Penelope's doing something to help remedy the situation.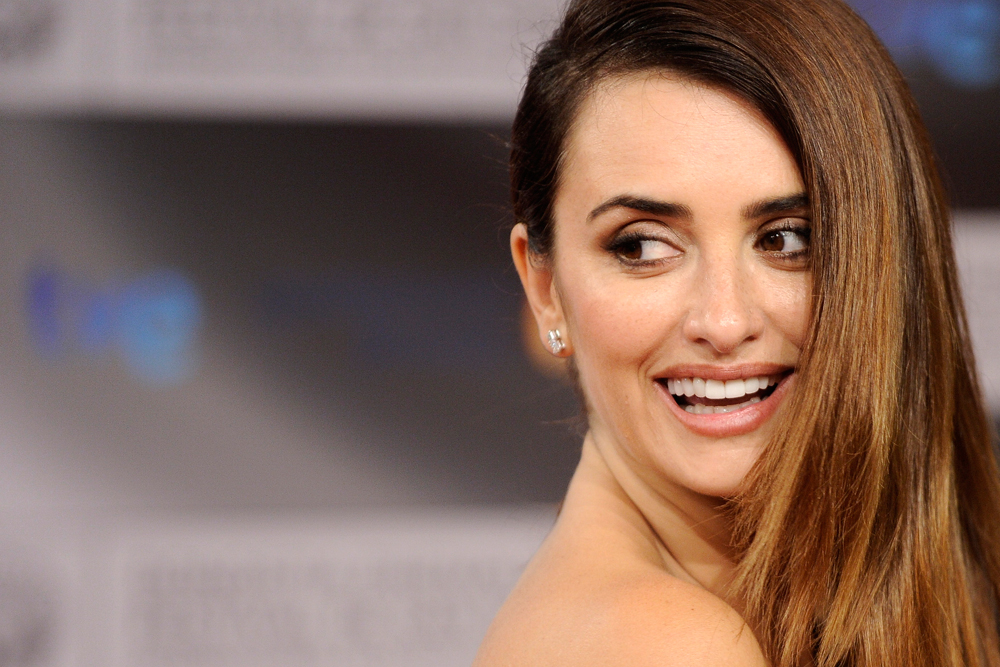 Photos courtesy of WENN
Posted in
Fashion
,
Penelope Cruz