Justin Bieber's team thinks it's all Selena Gomez's fault that he's a major brat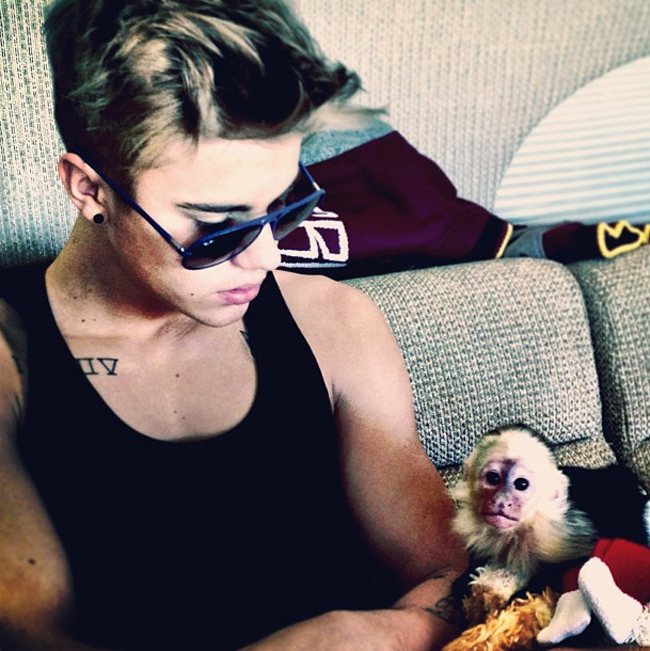 I just raided Justin Bieber's Instagram account and found some new-ish photos of himself with Mally, the unfortunate capuchin monkey. I'd like to provide a brief update to our stories in which Mally was seized by German customs officials because Bieber didn't have the proper paperwork for transport from Los Angeles to Munich, and then "heartbroken" Bieber merely shrugged his shoulders and left the country while the poor monkey was left traumatized in a shelter and refusing to eat. German authorities have offically given Biebs until the end of the month to file the proper paperwork before they will release Mally into Bieber's care. If Bieber doesn't come through for the monkey, the temporary shelter has arranged for Mally to head towards a more permanent shelter where workers have experience raising groups of capuchins and will work to reverse the trauma of Mally being taken from his mother at nine weeks and then being abandoned by a douchetastic pop star. Good luck, Mally.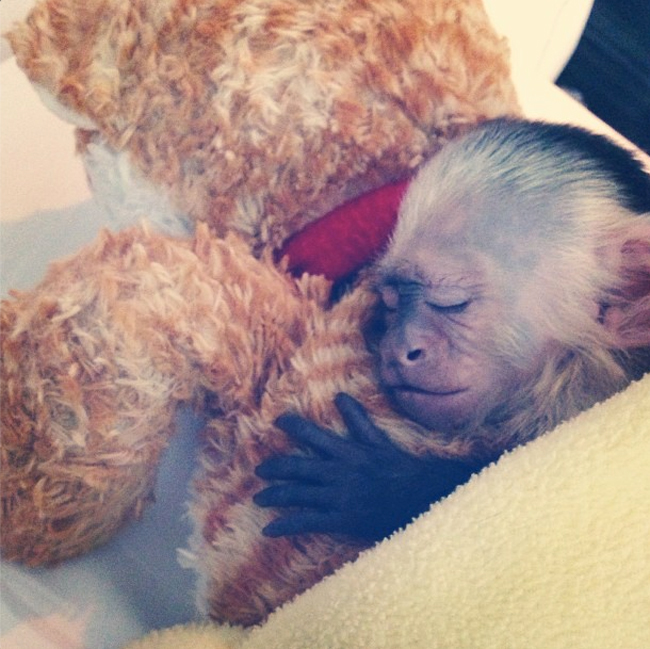 Who knows if Bieber is even still listening. At the moment, he's preparing to perform in Norway where offiicals have rescheduled school exams just so legions of young fans can attend the concert without worrying about making poor scores. Sigh. In other Bieber news, TMZ has received word that his team is blaming Selena Gomez for all of Bieber's recent drama. Really:
Justin Bieber has been spinning out of control not because he's trying to "act like an adult," not because his friends are a bad influence … but because he's suffering his first case of heartbreak — courtesy of Selena Gomez — so say people who are in regular contact with the singer.

Our sources tell us … Justin was "torn apart" when Selena pulled the plug on their relationship in December, when she walked out on him in the middle of their Mexico vacation.

We're told Justin feels "tortured," because Selena has not made a clean break — far from it. We're told she is regularly calling him and sending him mixed messages, and it's been messing with his head.

That could explain why Justin went to Selena's L.A. home last week, but hasn't been seen there since.

Our sources say … the pot smoking in Newport Beach, the reckless driving and the fighting has all occurred after the split, and they say it's very clear that Bieber is holding a lot of anger that he's releasing … often inappropriately.
[From TMZ]
For what it's worth, Selena has already denied that she's been contacting Justin at all. Now let me get this absolutely straight — it's all Selena's fault that Justin spits in people's faces and threatens to kill them, cancels concerts (or shows up two hours late), and does silly things like wear a gas mask in London while heading towards an almost certain meltdown of epic proportions? That's a bit of a stretch, to say the very least. I mean, she totally made him cry and then laughed about it, but bitch, please. Bieber needs to take responsibility for his own actions, but that won't happen while he's surrounded by sycophantic booty kissers. Maybe Justin still really is upset about Selena breaking off their relationship (after all, he did try to give her a puppy last week), but that is no excuse at all for his behavior.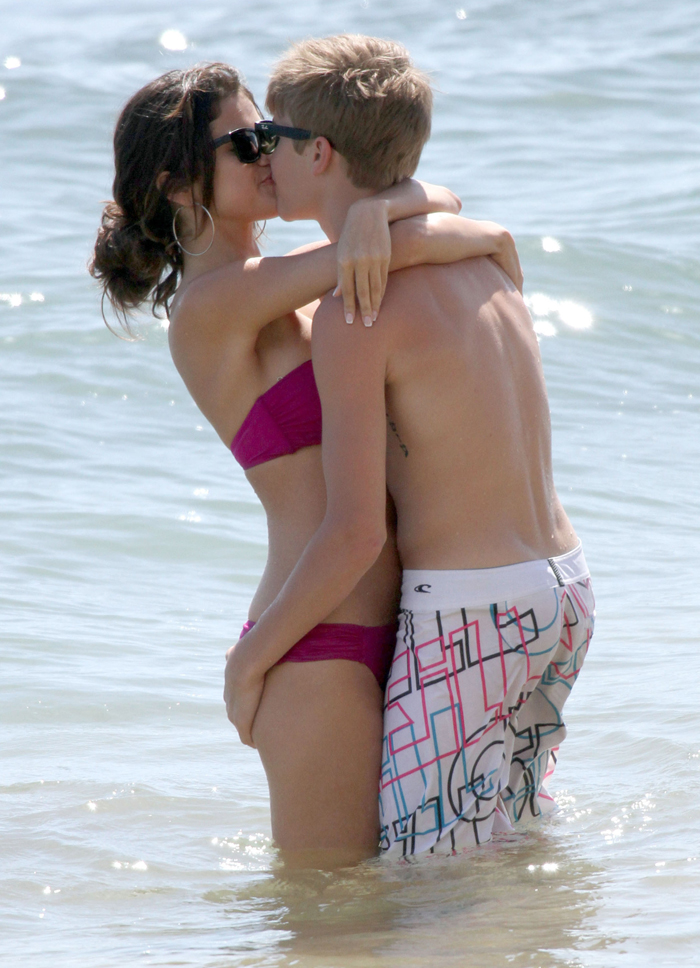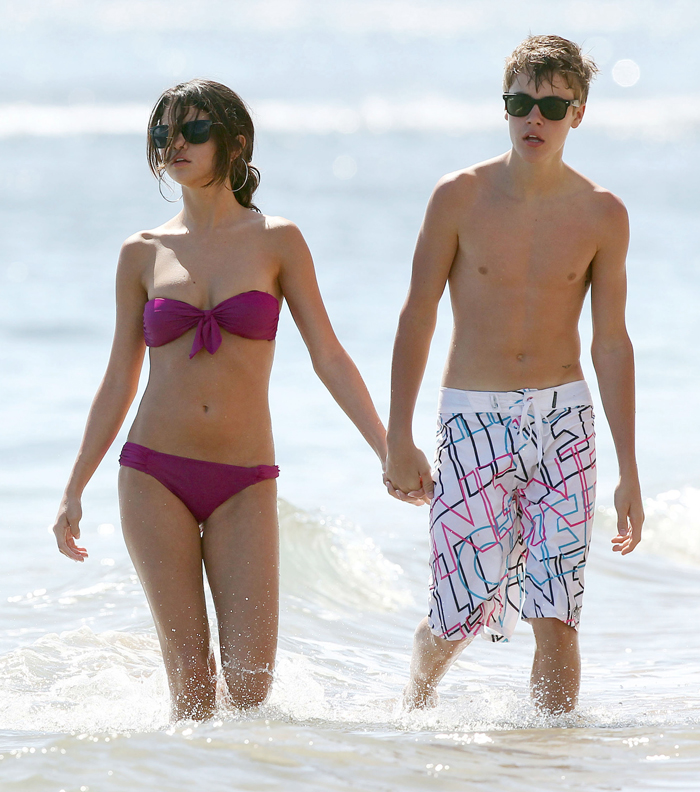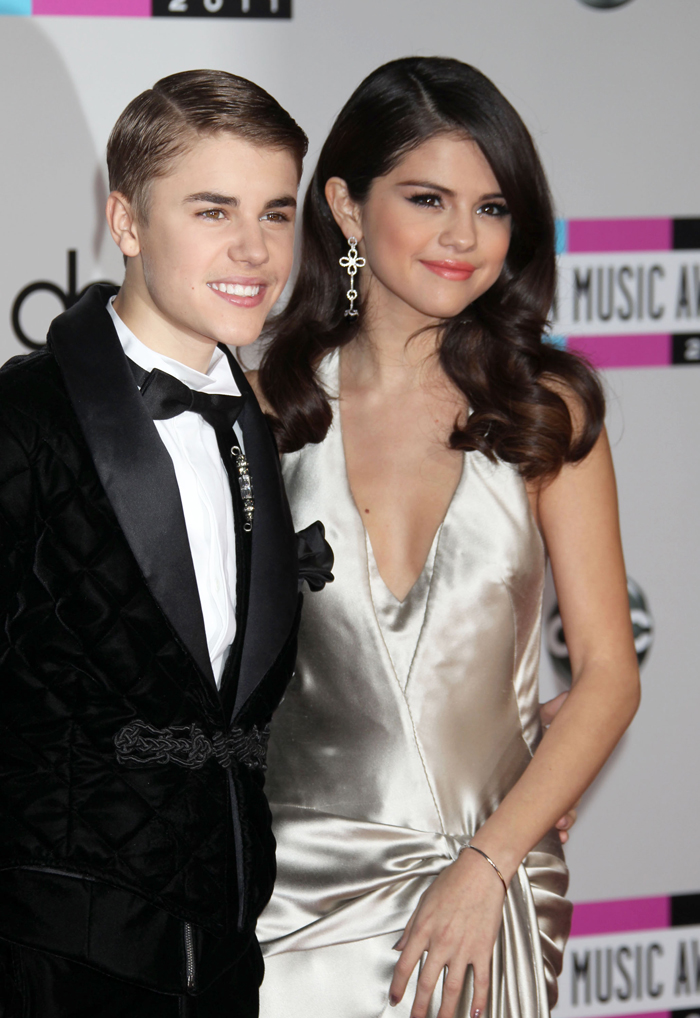 Photos courtesy of Fame/Flynet and Justin Bieber on Instagram
Posted in
Justin Bieber
,
Pets
,
Selena Gomez