Did Jennifer Love Hewitt cheat on Ross McCall with Jamie Kennedy?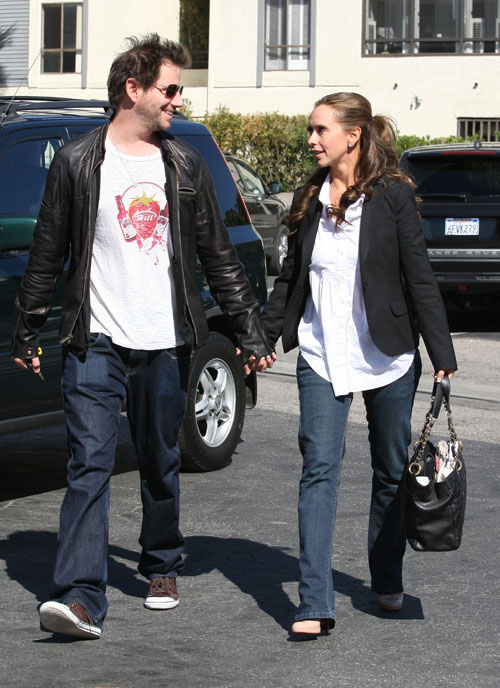 "Ghost Whisperer" star Jennifer Love Hewitt was bound for the altar with actor Ross McCall, but their engagement was suddenly called off back in December. Not long after, Jennifer was spotted getting affectionate with her TV co-star, comedian Jamie Kennedy. The timing of the events has definitely led some to wonder if Jennifer was getting a little something on the side while she was engaged – in fact, Ross himself is wondering if that's the case.
Only three months after splitting with fiance Ross McCall, Jennifer Love Hewitt has found love again with her Ghost Whisperer co-star Jamie Kennedy – and Ross is not happy about it at all!

"Ross feels completely blindsided that Jennifer is already so publicly involved with someone again," a close friend tells In Touch. "He feels that Jamie always flirted with Jennifer around him, and now he is wondering to his friends if this romance actually began while they were still together. He is very upset."

While pals claim that Ross, 33, was the one to call off the three-year relationship in January, he is still hurt that she moved on so quickly.

"He thinks this is completely messed up," a friend said.

But Jamie, 38, hasn't been shy about hiding his feelings for Jennifer. He told Ryan Seacrest on his radio show, "I'm in love," and couldn't keep his hands off her in a romantic getaway to Mexico in March. "She's very sexy and a cool chick," he tells In Touch. And Jennifer is so serious about Jamie that she rushed back to him in LA on March 25 because he was sick with kidney stones.
[From In Touch print version, April 13, 2009]
I get the feeling that Jennifer Love Hewitt doesn't take very long to get over any man. Someone like her has a whole line of dudes waiting to be her next boyfriend. I don't know what happened between her and Ross, but he must have known that before he broke up with her. Why would he be surprised now? If there is any lingering question about whether or not Jennifer and Jamie hooked up on-set before she and Ross broke up, it won't matter soon enough. There's no way this romance is going to last! I had the misfortune of meeting Jamie one evening after seeing his excruciatingly unfunny stand-up act. He had a gaggle of young skanks following him all around and he was loving every minute of it. Jennifer's hot – but I doubt he'd give that lifestyle up for long, even for her.
Here's the new couple, Jamie Kennedy and Jennifer Love Hewitt, on April 6. Photos: Fame.

Posted in
Jamie Kennedy
,
Jennifer Love Hewitt
,
Ross McCall