Shia LaBeouf: 'Clearly, I'm not having sex with my mother.'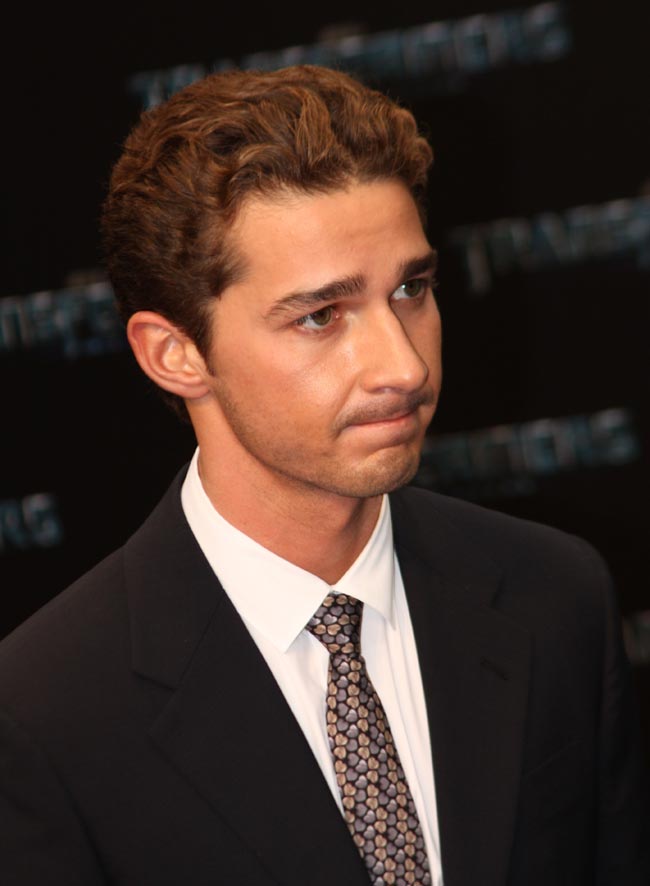 It's no secret that Shia LaBeouf thinks his mom is one hot, sexy bitch who he would marry if he could. Coincidentally, it's no secret that Shia might be a bit screwed up. It all started when Shia told Playboy that his mother is "probably the sexiest woman I know… She's an ethereal angel. Nobody looks like that woman. If I could meet my mother and marry her, I would. I would be with my mother now, if she weren't my mother, as sick as that sounds." A few weeks ago, Shia also told Parade that he was probably so screwed up because he saw his pothead parents having sexw hen he was a kid.
Someone must have told Shia that these are not the kinds of comments that add to the mystique of a young Hollywood heartthrob – although, to be fair to Shia, those comments kind of made me want to bring him home and feed him. But I digress. Shia is now trying to roll those mother-lover comments back in a new Extra interview (quotes via Huffington Post):
Shia LaBeouf defended comments he made about his mom and said he may be doing another 'Indiana Jones' movie in an interview with Extra' that is airing Monday night. He also dished about the 'Wall Street' sequel in which he'll costar with Michael Douglas.

In Playboy, LaBeouf says, "Probably the sexiest woman I know is my mother." Now, he responds to the public's reaction to this comments and says everyone misunderstood:
"It was Mother's Day coming up and I don't have any problems appearing crazy to make my mother smile, but she is the most beautiful woman on this planet and I love her. She's fly as hell. I stand by that. My mom's awesome….I think the sickness is also on the other end to be able to twist the words and make it as ridiculous as that. Clearly, I'm not having sex with my mother. It's ridiculous."

On another Indiana Jones film:
"I'm an actor for hire. I have no control in terms of that movie. Last I heard they're making progress in terms of the story. I know Harrison [Ford] is fired up to get back in there as soon as possible and George [Lucas] and Steven [Spielberg] want to make another one…They're making progress but nothing is definite about it. "

On the Wall Street sequel:
"We're deep in prep now. We start in August… It's definitely going to be different. Just the financial landscape is very different. We're talking about the crime of the century…It's a crime. Blatant crime…In this financial climate, it's very relevant."
[From Extra via The Huffington Post]
Clearly he's not having sex with his mother? Okay, I get that we were all joking about it because he was talking about how sexy his mom is. But the fact remains that he was talking about how sexy his mom is. I'll give the kid a break and say that he simply got too effusive in his description of how much he loves his mom.
On an added Shia note, he sat down with The Telegraph for a long interview recently. Alas, he didn't talk about how sexy his mom is (he does call her "very beautiful" though), but he did confirm something that I've been thinking for a while – that he financially supports both of his parents, and has for some time. Shia jokes during the interview that "It's like having two 50-year-old children." He did confirm that his hand should be fully functional by August, and that he's still in physical therapy. Regarding his hand injury, he says "Adversity has a way of introducing a man to himself. That's out of my mom's mouth and it makes it easier to deal with things are way above you and way beyond you and way bigger than you." He also takes responsibility for the accident and everything else, saying "All of the things that have happened in my life have been self-propelled… I can't blame anybody else or point a finger at anybody." Wise words, Shia. I so want to believe that, at heart, he's a good kid. Time will tell.
Shia LaBeouf is shown on 6/13/09 at the German premiere of Transformers. Credit: BULLS/Fame Pictures
Posted in
Moms
,
Shia LaBeouf