Alec Baldwin & Steve Martin will co-host the Oscars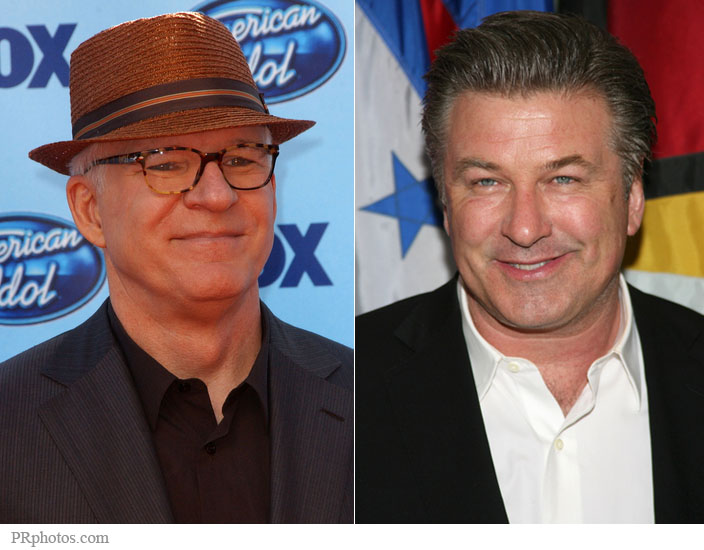 The Academy Awards have announced the 2010 hosts! They've named Steve Martin and Alec Baldwin as co-hosts of this awards season's festivities. There were some rumors going around that the gig had been offered to 2009 Oscars host Hugh Jackman, who turned it down. There was also some mention that Neil Patrick Harris, Jon Stewart and Ricky Gervais might have gotten calls, or gotten mentioned in some meetings, but I don't really believe any of them were seriously considered. Steve has hosted (solo) twice before, but this will Alec's first time.
There are two hosts for the Oscars this year: Steve Martin and Alec Baldwin.

"I am happy to co-host the Oscars with my enemy Alec Baldwin," Martin, 64, says in a statement.

Adds Baldwin, 51, "I don't play the banjo, but I'm thrilled to be hosting the Oscars – it's the opportunity of a lifetime."

Martin previously hosted the 73rd and 75th Academy Awards. Baldwin was nominated for a 2003 supporting actor nominee for The Cooler.

Both have hosted Saturday Night Live.

"We think the team of Steve and Alec are the perfect pair of hosts for the Oscars," said show producers Adam Shankman and Bill Mechanic. "Steve will bring the experience of having hosted the show in the past and Alec will be a completely fresh personality for this event."

The 82nd Academy Awards air Sunday, March 7, on ABC.
[From Us Weekly]
Steve Martin is actually one of my favorite Oscar hosts of the past decade. I found him to be very witty, dry and professional during his previous hosting duties, and I think he'll shine again with Alec as co-host. If they attempt any song-and-dance numbers (like Hugh Jackman did earlier this year), you know it will be chaos. Now if we can only get the Academy to not jam 50 pounds of crap into a five pound bag.
Posted in
Alec Baldwin
,
Awards Shows
,
Oscars
,
Steve Martin