Robyn Gibson leaves country during Oksana Grigorieva's media blitz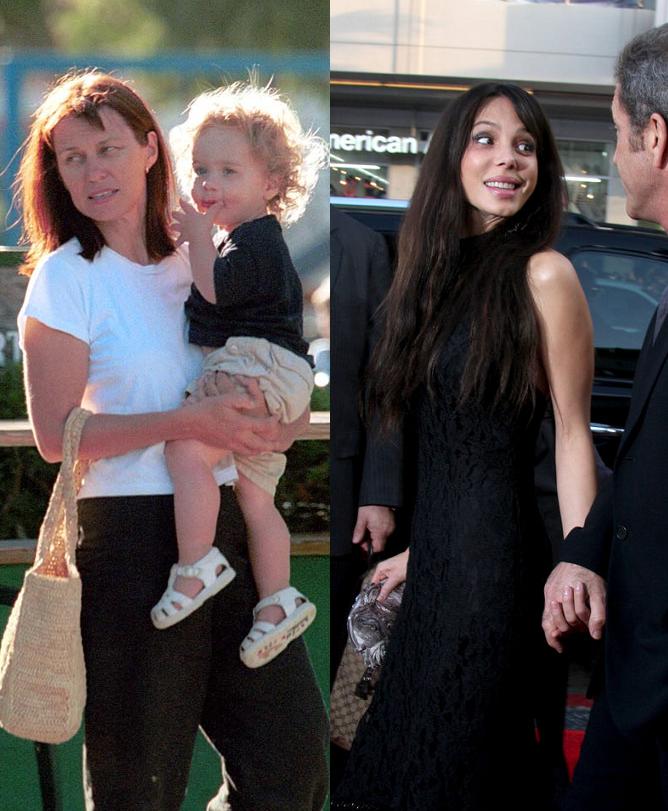 Radar is reporting that Mel Gibson's estranged wife of 29 years, Robyn Gibson, has fled the country. Perhaps "fled" is the wrong word, but I tend to think it's apt. Mel Gibson's baby-mama, Oksana Grigorieva has been on a media blitz to promote her album, Beautiful Heartache. Robyn probably doesn't want to listen to any of the press. Or maybe she just wanted to go on holiday with her youngest son, Tommy. Radar is also reporting that Mel and Robyn's divorce is about to become final "within days" but has no mention of what kind of settlement Robyn will be getting. Mel is reportedly worth around $900 million, and some sources claim that Robyn could be getting half. My guess? She'll probably walk away with around $200-300 million in cash, assets and property. Bring mama a mojito.
Earlier this week, we covered one of the interviews Oksana Grigorieva has been doing to promote her album. In that Reuters interview, Oksana did her best to come across like anything other than a vapid gold-digger. She actually seemed sympathetic at times (to me at least), but she did say some aggravating things, like: "How can I be judged for falling in love? We live in the same city. I don't control who I meet… love is inexplicable… It's not like I was planning to meet Mel specifically. Life happens. There was a working relationship for a long time. I thought he was happily married until I was reassured otherwise. And then it happened." Oksana also claimed that she and Mel had no specific plans to get married.
Oksana's CNN interview was a lot of the same, but I thought I'd put some of highlights up. If you'd like to see the interview, CNN has it. Oksana calls Mel a "visionary" (barf) and claims that she and Mel aren't going to find out the sex of the baby. But how will they pick out a name? Oh, right. "Cash Money" works for a boy or a girl:
"Beautiful Heartache" was released to iTunes on July 23 by Icon Distribution, Mel Gibson's company, which up until now has handled only soundtracks for his movies.

"He's an incredible artist," Grigorieva said. "A visionary. He enabled me to produce this album, for my music to live."

Grigorieva and Gibson were first photographed together on the set of his movie "Edge of Darkness," according to People magazine. Grigorieva is pregnant with Gibson's child and is to give birth this year.

She said the couple has opted not to learn the sex of the child. It will be her second child, after Alexander, her 12-year-old son with actor Timothy Dalton.

"I'm already buying things in gender-neutral colors. It's very cute," she chuckled.
Alexander, she added, is excited about having a sibling. "He's like a little man, protecting me. He's looking forward to it very much."

Grigorieva says she and Gibson have no immediate plans for marriage. "We don't know yet. We haven't really talked about it," she admitted.

She acknowledged that her relationship with Gibson has given her a unique opportunity to present her skills. "If you think about it, every talent needs a serious push and help from somebody who is stronger, because it's pretty much impossible for anybody to succeed in this industry. So I've become very lucky, and I'm very grateful… You don't control the situations or the people you meet. I did not plan this. I'm just doing what I've always been doing. It's not like I've changed my goals at all."

In the meantime, Grigorieva is adapting to life in the public eye.

"It hasn't been too bad, actually. There was a period of time where it was a little bit difficult, but now it's much better," she said.

Before embarking on limited press for the new album, Gibson did offer a few words of advice, she added: "Just be myself and speak the truth. What I most like to talk about is my music and 'Beautiful Heartache.' And that's pretty much it.
[From CNN]
When she's not yawn-inducing, she makes me queasy. This whole operation makes me queasy, actually. Mel and his money (and his public relations team) are trying to sell a better, more wholesome version of Oksana and their relationship to the public. It's very transparent, and it isn't working. I hate gold-diggers who play the victim. The real victim of all of this is named Robyn, and she's laying on a beach somewhere sipping a Mojito.
Robyn Gibson is shown out in 2000. Images thanks to Fame Pictures .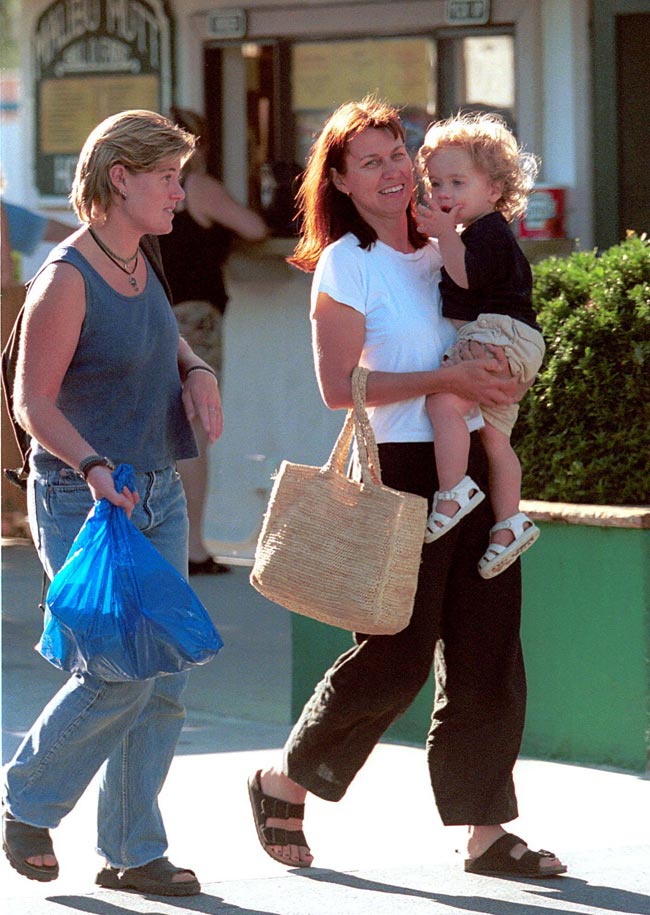 Posted in
Divorces
,
Mel Gibson
,
Oksana Grigorieva
,
Robyn Gibson
,
Vacations