Lack of interest in Mariah wedding photos may derail second ceremony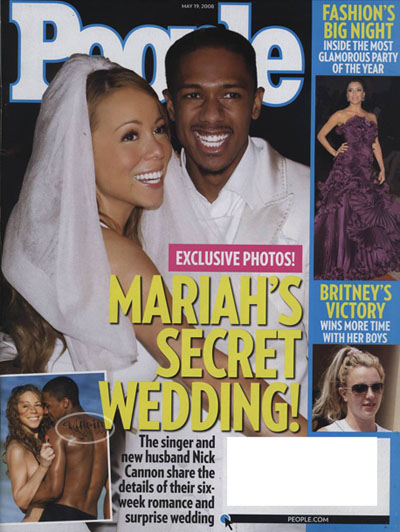 Poor Mimi. This week news leaked that she had her assistant break the number one rule of wedding etiquette: thou shall not request gifts from people. Especially people that weren't invited to the wedding. Mariah had her assistant send out a list of her bridal registries to a hundred of her wealthy friends. While this was the epitome of tacky, it was also rather confusing. Mariah's been telling everyone that would listen that she and new husband Nick Cannon will be having a second – bigger –wedding stateside in the next few months.
However nothing's been mentioned for about a month – and now it sounds like we know why.
Mariah Carey's Big Apple wedding might be off, according to sources close to Carey. The pop diva and her husband, Nick Cannon, hoped to have a lavish celebration that would involve millions of dollars and dozens of bridesmaids.

"The small wedding in the Bahamas was nice, but it was not Mariah's style. The lady loves a spectacle," said a source familiar with Mariah's plans. What went wrong? The issue of who was picking up the tab.

"Mariah was willing to pay for the wedding, but the way she hoped to pay for the wedding was through the sale of photos. No one was interested," the source revealed.
[From MSNBC's the Scoop]
That said, Nick and Mariah are supposedly still super happy, according to the Scoop. And by happy, we mean happily shopping away, which for this couple seems to equal bliss. I can't remember the last time I've seen two people focus so much on the acquiring of stuff. Actually, I can – Mariah Carey. She did it enough for two people anyway. Now she's just got a second person in tow, so it seems a hair less tacky.
Mariah is rolling in dough – there's no reason she needs to fund a second wedding through picture payments. It sounds like it has more to do with her ego than anything. I'm not saying she should have a second wedding – it's all about tackiness anyway. But not doing it because no one will buy the pictures is a ridiculous reason.
Posted in
Mariah Carey
,
Nick Cannon
,
Photos
,
Weddings