Woody Allen's Nanny says Colin Farrell sucks in bed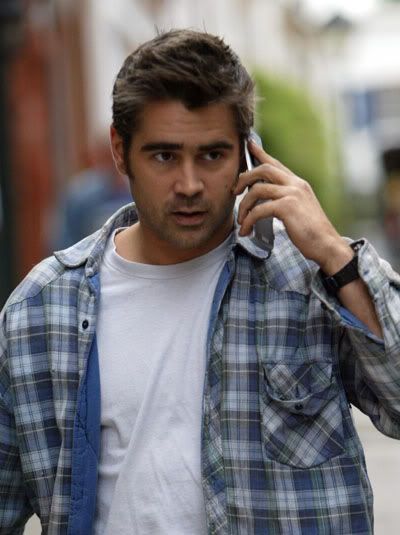 Woody Allen's French nanny was summoned to Colin Farrell's hotel room for some awkward quickies before the London premiere of "Miami Vice." She says he's got a small dick and that he really sucks in bed. He made love to her three times in just an hour and a half. He invited her to the premiere and after party, but she left once she saw that he was getting cosy with Gong Li:
"I gave him my number and just 15 minutes later he sent me a text saying, 'What are u doin over the next couple of hours? I'm just gonna go back to the hotel and take it easy... wanna come by in a bit, we can play?'
"Moments later he kissed me hard on the mouth, grabbed me and threw me on to the bed. He tore at my clothes and kept saying how beautiful I was. When I was naked, he ran his eyes up and down my body, gasping with pleasure." The couple made love on the bed, against the bathroom wall and in the shower.
Angelique said: "He was enthusiastic and athletic. He was so keen to have me, he didn't want to wear any protection. He just said, 'It'll be OK, it'll be OK'. But for all his ardour, it was like he was reading from a text book, lurching from one position to another. He loved it when I climbed on top. He was cooing, 'C'est bon, c'est bon'. It's clearly the only French he knows.
"We made love three times but the actual sex only lasted 10 minutes in total. At one point he lifted me up and carried me to one side of the bed so we were both looking in his full-ength mirror. He said, 'Look how beautiful you are'.
"To be fair, he did try and give me pleasure, kissing me all down my body - but his heart wasn't really in it. I kept having to fake orgasms - one, two, three - to keep him happy and let him keep his dignity. It seemed the polite thing to do."
Despite Colin's bad-boy reputation - the Dublin-born actor once told Playboy magazine: "I've always been a firm believer that casual sex is a good thing" - Angelique says he seemed nervous, clumsy and unsure.
"He must have told me I was beautiful eight times, or more. And he was always looking me in the eye. I found that rather off-putting, as if I were some kind of school project. It was too clinical. He didn't at all come across as a sex god who had slept with countless woman. If I didn't know better, I could almost have thought it was his first time...

"He kept saying 'C'est bon (it's good), you're beautiful, c'est bon'. He sounded like James Blunt.
"Once he'd got what he fancied - in about 10 seconds flat - he just wanted to go to sleep."
The best part is that she compared him to James Blunt. That's so nasty that Colin didn't wear protection!
I would like confirmation that he's poorly endowed, though. Has anyone seen Colin's sex video? He's all covered up in the screencaps. (NSFW)
It sounds like this woman is bitter than Colin didn't contact her again and hooked up with Gong Li instead. I believe her, though. Colin sounds like a teenager with no staying power. Maybe he'll be embarassed enough by this story to use a condom and some manners next time.
Here are some candids of Colin taken on 8/3. [via]
Colin Farrell
|
Hookups
|
Photos
|
Sex
Colin Farrell once spent three hours begging a 70 year-old for sex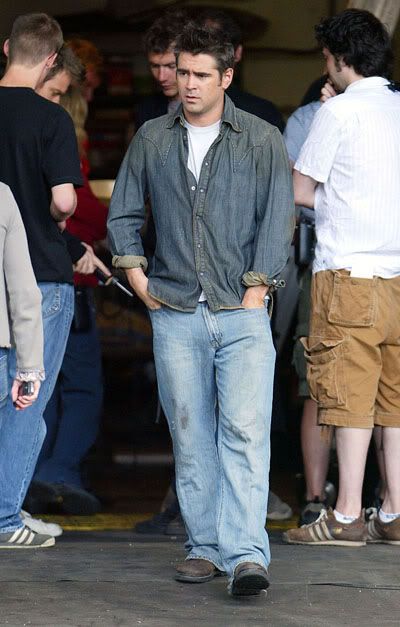 Colin Farrell says his son "gave him a reason to live" and that he hasn't had a drink in six long months.
He was once such a user that he spent over three hours begging a 70 year-old woman to sleep with him. Maybe he just wanted the experience:
A psychiatrist asked him to write down how much he did in a week - 20 ecstasy tablets, four grams of coke, six grams of speed, half an ounce of hash, three bottles of Jack Daniels, 12 bottles of red wine, 60 pints and 280 cigarettes.
But one of the most bizarre claims came from veteran British actress Dame Eileen Atkins. She claimed that Colin spent nearly three hours begging her to sleep with him - three weeks before her 70th birthday. She turned him down.
His boozing and womanising have become legendary since he arrived in Hollywood seven years ago - and he has rarely been seen in public without a drink, a female companion, or usually both.
He has been linked to a string of stars, including Demi Moore, Kate Beckinsale, Britney Spears and Angelina Jolie, and was married to actress Amelia Warner for four months in 2001 - a romance he summarises as "too fast, too young".
Colin has recently been said to be seeing actress Lake Bell, 27, who he met making Pride And Glory. But he says: "I don't have a better half or significant other. I've found a love I never thought I'd find with my son.
"And with my life as it is now, it would be very hard to have somebody - for them and me. I'm never in one place for longer than three or four months and have been living in hotels for seven years.
"Plus, I find that the work takes a certain amount out of me and as much as it would be nice to have somebody to pick me up a little bit, sometimes I just want to be on my own with my own thoughts. I've been lucky enough to have been in love a few times and I've felt how wonderful it is. But it comes with a lot of responsibility and pressures.
Colin, 30, is now clean and sober, except for chain smoking, and is ready to be a responsible father. His sister watches his 3 year-old son, James, while he's on set.
If Colin really did try to sleep with a 70 year-old woman, the memory must be as powerful a motivator to stay off drugs as the feeling of responsibility for his infant son.
Here is Colin on the set of his new movie, (title unknown) on 7/11. [via]
Colin Farrell
Colin Farrell to marry costar Lake Bell? (Happy 30th Colin!)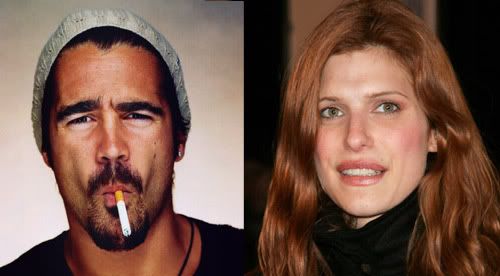 About six weeks ago, we reported that Colin Farrel was dating Lake Bell, 27, his co-star in "Pride and Glory," now filming. It seems that the relationship is going well and people are saying that Farrel is ready to marry Bell.
Colin Farrell is all too ready to get married.
The notoriously wild actor is reportedly ready to get hitched to his "Pride and Glory" co-star Lake Bell. The two have been dating for two months.
"Colin is a changed man since he went into rehab in December and he wants to find someone to settle down with," a source told the Irish Mirror. "In the last five years he's found it hard to settle down but he says that Lake has been his rock and he can't live without her." His rep couldn't be reached for comment.
Farrell just got sober and he turns 30 tomorrow. He has a hard-partying past and it would be surprising if the marriage lasted if he rushed into it after just two months of dating. He may be ready to settle down, but he should try a long commitment first. Not that we're discouraging Farrell - it would be pretty amusing to see him married with such little forethought.
Here are some pictures with Farrell out with what looks like Bell in the beginning of May. [via]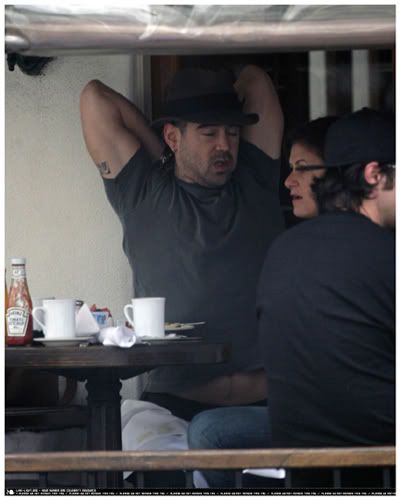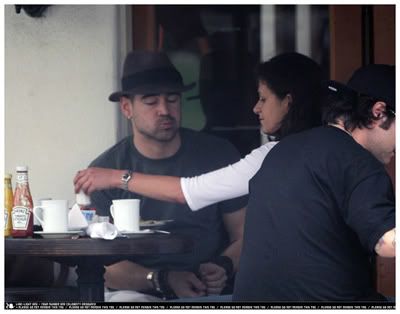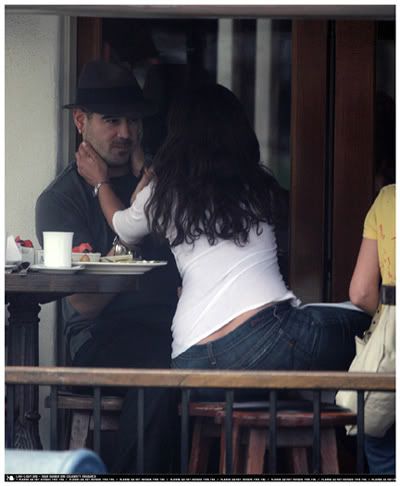 Posted to
Colin Farrell
|
Engagements
|
Hookups
|
Lake Bell
Colin Farrell's new girlfriend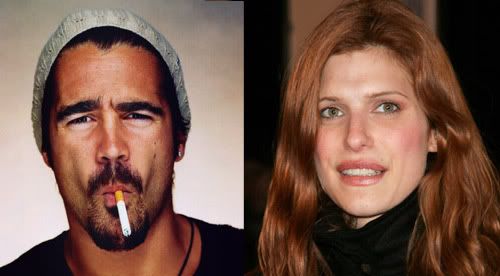 We reported the demise of Page Six yesterday after their recent payoff scandal, but they had a few good items today, notwithstanding their validity.
Colin Farrell may be dating his "Pride & Glory" co-star, Lake Bell. They were spotted together at a Gen Art Film Festival party last week and were said to be cosy:
The recently rehabbed "Miami Vice" stud is apparently smitten with his "Pride & Glory" co-star, Lake Bell. They arrived together at a Gen Art Film Festival bash at the Chelsea swillery BED last week and were inseparable, talking and laughing in a corner all night. "They're in a movie together," Farrell flack Danica Smith explained. "He's always friendly with his cast mates." Indeed - we've seen the porn flick he made with another "cast mate," Playboy pinup Nicole Narain.
We couldn't find any pictures of Farrell and Bell together at the Gen Art Film Fesitival, but here she is alone at the event and in a couple of other recent appearances, and here is Farrell with Shea Whigham at the same film festival.
Colin Farrell
|
Hookups
|
Lake Bell