Comedy for a Cure Benefit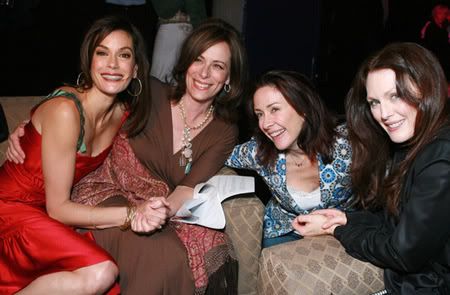 The fifth annual "Comedy for a Cure" benefit for The Tuberous Sclerosis Alliance was held last night in Hollywood. Attending stars included Julianne Moore, Teri Hatcher, Sarah Silverman, Jimmy Kimmel, Jane Kaczmarek, Patricia Heaton, and Marissa Jaret Winokur. Royal asshole Billy Bush served as master of ceremonies.
Calista Flockhart was also supposed to serve as a host, but does not seem to have shown up since there aren't any pictures of her.
A little more about the disease Tuberous Sclerosis:

Tuberous Sclerosis is a devastating disease that causes seizures, autism, mental retardation, kidney failure, lung failure and worse. There is currently no cure. The Tuberous Sclerosis Alliance is the only national organization dedicated to finding a cure for tuberous sclerosis while improving the lives of those affected.
The event featured live auctions and comedy. Teri Hatcher even sat on a winning bidder's lap.
12 more pictures after the jump.
Continue reading "Comedy for a Cure Benefit" »
Posted to
Good Causes
|
Julianne Moore
|
Photos
|
Teri Hatcher