Celebitchy
Archives: Sacha Baron Cohen
Isla Fisher at the 2006 MTV Movie Awards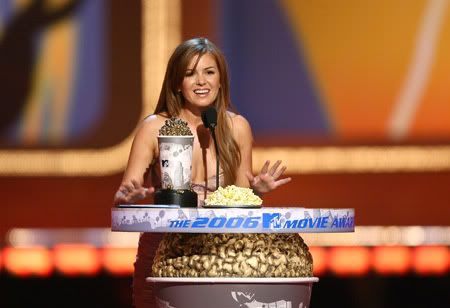 30 year old Isla Fisher is an Australian actress, model, and author. She is best known for her appearance in "Wedding Crashers" as Rachel McAdam's clingy sister, Gloria Cleary. She won the 2006 MTV Movie Award for "Best Breakthrough Performance" for that role.
Fisher is engaged to the hysterical Sacha Baron Cohen, aka Ali G.
Here's a little more about Fisher:
She played Shannon Reed, a fiery, opinionated teenager, on Australian soap Home and Away from 1994-1997. During this time, she wrote two books, Seduced by Fame, about an ambitious aspiring actress whose dreams come true when she wins a role on her favourite show, and Bewitched, about a naive ballerina who searches for her father and falls in love for the first time. Most recently, she starred in Wedding Crashers with Owen Wilson, Vince Vaughn, and Rachel McAdams, and won praise for her comedic performance in the movie. In June 2006 she collected the Breakthrough Performance prize at the MTV Movie Awards for her role in Wedding Crashers. In 2006 she starred as Becca, a Manhattan party host in the offbeat relationship drama London alongside Jessica Biel, Chris Evans and Jason Statham.
Of Scottish parentage, Fisher now resides in England with her fiancé British comedian Sacha Baron Cohen (Ali G).
Isla's acceptance speech at the MTV movie awards must have been excellent. She is quoted as saying: "For most people, playing a bipolar nymphomaniac would have been a challenge, but I just played myself."
"Wedding Crashers" was the big winner at the 2006 MTV Movie Awards, taking home the golden popcorn for best picture and best on-screen team for Vince Vaughn and Owen Wilson.
Here is Isla at the MTV Movie Awards, which airs this Thursday night. [via]
Awards
|
Isla Fisher
|
Photos
|
Sacha Baron Cohen
Borat at Cannes (Topless sunbathers NSFW)

Borat hit Cannes with a bevy of cute women that were probably picked up on the beach for his photo op. In case you're not familiar with Borat, he's Sasha Baron Cohen, Ali G's alter ego from Kazakhstan. He gets up to silly antics with less famous people than Ali G interviews. The Kazakhstani government is pissed that Borat tries to portrays their country like it's full of backwards yokels who abuse women. Most people just think he's funny and don't care that he makes fun of a nation of people.
Here is an 8 minute video of Borat visiting a dating service and getting advice from a dating expert. One of his qualifications for a potential mate is that "She must be tight, like a man's anus." If that's the case he may hurt the poor woman, because he claims to be big, "like a can of Pepsi."

And here are some pictures of his arrival at Cannes. His footwear is the best.There are ass pictures and some topless sunbathers that are NSFW.


Borat
|
Funny
|
Sacha Baron Cohen
|
Television
|
Video