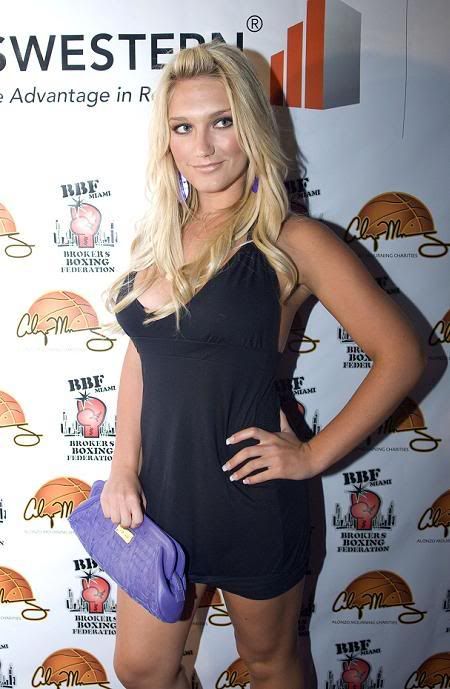 When I was 14 I invented a secret boyfriend. We had an awesome time together and did wildly inappropriate things. I'm pretty sure everyone knew I was lying. But I'll defend that decision to this day. It saved my 14-year-old dignity (or so I thought), and I didn't actually do any of those wild things. I'm pretty sure that's exactly what's going on with Brooke Hogan, who apparently has had a secret boyfriend for several years – and they're now engaged. Brooke, it's only cute to make up stuff when you're young and dumb. Just being dumb isn't' enough.
The gentleman in question – who appears to have a thing for tranny-looking girls – got down on one knee and asked Brooke Hogan to spend the rest of her life with him. Apparently with all the romance going on in the Hogans' lives these days, 21-year-old Jonathan Prater thought it was the perfect time to plan a once-in-a-lifetime (theoretically) occasion.
Brooke Hogan is secretly engaged to a choreographer – but they're trying to keep their happy news under wraps until the dark cloud over the Hogan family dissipates. The Enquirer has learned exclusively that Jonathan Prater, 21, recently dropped to one knee and asked 20-year-old Brooke to marry him – and the "Brooke Hogan Knows Best" stunner said "Yes!"

The couple has been dating off and on for the past few years, but this time the romance has gotten hotter than ever. Even so, Brooke has decided to keep their engagement quiet until brother Nick's recent felony reckless driving conviction and Hogan divorce controversies are put to rest, sources say.

[an "insider" tells the Enquirer] "With everything going on right now the Hogans feel like it's not an appropriate time to be celebrating." The family's VH1 reality show, "Hogan Knows Bes," now has been spun off into "Brooke Hogan Knows Best," and fans can expect to see Brooke sporting a diamond engagement ring at some point.
[From the National Enquirer, June 2, 2008 print ed.]
I have to say, I think this Jonathan Prater character could have timed the engagement a little better. Brooke's parents are divorcing, her dad cheated on her mom with her good friend, her little brother's in jail, and she's reportedly suffering a breakdown. Is now the right time? Really? My only guess as to what the guy was thinking was something along the lines of, "She's really bummed out. Maybe planning a wedding will distract her." Or something like that.
The Enquirer also mentions that Hulk threw Nick a big "Going off to jail" party a few days before his sentencing. Look what you're marrying into Jonathan Prater! I don't know who the hell you are, but I know you can do better than this.
Stay classy Hogans.
Here's Brooke at the Broker Boxing Federation event to help raise money for the Alonzo Mourning Charities foundation on April 10th. Images thanks to WENN.