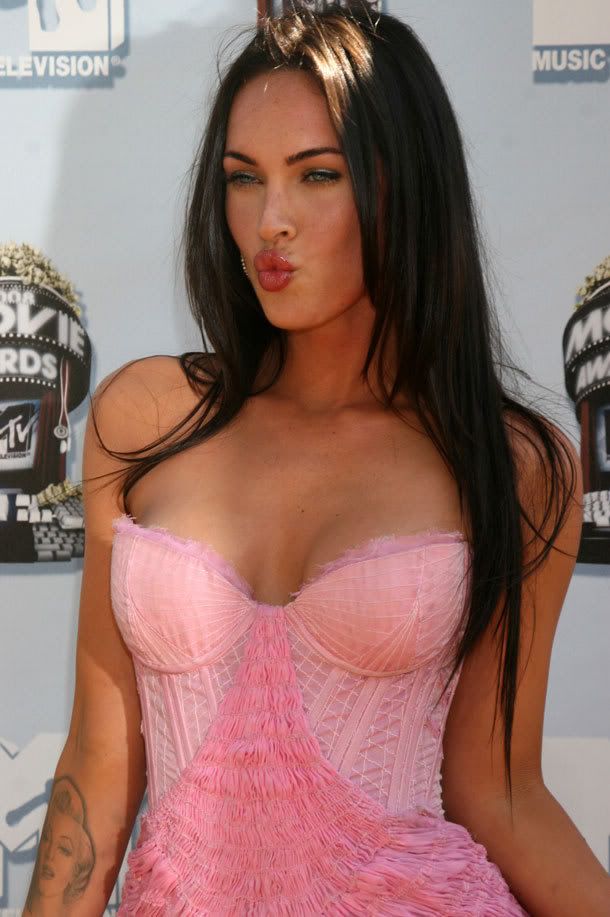 Megan Fox is a beautiful girl and she's got a great publicist. Think about it: she's been in exactly one hit movie, Transformers, and now her face and name are everywhere. However, Megan has some baggage, too. First, she's got a bunch of embarrassing tattoos- although, that hasn't hindered Angelina, so she may be okay on that one. Second, she's dragging around her sad-sack 90210 boyfriend, Brian Austin Green, who looks like he'd rather be back at the Peach Pit rapping about Donna's virginity than being ignored on the red carpet with his considerably younger, hotter girlfriend.
And finally, the girl just says the dumbest things in an effort to appear hot and sexy. There's the time she said that women all hate her because her personality is "badass" and guys all want to hang out with her. Megan, the guys don't want to hang with you because of your personality! Then there was the time she said that everyone in Hollywood is on drugs and that Lindsay Lohan was mean to her on the set of "Confessions of a Teenage Drama Queen." Actually, that was pretty cool. Now, Megan won't shut up about how much she likes to screw. Like that makes her so special or something.
Transformers Megan Fox has revealed why she isn't always out on the town in Hollywood.

The actress racked up two public appearances this weekend – at Spike TV's 2008 "Guys Choice" Awards on Friday then at the MTV Movie Awards on Sunday night – but told FHM magazine recently that she'd much rather be at home.

"I really enjoy having sex, and that's offensive to some people. Women are the quickest to call other women sluts, which I think is sad. I haven't met a lot of men who have said, 'You like having sex? What a dirty whore you are.' I'm young and have a lot of hormones—I'm always in the mood! But I like sex with one person when I'm in a relationship. Sex with random people who I've met at clubs is not really my thing. I have the libido of a 15-year-old boy. My sex drive is so high. I'd rather have sex with Brian [Austin Green] all the time than leave the house. He doesn't mind."
Well, Megan, why don't you just stay home and have sex with David Silver all day, and some other young starlet will be more than happy to snap up your role in Transformers 2? It's not like her character does anything in the movie except look hot. I feel like I already know way too much about this chick to ever take her seriously.
Megan Fox is shown at the MTV Movie Awards on 6/1/08, thanks to WENN.