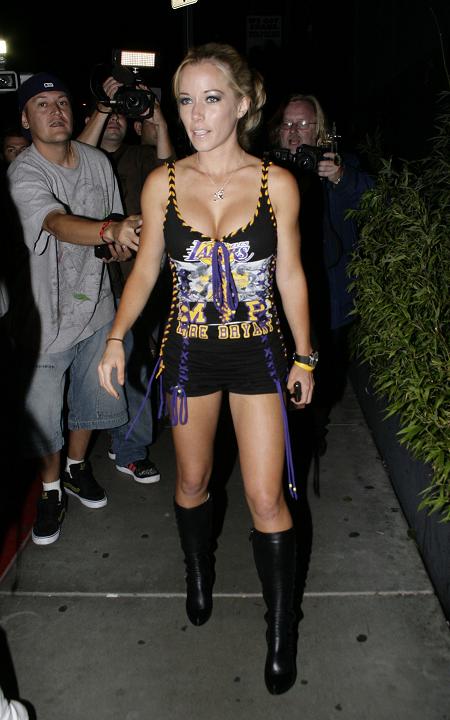 Shocking – SHOCKING – allegations have been printed in the New York Post that Kendra Wilkinson isn't really Hef's girlfriend – and she wants to leave his show The Girls Next Door. The Post claims that Kendra, 21, was just cast to add some youth next to the practically prehistoric Bridget Marquardt, 34, and Holly Madison, 28. They also claim that Kendra breaks all the rules, like not dating anyone but Hef. That's right, Hef can (try to) boink all three women at once, but they're only allowed eyes for him.
"Holly and Bridget hate her," a friend of Wilkinson told Page Six. "They're totally jealous. She has her own empire now. She's got a clothing line, a modeling career and an exercise empire. They're just sitting there hangin' with Hef."

The friend expounds, "Kendra was never really Hef's girlfriend. She was cast for the show [E!'s 'The Girls Next Door'] because Bridget and Holly are old, and they needed a young hot girl for Hef. She was selected from a bunch of Playmate wannabes." Wilkinson is said to be eyeing her exit from "The Girls Next Door" and the famed mansion next season. "She's definitely out," her friend said. "There are too many rules and Holly and Bridget want her gone. They're so mean to her."

Wilkinson has had a hard time sticking to the rules of the Playboy mansion – which include a curfew and a strict "no dating other men" line. "She goes out all the time really late and parties," her pal says. "She's definitely been linked with other guys . . . She likes rappers and sports guys."
[From the New York Post]
You can just hear Kendra bitching to the aforementioned friend, "But all the other bunnies are mean to me!!" Interestingly, most of the rumors that have been floating around about her for the last several years are that she is indeed dating other people – other women.
Playboy's rep of course denied that there were any problems, and told the Post, "'Hef has always been clear that the girls were his girlfriends before the show was even signed off on. '" Sadly on that show it is pretty hard to tell what's real and what's made up for the cameras. Fancy doggy birthday party? Totally real. People going at it in the grotto while a flamingo tapes the whole thing to put on the internet later? Partly real. Kendra wanting to get it on with Hugh Hefner? Probably not so real.
Here's : Kendra Wilkinson leaving Coco de Ville nightclub where she celebrated her birthday in L.A. on June 10th. Images thanks to WENN.