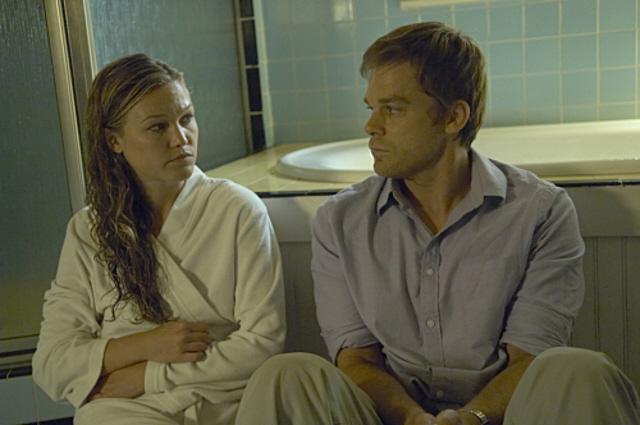 Quite honestly, I find Michael C. Hall and Jennifer Carpenter's split much more shocking and interesting than any of the other celebrity splits this week. Probably because I always bought Hall and Carpenter as a couple who made sense, who had a lot of genuine love for each other. But I was wrong – and if our tipster a few days ago was right, Hall and Carpenter have been on the outs for a while. Now Lainey at LaineyGossip is suggesting – in a somewhat obvious blind item kind of way – that Michael was all up on costar Julia Stiles' grill when they were filming this past season of Dexter:
I mentioned yesterday that there are a few more details about one of the recent splits announced in Hollywood this week. Turns out there was someone else: his love interest this season on his tv show. Their chemistry was so crazy and so evident to everyone that writer and producers, seeing it play out on set, actually cranked up their sex scenes to capture it for show. Her career has seen a resurgence since.

Eventually the two fell in love. They were together, very close, at a Halloween party in New York this fall hosted by a famously controversial writer (this isn't a super important detail) and those who observed them that night are not surprised now that he's ended it with his wife.
[From LaineyGossip]
Eh. Michael and Julia didn't really have cranked-up love scenes. But they did have a lot of chemistry. Also, Showbiz Spy (not reliable in the least) has a source who claimed that Julia and Michael were hanging out earlier this week and that, "Michael was checking out Julia's butt. He was fixated. He seemed fine though. You would never tell his marriage had just collapsed." And I just want to point out something else – if we're judging Michael's "type" as Jennifer Carpenter, then Julia definitely fits into that "type". Both are very slender, tomboy-ish, athletic women who are… let's say… lacking in the kind of stereotypical "feminine" vibe. So… sure, I'll buy Michael and Julia as a couple. I'll buy that he was attracted to her, and I'll buy that maybe his vows didn't mean much to him.
If Lainey is right, I end up having a lot of sympathy for Jennifer Carpenter. Our tipster claimed that Carpenter has spent the last few months partying her ass off and hooking up with guys too, though. And TMZ just threw up some photos of Jennifer having lunch with a mystery man. Perhaps she called the paparazzi for a little revenge "f-ck you" photo op with Mr. Beefcake. Michael already did the photo op think without his ring yesterday (photos below), just after the news about his split broke. Is anyone else getting the feeling that there is some bad stuff about to break? Ugh.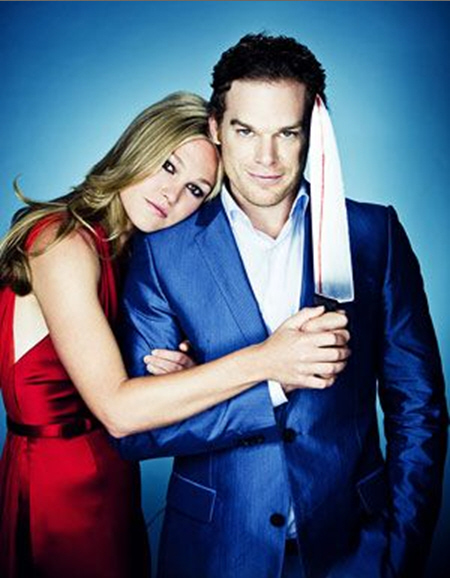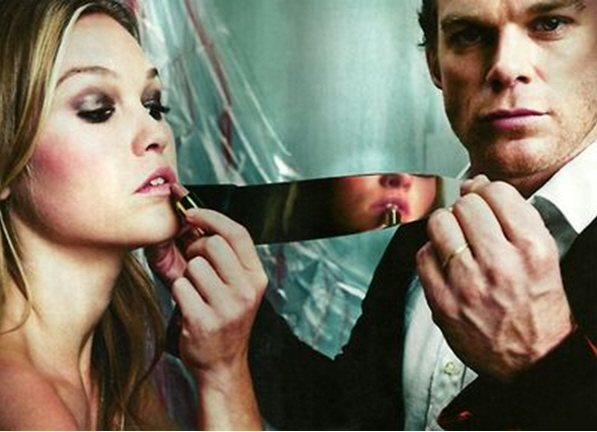 PR image from Dexter. Additional pics courtesy of Entertainment Weekly.