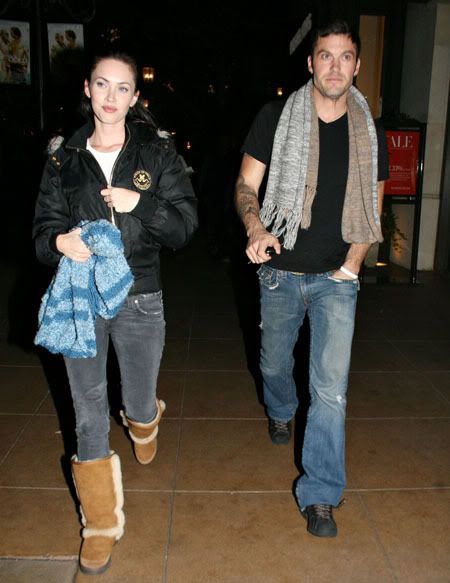 Brian Austin Green, 35, had a mastif-pitt bull mix dog named Macy that he adopted three years ago when she was just a puppy. His live-in fiance Megan Fox, 22, is said to have told him that it was her or the dog. The National Enquirer has this story, and claims Macy was a well-trained and well-behaved dog and didn't cause any problems. Brain ultimately gave up the dog to a good home at Megan's insistence, but he's said to be heart broken about it.
Megan Fox has fiance Brian Austin Freen on such a short leash that she's forced him to give up his best friend – his beloved dog Macy!

"Megan claimed she felt threatened by Macy, but that dog was a sweetheart. She wouldn't hurt a fly," divulged an insider.

"Brian adored Macy and refused to give her up for the longest time, but Megan nagged him about it until he finally gave in. He was crushed."

[Brian] adopted 3-year-old Macy, a mastiff-pit bull mix, when she was 3 months old – around the same time he and Megan, 22, began living together, according to sources.

After adopting the dog, 35 year-old Brian enrolled her in rigorous training courses at the Hollywood Dog Training School…

"Macy was really mellow and well-behaved," the source added. "Whenever Brian went out of town he'd board Macy at the training school.

"The trainers were shocked when Brian's assistant came in one day and said Brian was being forced to give Macy up for adoption because Megan didn't get along with her."
[From The National Enquirer, print edition, August 18, 2008]
The Enquirer goes on to say that to add insult to injury "Right after Brian gave Macy up for adoption, Megan adopted two tiny dogs."
There was a story a while ago the Brian was overheard at lunch venting to a friend about how Megan controls his life, including making schedules for him so he spent a specific amount of time together. These two were rumored to have broken up last month, but Brian denied it, saying they were still together.
It's very cold to make someone give up their pet, and you have to wonder if these two are ready to get married and take it to the next step. If Fox is as controlling and cold-hearted as she's rumored to be, she would definitely make a terrible wife. It doesn't matter how hot someone is if they're a nightmare to be with.
Brian Austin Green and Megan Fox are shown out on 1/3/08. Credit: Dave Styles/Fame Pictures