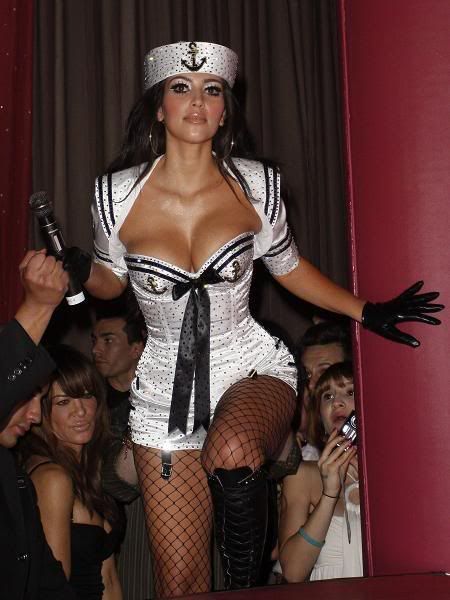 Afraid she was running the risk of being taken too seriously, Kim Kardashian decided to slut it up on Friday by dancing with the Pussycat Dolls in Los Vegas. Kim donned a little sailor suit and focused on such complex tasks as not slipping on the water in the bathtub. Which to be fair is a pretty common problem for dancers. And the elderly.
Last week, bountiful-bootied celebutante Kim Kardashian performed with the Pussycat Dolls, much to the delight of a hooting and hollering crowd. And even though the main man in Kim's life, NFL superstar Reggie Bush, wasn't able to be there in person, he still managed to catch her in all her scantily clad glory.

"We instant-messaged right before the show," Kim told OK! at the Sunkist/MTV Ultimate End of Summer Bash at The London West Hollywood. "He could see the costume and I did my whole little performance for him to show him what I was going to be doing. He asked me to take a video."

And while Kim said she hopes to work with the Dolls again soon, she admitted that their saucy dance numbers are not as easy as you might think. "I was so nervous," she explained. "There was water in the bathtub and I didn't want to slip… I didn't practice it with the water to start with." Regardless, Kim calls the whole experience, "exhilarating… very empowering."
[From OK! Magazine]
Apparently Kim's efforts at weight loss have been quite fruitful – a little too much so, in fact. She recently said that she's trying to lose some of the infamous junk in her famous trunk – and TMZ reports that Kim surprised everyone with just how much she'd slimmed down.
Yes, video can be deceiving. Kim Kardashian had a 911 emergency over the weekend when she performed in Vegas with the Pussycat Dolls. Seems part of her ass disappeared.

Our spies tell us hours before going on stage, she was fitted for her costume but it was too big … in the butt Bob. Kim K lost weight in all the wrong places. She got cinched up with her getup and went on stage.
[From TMZ]
She still looks pretty good to me. If you go for the whole skanky sailor slut look. I personally prefer more of a skanky pirate, but whatever. Here's Kim dancing with the Pussycat Dolls on Friday. Images thanks to WENN.