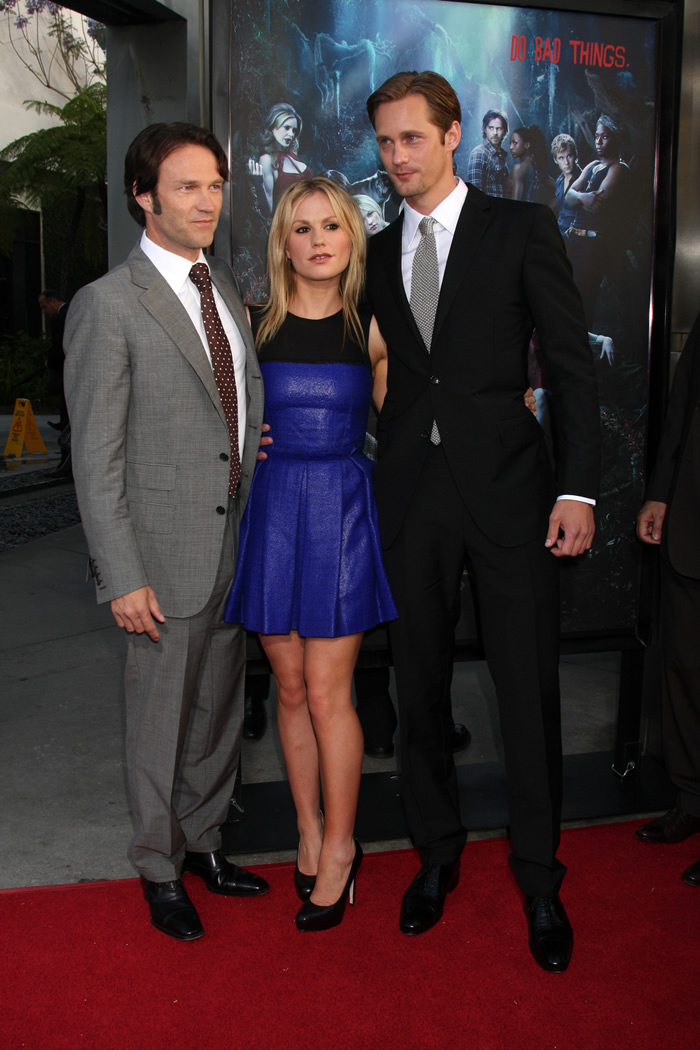 This week's issue of Star ups the ante on the tabloid's previous "entitled diva" reports concerning Stephen Moyer's behavior on the set of "True Blood." However, the latest rumors are getting far too personal because they concern Moyer's jealousy of the obscenely steamy sex scenes between his real-life wife, Anna Paquin, and co-star Alexander Skarsgard. Of course, this story could be entirely made-up because it ties in so nicely with the fact that Alex recently split with girlfriend Kate Bosworth. Regardless, Star maintains that the tensions are affecting the hit HBO show (which has just been renewed for a fifth season) to such a degree that Paquin has been forced to run interference:
The steamy nude love scenes between True Blood's Anna Paquin and Alexander Skarsgard during the show's fouth season have set pulses racing. But the couple's chemistry had Stephen Moyer, their costar — and Anna's real-life spouse — boiling! He flipped out several times, an insider tells Star, because he felt Anna was way too enthusiastic about fooling around with Alex, who is fresh off a split form Kate Bosworth.

"Anna is very secure in her sexuality," the insider explains. "She threw herself into her love scenes with Alex, and they're really hot. He was clearly turned on — and Stephen was not amused, to put it mildly." Things became so tense between the show's male leads, adds the insider, that creator Alan Ball even jokingly threatened to make them "hug it out"!

Anna, 29, was truly surprised by Stephen's reaction, the insider says. "I think everyone was caught off guard. There has been nothing but friendship between the three of them until now, and there's always been lots of sex on the show."

To soothe her husband of one year, Anna began doing double duty on set. "Between scenes, she seemed to make a point of walking over to him to whisper something in his ear or grab a quick kiss," says the insider.

Fortunately, Stephen, 41, and Alex, 34, have been able to move past the awkwardness — for the most part. "Anna is hugely relieved," says the insider. "She says that a large part of True Blood's appeal to viewers is, well, the hot sex. If Stephen kept taking her scenes with Alex personally, his jealousy could take down the entire show."
[From Star, print edition, August 22, 2010]
I wonder if this is true or not; but if so, Moyer's just going to have to learn to deal with watching Skarsgard sex up his wife because, you know, it's part of the job. Besides, it's not like Paquin doesn't have to deal with Moyer's love scenes with other women on the same set as well, right? Granted, "True Blood" sex scenes are much more intense than the average television sex scene; but still, suck it up, dude.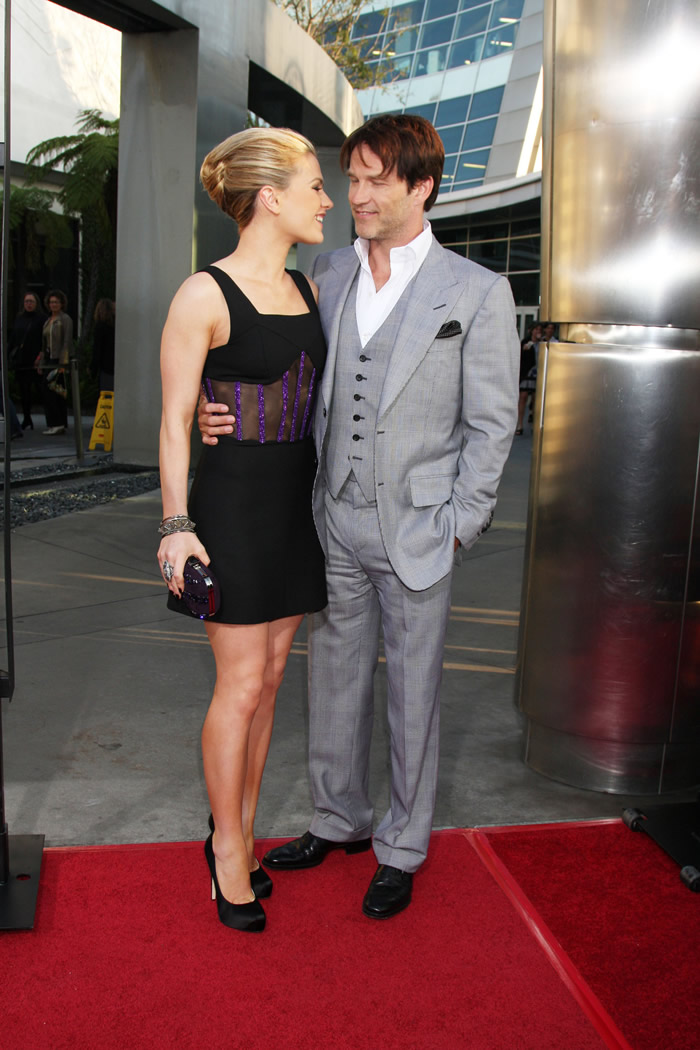 Meanwhile, Alex was snapped looking all lanky and sultry in New York City this week. Honestly, a man should need a permit to stand like this: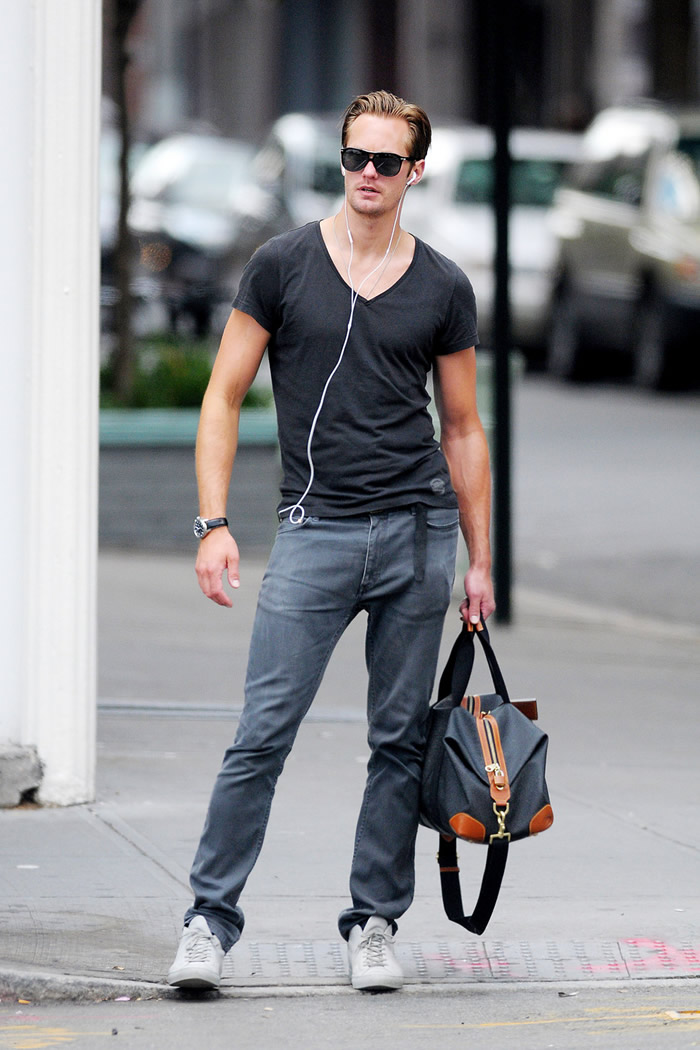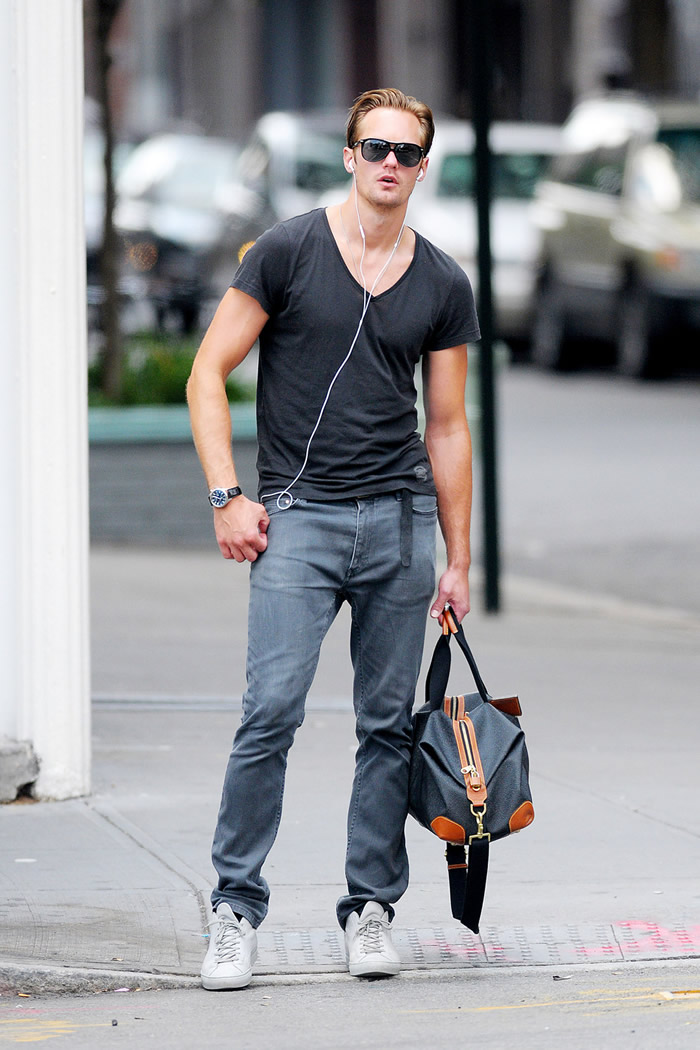 And just yesterday, here Alex is on the set of his new film, What Maisie Knew, in NYC as well. Lucky Manhattan.
UPDATE: Denials from both men have already arrived! Moyer, who apparenly is not a jealous man, has already proclaimed, "Ha, ha. I have also had hot love scenes with others so it is something we have to deal with. It is part of the job so it is ok. I am actually happy that it is with Alex since I like him so much." Alex has also chimed in with "I know he doesn't see me as a potential threat, and it's really not uncomfortable at all." So yeah, this is merely more fabricated drama from Star.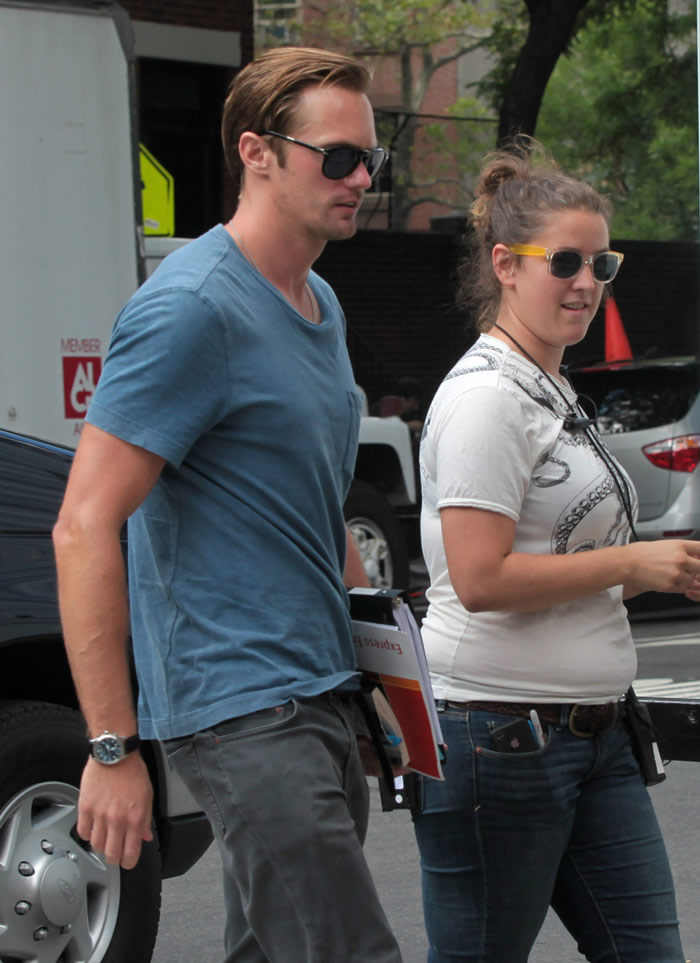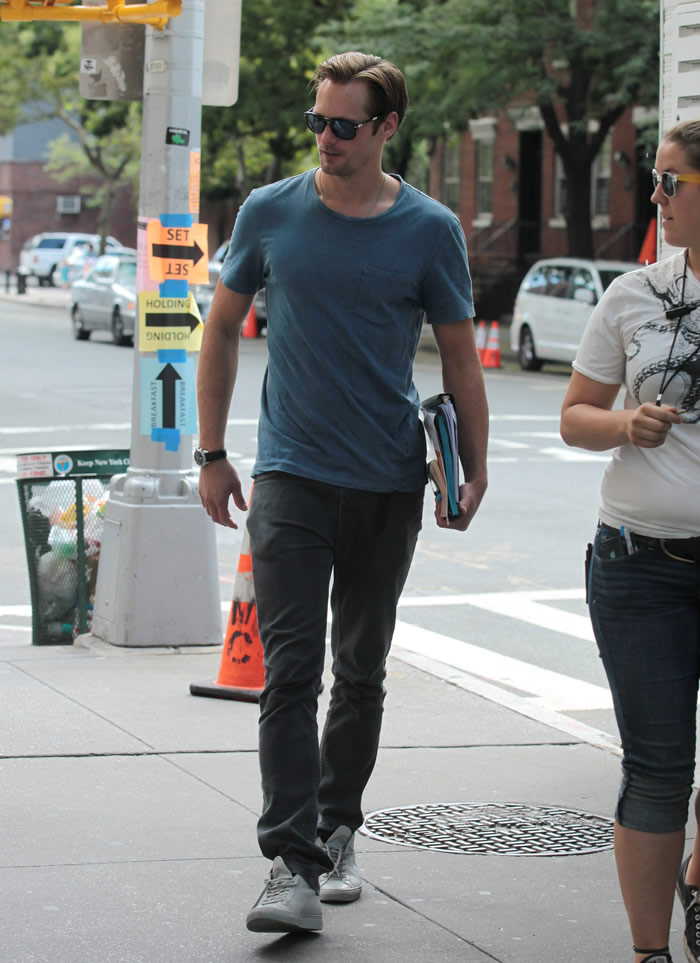 Photos courtesy of WENN, PCN, and Fame