Of all the dumb things Jennifer Love Hewitt has said over the years, she really seemed to get the ball rolling by telling outlets that she got over her 2010 split with comic Jamie Kennedy by "vajazzling" her hoo-ha. This involves getting a Brazilian wax and then getting rhinestones glued on your private area, basically making your mons look like a cheap QVC t-shirt that your grandma would wear for a night out out Sizzler. (I learned way more about this process than I ever wanted to know when an editor for the Huffington Post endured vajazzling at a salon and then made a video about it.) Well Hewitt is still vajazzling, just like she's probably still visiting her three engagement rings at Tiffany's every month. She told the NY Daily News that she's currently vajazzled and that it balances her energy or something. Over-share.
JENNIFER LOVE HEWITT doesn't just get dressed up for special occasions — she gets vajazzled. At Wednesday's A&E Networks 2012 Upfront event, "The Client List" star told us that beneath her cleavage-bearing Alexander McQueen dress she was vajazzled because "it's a special occasion." Hewitt created a stir several years ago when she told then-TBS talk-show host George Lopez she was a fan of vajazzling. For the uninitiated, that's when women apply glitter and jewels to their nether regions for esthetic purposes. When we asked the 33-year-old hottie if she was emblazoned with clear crystals — said to balance energy disturbances when placed on the body — she enthusiastically confirmed that "I'm full of good energy."
[From NY Daily News]
I understand that this woman has something to promote, and that claiming she wants to be a Victoria's Secret angel and telling the world her crotch is bedazzled get her press. Her show "The Client List" glamorizes prostitution, so maybe she's trying to play up that sexy image with all these ridiculous quotes she's giving. At some point she's got to realize that her primary goal, getting and keeping man, is not going to be fulfilled if she keeps looking so desperate. It was one thing to spread the word about vajazzling back when it was a novelty, and to dedicate a chapter of her book on it. It's another thing to continue to share her personal grooming habits. Men like mystery. They don't want to know that there are jewels on your crotch prior to earning the right to see said nether region. That should be between Hewitt and whatever dude is going to hit it and quit it, to quote one of our commenters. I don't know why I bother, since it's always the same thing from her.
Hewitt's Client List was of course renewed for a second season by Lifetime. She's shown here at the A&E upfronts on Saturday. I like her flattering red dress and her style has improved quite a bit lately. She needs to ditch those terrible huge fake eyelashes of course. Hewitt has been looking like she's got caterpillars on her eyes in most of her recent appearances.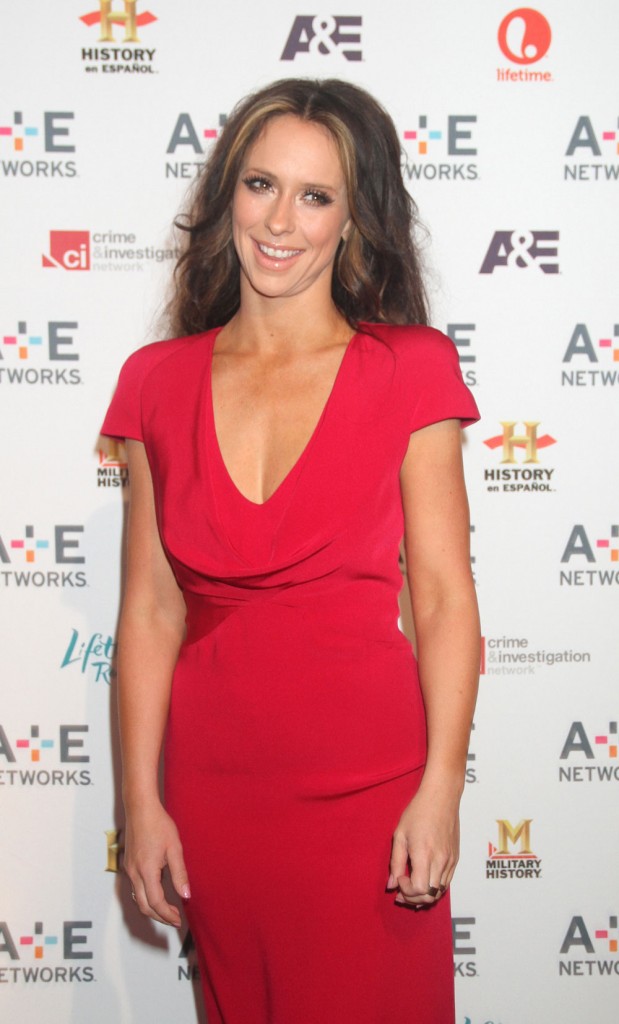 Look at her posing like a Kardashian.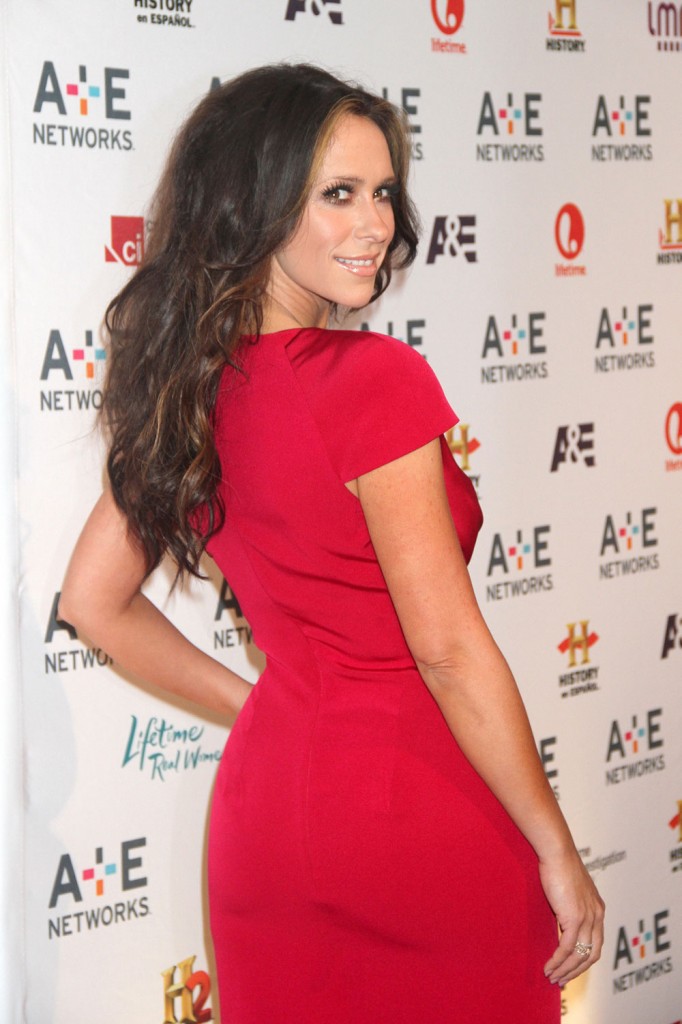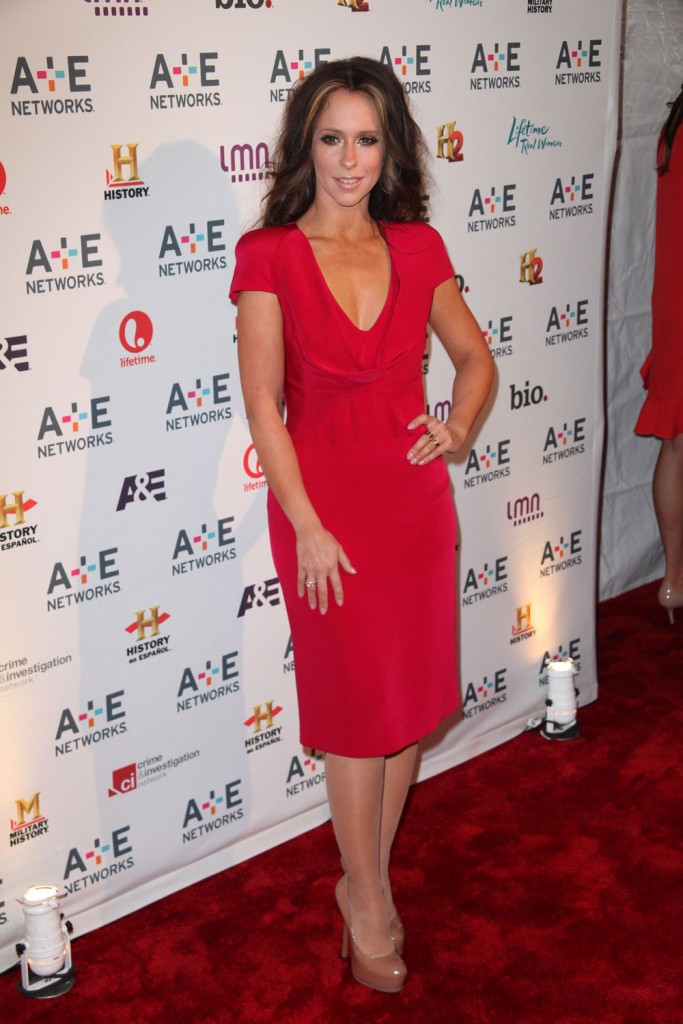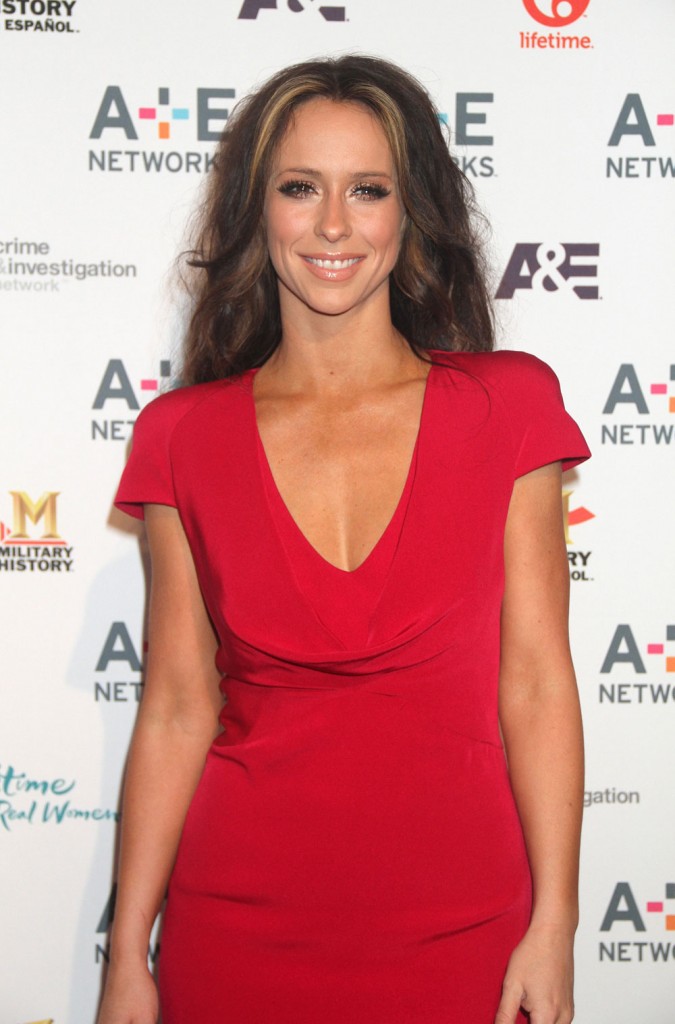 photo credit: Mr Blue/WENN.com