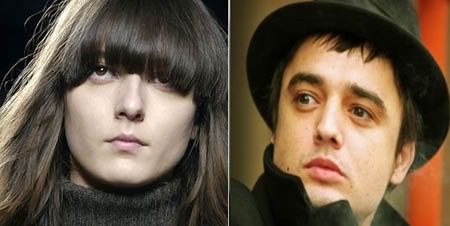 Kate Moss …finally acknowledged as too ferret faced and nicotine stained to model even for her own clothes' line (at Top Shop) …has chosen her representative muse – model Irinia Lazareanu. Tranny Doherty … like Shannon Doherty but without the wonky eye.
Has she gone for a younger version of the Mossy old charms, scrubbed down those green walls to find the shiny marble underneath … not quite. She is keeping tradition alive by sticking with a new form of heroin chic, but taking it in a tranny direction with Lazareanu – a shocking Pete Doherty look-a-like. There is just no career killing move that Moss can't find a way to incorporate Doherty into … points for consistency if not for hygiene, Katie me girl.
Not that Pete doesn't have a girlish charm from certain angles … heroin does wonders for the complexion and certainly induces that blank gaze so popular in the glossy pages of fashion mags. Frillr has the details
"Kate thinks she's got a very unique, rock-chick look," says our source. "She really felt that Irina embodies the feel of her TopShop range – her porcelain skin, her big eyes under her thick Sixties fringe – it was a look Kate was impressed with." Lazareanu has starred in campaigns for Chanel, Mulberry and Hugo Boss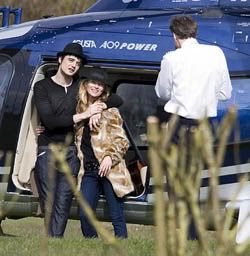 Yeah she really likes getting whacked and putting Pete in a wig is more like it. Top Shop is already in a slight panic about the Kate venture: the Madonna line at H&M has undersold significantly and industry insiders think it may be an indicator of consumer exhaustion. Further adding to top Shop's worries Irinia Lazareanu – who has some real modelling experience — used to be a drummer for Doherty's band Babyshambles. Could it be execs are worried that Moss wasn't exactly compos mentis when she made the choice? Frillr continues with the positive spin but it seems like they didn't read through their own quotes:
Moss's designs launch in the UK later this month and there is already a waiting list for the clothes.
Kate Moss will also debut the collection for Topshop in New York on May 8th at Barneys department store..
Julie Gilhart of Barneys said:"Topshop is the lower end mass store that offers a lot of style; Barneys is an upscale luxury store that offers high style."
So what are you saying Julie? That the collection is a mismatch for TopShop …. or too low end for you … well one way or another we'll soon see whether Kate once again manages to snatch victory from the jaws of bad decisions and imminent defeat. That train has been on time for so far …
pics via mujeraldia and Agent Bedhead.