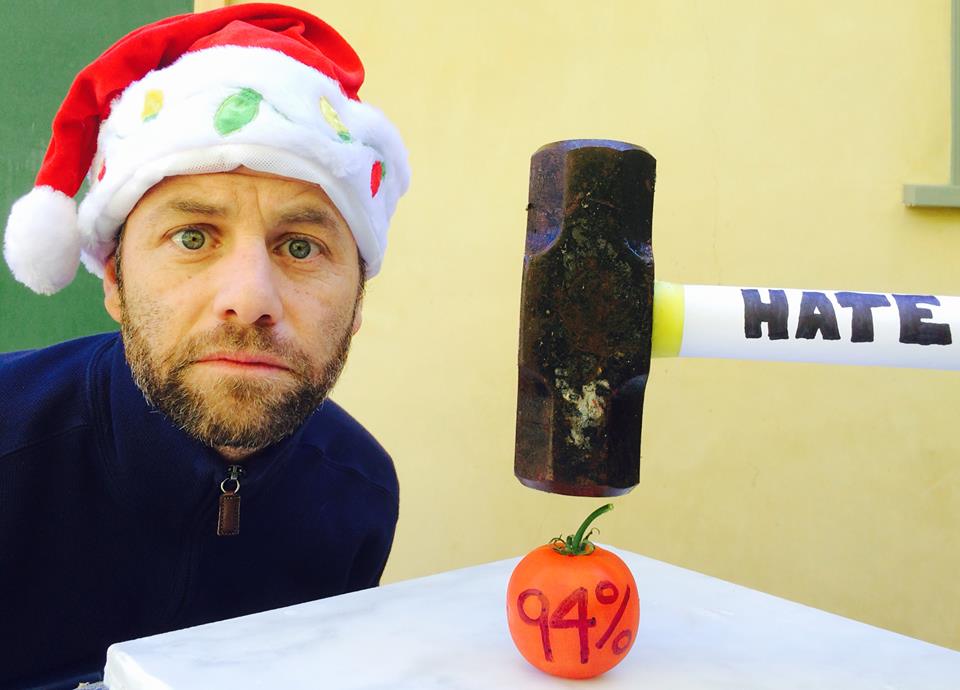 Kirk Cameron's going crazy on his Facebook page over reviews of his Saving Christmas movie. Kirk takes his evangelical douchebaggery seriously and promoted his film by telling women to get back in the kitchen. He posted this photo yesterday to thank his supporters for the film's "fresh" rating on Rotten Tomatoes. He's delusional. The film has an 8% rating. The LA Times called it "an unholy mess" and Peter Sobczynski of RogerEbert.com labeled it as "the only Christmas movie I can think of, especially of the religious-themed variety, that seems to flat-out endorse materialism, greed and outright gluttony."
Kirk was talking about the audience rating. He rallied his Facebook troops, and they briefly raised the film to a 94% audience rating. Already, Kirk's "good work" has disappeared because the audience rating fell to 40%. That doesn't matter though! Kirk told his followers to "keep storming" because "the haters and atheists are coming out of the woodwork." He feels persecuted, but "together, they can't stop us! Are you with me??" Nope.
What's ironic — and sadly funny — is that Kirk is the biggest hater. He hates non-believers and non-evangelicals. He hates women, obviously. Oh, and he really hates gay people. Remember, he called homosexuality "unhealthy, detrimental, and destructive." He fought for freedom by saying, "This is a war we can win." As if gay people truly waged war on Kirk Cameron.
Anyway. A new video by a group called "Deeper Understanding" started circulating online. Kirk's production company, Living Waters Productions, already yanked it from YouTube. The footage assembled Kirk's speeches about how to "witness" to a gay person. Kirk provides instructions on how to tell "our gay friends" they're going to hell. I salvaged these quotes before the video disappeared:
"There's nothing more important than your eternal salvation."

"All sexual sin is offensive to God … But I didn't choose this [straight] lifestyle. We're all born with a sinful nature."

"The real problem with many Christians who try to witness to someone who's gay is that they don't understand that homosexuality is one particular branch on the deep-rooted tree of the sinful nature. [Kirk's friend: "We're not actually homophobic. We're sinaphobic."] God hates gay people. God hates f***, and you're going to hell. If we fail to be blunt and straightforward about that sin … again, we're doing a disservice to our gay friends. Remember when I witnessed those gang members?"

"So … how do you witness to someone who's gay? The same why you would share the gospel with someone who's not gay." [Insert montage of Kirk's not-gay friend asking dumb questions to people on the street.] "And they're proud of their sin. What do we do with these people?"
[From YouTube]
I wish I could show you the video. It was filled with awful production values and footage of what Kirk sees as "gay people" — basically a group of guys dancing in a club (that could have come from Top Gun or any random 1980s movie). Kirk and his buddy drove down the street in a convertible as they casually discussed how God will send gay people to hell. What does it mean when Kirk said he "witnessed" to some gang members? God, I would love to have watched that go down.
Update: HuffPo posted the video. Go watch it!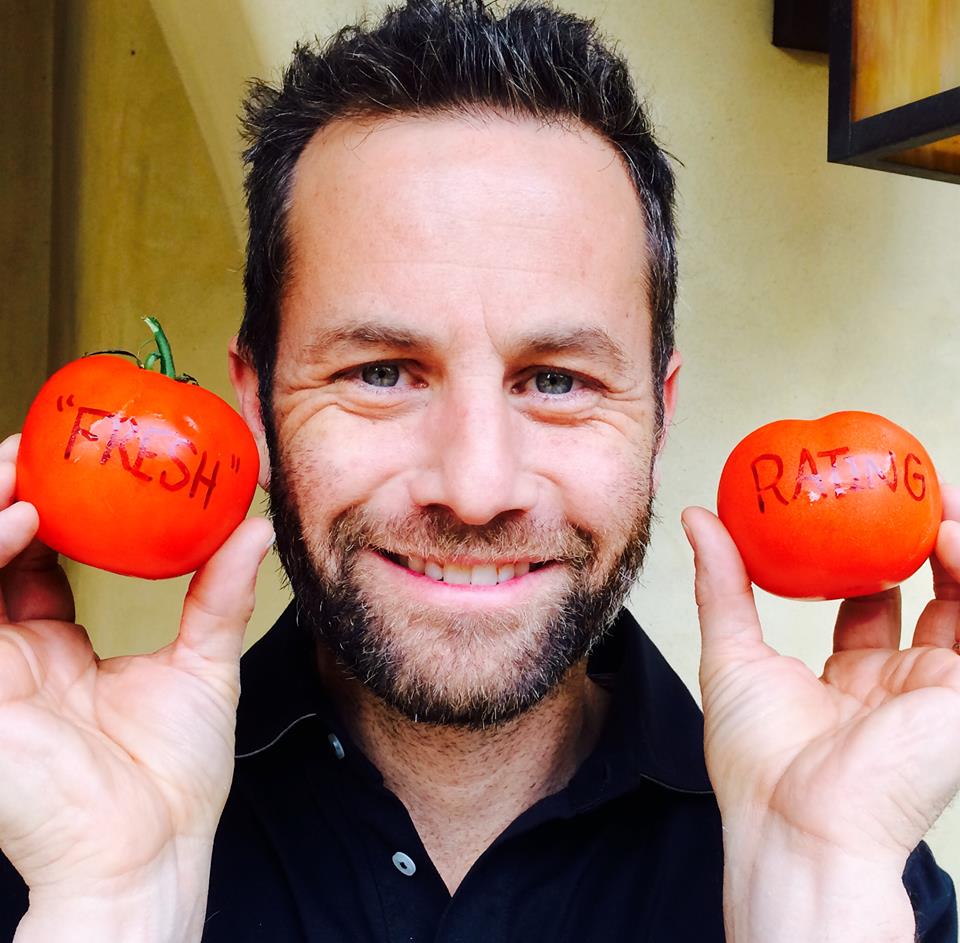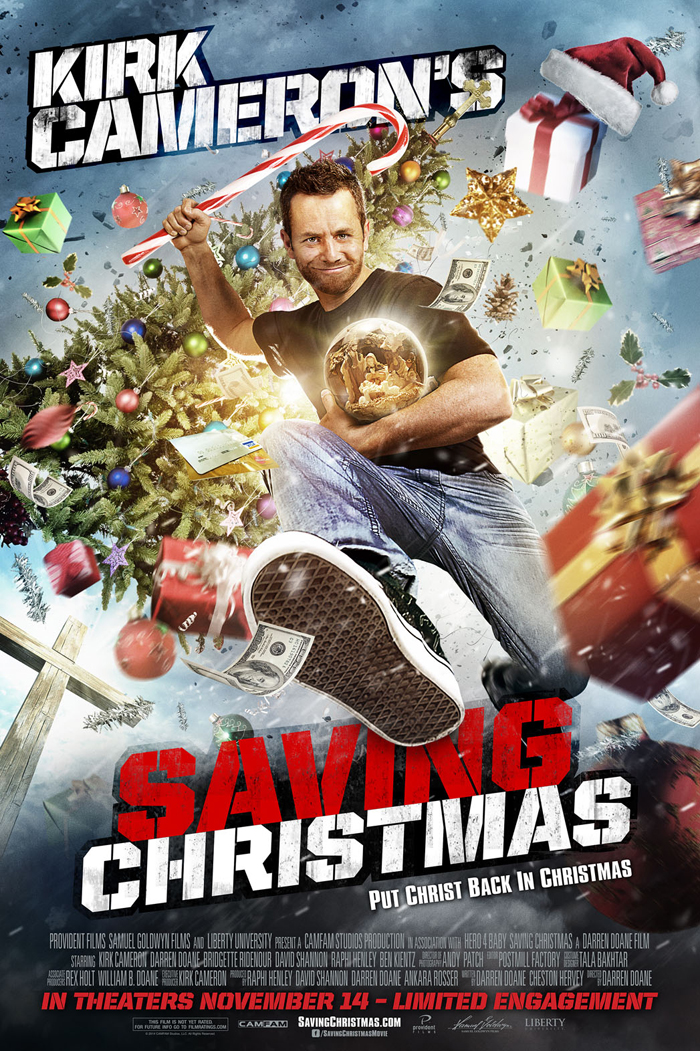 Photos courtesy of Kirk Cameron on Facebook