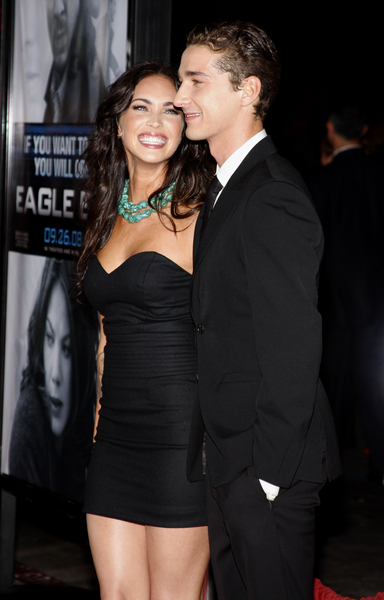 What's the conventional wisdom on Shia LaBeouf these days? My thoughts are: very cute, very screwed up, but I really want to take care of him. Soothe him. Cook for him and let him tell me his stories. But Megan Fox has ruined it for me. Both Star and the National Enquirer are running stories this week about Megan and Shia's undercover romance. She's an unworthy bitch, right? Hrmph. He would be better off with me, but apparently, Megan and Shia have been into each other for a while – since the filing for the first Transformers movie.
For the Enquirer, the story revolves around Shia's injuries from his car crash last year. His hand was damaged, but at least he wasn't charged with that DUI. The accident seemed a wake-up call for Megan, who has started taking care of Shia, realizing how her feeling for him have grown. She even drove Shia to a recent doctor's appointment. Of course, there's the little matter of Megan's on-again-off-again boyfriend/fiancee Brian Austin Green (David Silver!):
Friendship is blooming into love for Megan Fox and Shia LaBeouf!

The 23-year-old actor has carried a torch for the brunette bombshell since they both began filming the first "Transformers" film in 2006, sources say.

So when Megan, 23, called off her engagement to [Brian Austin Green] this winter, Shia stepped in to help her through the breakup, according to insiders.

Now Megan is nursing the young "Indiana Jones" star through physical rehab for his left hand, which required extensive surgery after Shia flipped his truck in a horrific July 2008 car accident.

On May 27, Megan drove 45 minutes across town from her Santa Monica condo to chauffeur Shia to a doctor's appointment. On the way, the pair stopped for coffee.

The two have grown especially close while promoting the sequel "Transformers: Revenge of the Fallen," added an insider.

But Megan – who recently told an interviewer that "boys in their 20s are a waste of time" – still sees her ex-fiance.

"Megan is torn between Brian and Shia right now," maintained the insider.

"She loves Brian's maturity and the life they've built together. But she and Shia have gotten much closer in recent weeks. His patience and persistence are winning her over. There's definitely serious chemistry there."
[From The National Enquirer, print edition, June 16 2009]
Star has more about the alleged would-be hook-up, and their quotes from Megan are older. But they also have a source who describes Brian (David Silver!) as "a stick-in-the-mud" compared to all of the fun, crazy, 20-something fun Shia and Megan are having. Right? Because David Silver is like 40 years old (he'll be 36 next month, actually):
"Shia's had a crush on Megan since the first Transformers movie," a source tells Star. "They've flirted in the past, but Shia wanted to make sure that Megan was totally over Brian Austin Green before he put his heart on the line with her. He wants this to be the real thing!"

Megan confessed to adoring Shia as well. "He's probably my favorite person in the entire world," she said. "Shia makes me laugh harder than anybody I've ever known in my life. And he's really super handsome."

"Brian can be such a stick-in-the-mud; he takes life so seriously and can be difficult to be around. Shia gets Megan to be more relaxed and carefree," says another source.

"As their filming days on the sequel decreased, she made excuses to see Shia. They recently spent a few days together in Burbank and Venice Beach, just talking. They're getting closer every day!"
[From Star Magazine, print edition, June 15 2009]
Ah, a lovely romance playing out against the beauty of… Burbank? Okay, sure. If Shia and Megan get together for real, I will totally be disappointed in Shia. He's an interesting kid, and he could do better. For Megan, though, Shia would totally be a step up. Even if he has personal problems, he's still one of the most in-demand young actors working today. Just this week two huge projects were just announced, with Shia's attachment already there: first, Shia signed on the lead in The Associate, with John Grisham's blessing. Second, Shia has just signed on for a supporting part in the sequel to Wall Street, playing opposite Michael Douglas.
Shia LaBeouf and Megan Fox are shown at the "Eagle Eye" premiere on 9/16/08. Credit: PRPhotos