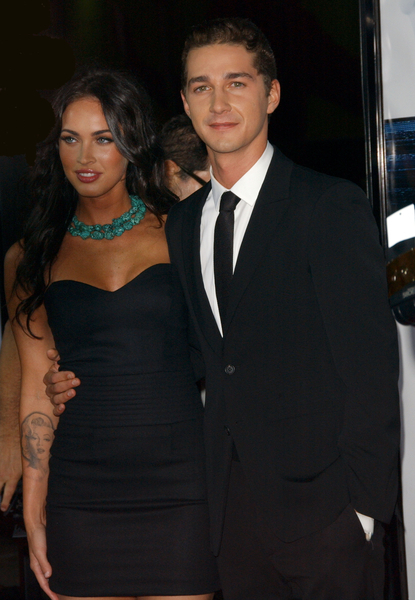 Megan and Shia on 9/16/08 credit: PRPhotos
Either someone on Transformers: Revenge of the Fallen's publicity team is really, really good, or Megan Fox and Shia LaBeouf really are getting busy. This latest report from In Touch Weekly has a lot of the same information as the stories we covered last week – about how Shia's "persistence" was winning over Megan Fox. In Touch is now claiming that Megan and Brian Austin Green (cough David Silver) are totally dunzo, "toast." Now Megan seems all over Shia, of course, but it might just be a rebound fling. According to one of In Touch's sources, however, Shia "has always loved Megan." Perhaps Megan reminds Shia of his beloved, sexy, "ethereal angel" mother?
"Shia and Megan are hooking up," confirms a friend of both actors. "They liked each other a lot, and she finally gave in to him."

According to her pal, Megan's relationship with actor Brian Austin Green is now "toast, history," and she's moved on to Shia, 23, whom she grew closer to on the set of Transformers: Revenge of the Fallen.

"They flirted on the set," their costar Erin Naas tells In Touch. "The chemistry was undeniable."

"We're attracted to each other, and I think you can see that in our scenes together," Shia told Playboy. "It's very real and tangible. You can tell something exists."

The pair has been spending more and more time together – and for Megan, the fling couldn't come at a better time. She's been trying to make her relationship with Brian work, but it was an uphill battle, with Megan calling off their engagement.

[When] Megan is with Shia, her problems disappear… And Shia, who has said in the past that a relationship wasn't "an option" for Megan and himself "for a variety of reasons," is now very happy about how things have changed between them.

"Shia has always loved Megan," explains his friend. "He's just been waiting for his chance."
[From In Touch Weekly, print edition, June 22 2009]
Of course, I don't Megan is anywhere near good enough for Shia. She seems like an extremely insecure, ignorant, vapid young woman with her comments about "butch bull dykes" and destroying Middle America. I'm not saying Shia is some well-adjusted, totally wonderful kid. But I do think he's cute, and I think he's trying to be a good guy, a decent man. I just think that if Shia really does like Megan (or if he really loves her), he should be prepared for just how ridiculous she is.