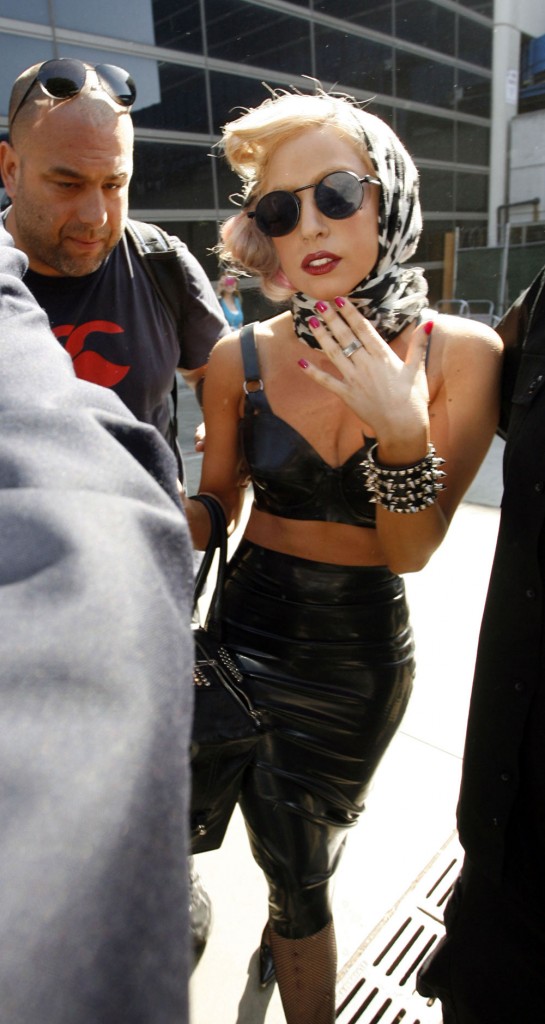 Lady Gaga had an interview with an Australian radio station in which a DJ dared to ask her about the hermaphrodite rumors. Gaga was asked specifically about a much talked about incident when she was performing at Glastonbury in which she was videotaped getting off a motorcycle, her short dress riding up to reveal something extra in that critical area. Instead of explaining that her undergarments had bunched up or giving any kind of excuse, Gaga deferred giving an answer, saying it was beneath her. Maybe Gaga understandably took offense at the question, which wasn't phrased delicately. (Note that a previous rumor that Gaga supposedly admitted she was a hermaphrodite was based on a fake quote, which is what Gaga is asked about.)
Female DJ: Gaga there has been some footage of you on YouTube playing at Glastonbury getting off a motorbike and there's some suggestion that there's some interesting thing going on in your crotch. [laughs nervously] Suggestions that you're a hermaphrodite. I'm sure that you've seen that footage and heard those stories.

Gaga: You know what… it's honestly too low brow for me to even discuss.

Male DJ: Does that therefore clarify that you never posted anything on Twitter or your blog acknowledging this situation there?

Gaga: I just, I've made fun of it before, but to even talk about it is just ridiculous. I'm an accomplished musician and I'd much rather talk about my fans and my music than a silly rumor.
[Transcribed from Lady Gaga's interview on The Matt and Jo Show in Melbourne, Australia, audio on TMZ]
Lady Gaga handled all that very well and was pretty gracious about it, changing the subject to a pop art exhibition she's involved witth and talking about how she does performance art. I thought she sounded a little miffed, but her response was also a savvy one. If she explained the incident away, saying "my underwear bunched up" or something similar we would accept it and move on. This way, people will continue to speculate about this issue for quite some time. There's also the possibility that Gaga doesn't want to talk about it for a good reason.
Lady Gaga is shown at LAX on 8/24/09. Credit: O'Duran/Fame Pictures. She's also shown on 8/21/09 performing at V Fest in Chelmsford, UK. Credit: BARM/Fame Pictures