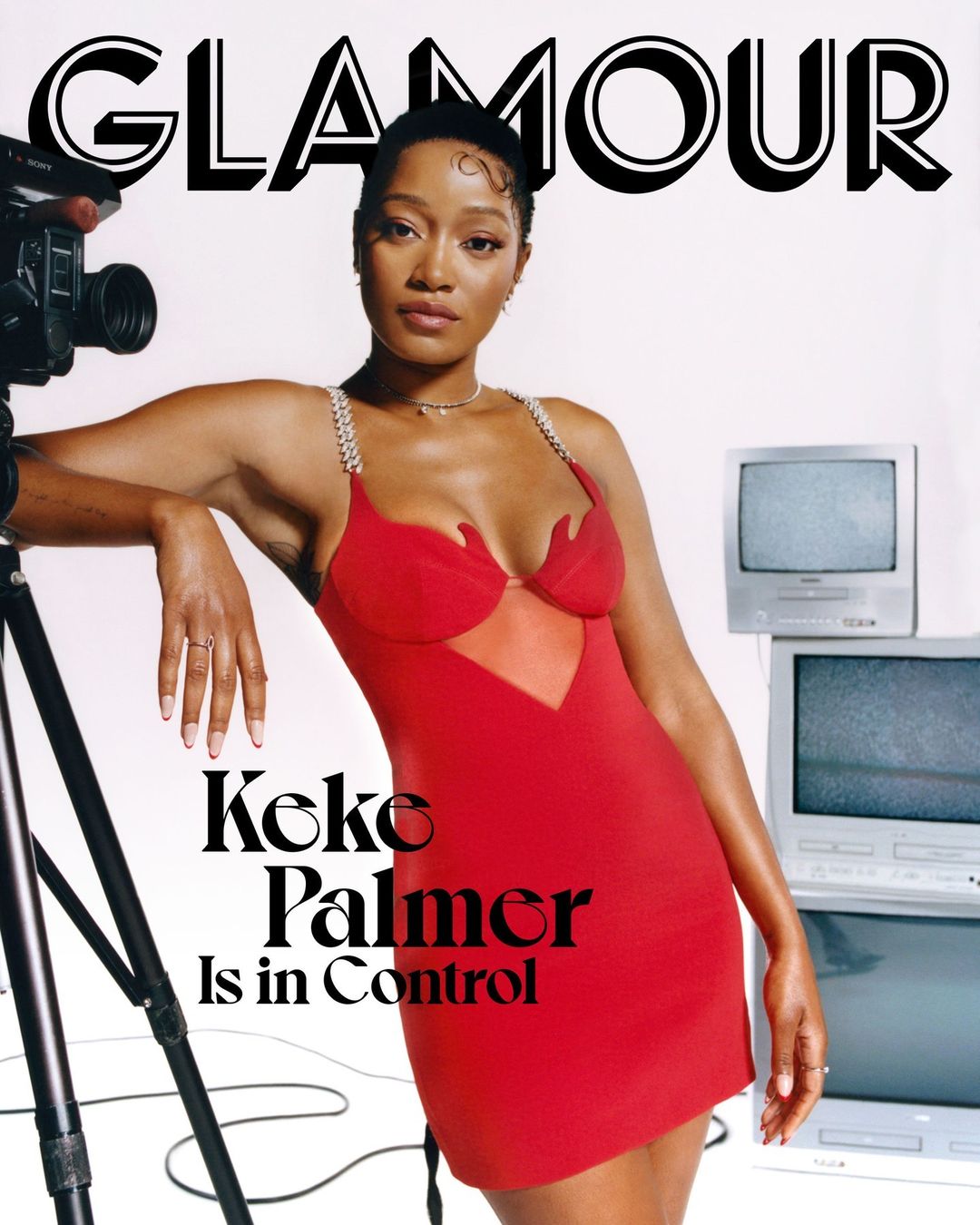 Keke Palmer covers the August issue of Glamour, in what is a kind of boring editorial for such a dynamic woman. Glamour really should have put more time and effort into styling her and creating a better background or something. Keke is promoting Jordan Peele's Nope, and as always, she has about a million jobs and side-gigs and secondary interests. She's a whirling dervish of charisma and hard work. She's also been in the industry for twenty years – she started as a child actor and she talks in this piece about how people still come up to her to talk about Akeelah and the Bee. Some highlights from this very good interview:
Why she has so many jobs: "My mom always encouraged me to do everything. She told me I didn't have to do one thing. She gave me people to admire in that way, like Sammy Davis Jr., Judy Garland, and even Queen Latifah. And she made me feel like creativity was not subjugated to just one medium and that I could always express it in different ways. I wasn't thinking about it quite as articulately as that [at a young age]. I was more so thinking, I like to sing, I like to act and dance.

How she dealt with industry rejection at a young age: "Man, I don't know how. My mom did a good job mentally preparing me at a young age and always keeping me with the concept of "If you don't get it, then it wasn't for you." I never felt like I had lost anything. When I would get rejected, I wouldn't feel like, "Oh, they didn't want me." I'd feel like, "Oh, that wasn't what God wanted." Attaching the faith and abundant thinking allowed me to survive the industry and all the rejection I've endured.

On Akeelah and the Bee: "I honestly love Akeelah. I'm happy I had a role that's that memorable. Some people are always going to say, "Oh, Keke Palmer, from Akeelah and the Bee!"…but I don't have any bad feelings about it. If anything, I think that's crazy that that character still has impacted so many people. It blows me away because some people don't get that kind of role during the entirety of their careers…. And the reality is, everybody knows me for something different. Some people don't even associate the girl from Akeelah with the girl on Instagram.

What people should take away from 'Nope': "Human beings are intrigued by spectacles, even when they can be dangerous or even when they are emotionally in danger more so than physically. But spectacles are something that we've been dealing with all of humanity, whether …we're watching the gladiators, or we're watching political scandals, or we're on the latest gossip site, or we're on the freeway rubbernecking because we saw a car accident happen back there. We expose ourselves to so many spectacles online that it can sometimes alter the way we think about things positively or negatively…. And this movie does it in a unique way that's fun, exciting, and within the horror genre. Although the audience is going to see the spectacle viewpoint. They're also going to see the viewpoint of grief and siblingship, and they're going to see the viewpoint of film and how the people behind the film should be more acknowledged."

On Jordan Peele & Blackness: "What I love about Jordan Peele is that he normalizes Black people in leading roles. And being in the leading role is no commentary on being Black… it is about normalizing and putting Blacks and people of color at the forefront. Telling their narratives and stories effortlessly that includes their culture but doesn't tie their identity to being Black in a way that's victimized or subservient. It's important for creators like Jordan Peele, actors, and all of us, to continue to push that envelope as it pertains to Black representation being very robust because we are robust people.

On love: "In love, the main thing for us young women is that we end up contorting ourselves into a pretzel. I want us to know that—and this is something I tell myself—the only way I'm going to have love and the love that I want is if I love myself first. If the guy isn't into the things I'm into, or if he wants me to do stuff that I don't normally do, and I'm going to do it because I want him to like me, then he's not the one. And maybe he could be the one, but I wouldn't know because I didn't tell him no and see how he responded to it. That's the big thing I'd hope for young women. We often get wrapped up in love, wanting love, and feeling like we need it to be validated by it. And it's okay to want it, but on top of wanting it, we have to know that we don't need it."
The stuff about love is directed to all women, but younger women specifically and it's so important. She talks about opening herself up to love in her mid-20s after focusing so much on her career, and having to learn that she had to love herself first. I love this so much: "And maybe he could be the one, but I wouldn't know because I didn't tell him no and see how he responded to it." All of that. ALL of it. The stuff about Nope is interesting too, is this Peele's examination of spectacle and what spectacle does to the human mind? I wonder.
Cover and IG courtesy of Glamour.