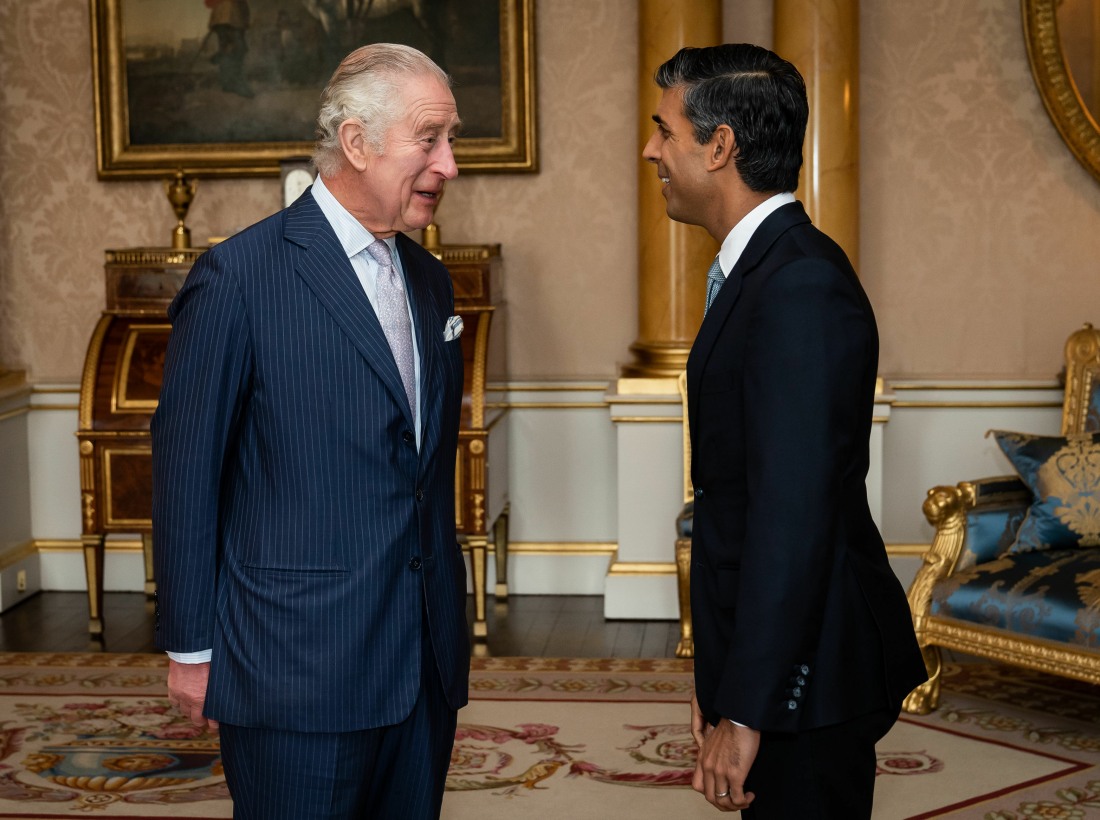 Truly, one of the weirdest things happened from the summer of 2021 up until August of this year. The weird thing was… a series of very insider-y leaks from then-Prince Charles's foundation, all about Charles's tacky money grabs, his acceptance of literal suitcases full of cash, and his unethical (and likely illegal) cash-for-honours deals. Charles would accept millions of dollars in exchange for providing access and honours to foreign millionaires, and he was even promising them British citizenship in some cases. There was a steady drip of revelations about Charles's sketchy financial relationships with an assortment of shady rich people, so much so that Scotland Yard and the Metropolitan Police were eventually pressured into launching an investigation into Charles's foundation. Well… the case has now been passed to the Crown Prosecution Service. At no point did Scotland Yard interview Charles.
A file of evidence about cash-for-honours allegations involving one of the King's charities has been passed to the Crown Prosecution Service. The claims relate to The Prince's Foundation, a charity set up by the King when he was the Prince of Wales.The investigation followed newspaper reports a Saudi donor to the Prince's Foundation was allegedly offered help to receive an honour.

Buckingham Palace said it would not comment on an ongoing police inquiry. The Prince's Foundation did not immediately respond to a request for comment.

In a statement, the Metropolitan Police said: "A file was passed to the CPS on 31 October.

"The investigation remains ongoing and we will not be providing a running commentary on its progress."

The Sunday Times has reported prosecutors are expected to decide before Christmas if charges would be brought. No one has been arrested. Anti-monarchy group Republic made a formal complaint to Met detectives about Charles and former close confidant Michael Fawcett in September 2021, following the newspaper stories. Mr Fawcett, who has since resigned as chief executive of The Prince's Foundation, had been accused of promising to help Saudi billionaire Mahfouz Marei Mubarak bin Mahfouz to secure a knighthood and in getting citizenship.
It was clear that the leaks were designed to protect Charles in a way and get all of the damaging sh-t out before he became king, although I have to wonder if Charles even understands how bad those stories were. It feels like Charles made the (correct) calculation that the police couldn't touch him anyway and that the British media would do easy on him too, because what he was involved in was a series of dry, unsexy financial crimes. It was also clear that Charles had arranged his patsy – his longtime confidante Michael Fawcett, who operated the Prince's Foundation and was the one making all of those promises to despots and shady businessmen. Speaking of, Fawcett managed to allocate a tidy sum for himself from the foundation too:
The King's former aide Michael Fawcett got a £60,000 pay-off when he was forced to step down from The Prince's Foundation over a cash for honours scandal, the charity's latest accounts reveal. It means that in his last five months in office, Mr Fawcett, 60, received £190,000 from the charity, including his six-figure salary.

He stepped down as chief executive in September last year after The Mail on Sunday revealed he offered to help a wealthy Saudi donor obtain a knighthood and British citizenship. He resigned two months later. The revelations sparked a police inquiry, which is ongoing. Two men were questioned under caution by police on September 6, two days before the Queen died.

Last night, the Met Police said the 'cash for honours' probe had progressed, with evidence handed to the Crown Prosecution Service on October 31. Now accounts show Mr Fawcett, as 'head of the provider', was paid £59,582, including £21,923 holiday pay plus £877 of pension contributions. An additional £1,200 for 'independent legal advice' was provided by the foundation.
"It means that in his last five months in office, Mr Fawcett, 60, received £190,000 from the charity, including his six-figure salary." It means that Charles and Michael Fawcett agreed that Fawcett would fall on his sword for his boss and Charles is making sure that Fawcett is being taken care of financially to a certain extent. Did Charles originally plan this with Fawcett as the fall guy? I doubt it, but at some point, Charles decided to just hang all of this around Fawcett's neck.
Photos courtesy of Getty, Avalon Red.