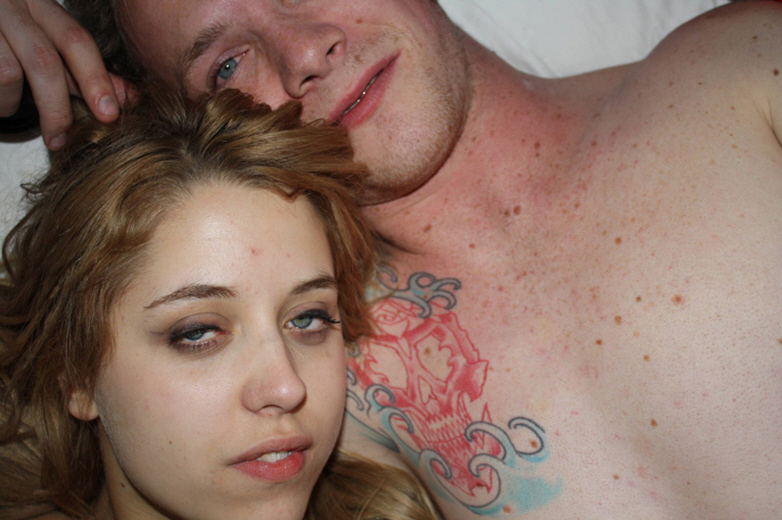 This story contains adult themes and is not for under-18. LOTS of sex and drug talk.
This story is now going mainstream, as Gawker, Dlisted and The Daily Mail have all picked it up. The whole thing started on a Reddit forum about "WTF one-night-stand stories," and a dude who goes by Thatcoolguyben told a story about Peaches Geldof, Thanksgiving, heroin, and the Church of Scientology center. And the dude had the photos to prove it – at least the part about the sex. There are no photos proving the Xenu. Here's his story:
Last Thanksgiving I was staying at a friends house for a few days before a trip to South America. I'd been spending most the time on the couch for the three days I was at the house. My friend lived with her boyfriend and one other girl who was "recording" her "album." I would occasionally see this girl leaving early in the morning and coming back late at night while I was on the couch.

On my final day at the house, Thanksgiving day, the girl returns at about 2:30am (Thanksgiving festivities would start in a few hours.) I'd kicked back a few beers already and was having fun sitting watching TV. She comes in and pauses for a moment looking at me. She says "have you been living here the whole time I have?" I laughed and thought this question strange, she was showing how oblivious she was to the world. I said that I had only been at the house for 2 days.

She sits next to me and we begin talking about tattoos, which both of us have a good amount of. She had a cute English accent and wasn't bad looking at all. The tattoo discussion leads to us deciding we should get each others names tattooed on each other.

At 3am I grab my friends car keys, and head out. We drive all over Hollywood looking for a tattoo parlor, with no luck. While driving around we get on the topic of drugs. At this point in my life I was very into all drugs, as was she. She told me she had a bit of heroin she brought with her from the UK and asked me if I was game. I was so the hunt began.

We drove all around LA looking for the supplies we needed. We drove to various pharmacies looking for needles and cotton. We finally found one, which as a look back on would be a funny sight. A well dressed guy and girl walk in an 4am looking for a 10 pack of diabetic syringes. We get them and begin the drive home. On the way back she mentions this is heroin base, meaning we need to dissolve this in lemon (I guess this is a British thing, I never have seen this in my years in NYC.)

We stop at a Dennys, asking them for a stack of lemons. Once again we got strange looks but it worked. We get back to the house, where I was promptly yelled at for stealing my friends car, and getting warned what I was about to get myself into. Once all the commotion settles down, we go to the girls room and rig up. At about 5am I was high as a kite and we start to watch a movie. Things get hot and heavy and before I know it we're naked. I go down on her while we're still having odd conversations about mutual friends and past hookups. I was too high to get hard and she knew it. After blowing me for a few minutes she asks if I was ok. I tell her I'm to high to get it up. I then immediately remember I'd packed a Cialis in my bag. I run out of the room, bring it back, and pop it in front of her. She laughs as we continue to have a naked dance party on her bed. I finally feel the blood rush to my member and the action begins. We did it every way possible, and for a young girl she sure knew how to work it.

This is where things get weird. Close to 8am she starts saying how someone was coming to pick her up. We'd continued to use all night so I was quite foggy about the happenings. I faintly remember her asking me for a ride and me driving her somewhere. I awoke at about 1pm in a sauna, throwing up all over the place. I started freaking out. I look around and see her on an exercise machine outside the room, looking in about the same shape as me. I get out of the room and people come past me cleaning the puke like it was nothing to them. I'm standing in the room groggy, in a speedo, and confused as hell. I look around and read some stuff realizing I'm in the Celebrity Scientology Center in LA. This girl ended up being a hardcore Scientologist and a D-List celebrity, and we were doing a process called Purif. I showered, got my clothes on, got her, and drove back to my friends, nodding out and puking the whole way.

Needless to say when I got back my friend and her boyfriend were pissed. I had "ruined" Thanksgiving. I sluggishly passed the day along and at 11pm went to LAX and flew to South America. Not until days later when I looked through my camera of the pictures of that night did I fully realize everything.

TL;DR: Did heroin, f-cked a minor celebrity, woke up in a Scientology center, ruined Thanksgiving, left the country.
[From Reddit via Gawker]
Gawker also did a list of reasons why this is probably the truth, or close to being true. First of all, the photos. This chick is Peaches, I'm like 98% sure. Second reason: Peaches has gone on record discussing the Church of Scientology and her positive feelings for Xenu. Also, Gawker is pretty sure that Peaches was working on her "album" last November. Ugh. I think this guy's telling the truth about everything too. Jesus. I mean, that's like the worst walk of shame ever… from the Scientology Center back to your friend's house. I thought I had some bad stories.
Also, well done Eli Roth. You've scored yourself a real winner there.
UPDATE: Apparently Peaches Geldof has a representative (that poor bastard) and he (she?) is denying parts of the above story. Apparently, Peaches admits to posing for the nude photos (duh, but it would be funny if she tried denying it), but Peaches (through her rep) denies the parts of the story about heroin and Xenu. But what about the lemons, Peaches? You can read the whole sordid denial at Gawker, but the basic gist seems to be that Peaches thinks we'll buy that she got drunk and let a dude photograph her naked, and that's it. No heroin, no Xenu, and still a question mark for the lemons.
Photos courtesy of Gawker, additional NSFW photos here.