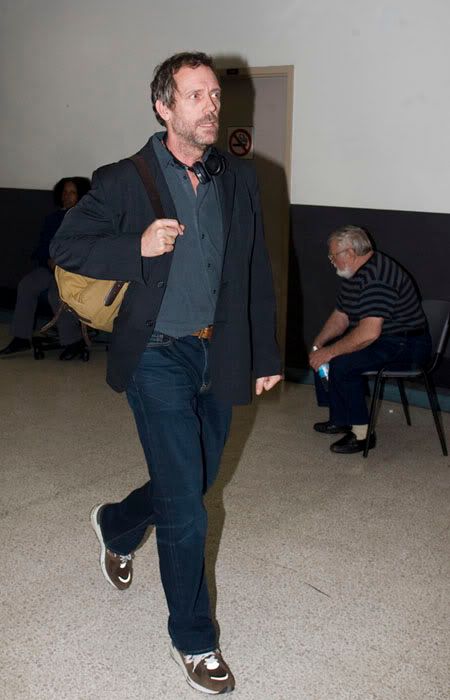 I find Hugh Laurie's character on "House" arrogant and annoying, but my husband loves the guy and I don't think he would be mortified if I told you that Laurie as Dr. House is his man crush. Laurie always comes off as candid and smart in his interviews, and when I heard him give his Golden Globe acceptance speech in that fancy British accent I realized what all the fuss was about.
Laurie, 48, gave a recent interview to the Radio Times in which he says that he thinks that he doesn't have a lot of opportunities as an actor in his native England now that he's experienced such success overseas. He also said that he feels self-conscious about his American accent and doesn't like to watch his scenes. As his pill-popping character, he admits trying Vicodin to see what it was like, but it doesn't sound like he's taking it everyday.
On his American Accent for the show
"I don't watch regularly. I avert my eyes when my children have it on. I hate seeing myself, but it's even worse hearing my American accent … I had no idea I sound so retarded, a dull monotone, full of clunking mistakes."
On Vicodin
"I wouldn't recommend it — we have to be careful. But then again … if you're not in pain it gives a floaty, pleasurable feeling."
Laurie said that his family will move to the US if "House" continues to be a success, but that he never quite gets the feeling that things are settled in his life:
"I have this vague feeling that the moment I'm comfortable with my place in the world there'll be retribution. That's one reason I didn't want my family to live here. The moment we put down roots the whole thing will be called off." [Quotes from People.com]
He has previously spoken about the difficulty of being away from his wife and three children for extended periods of time, and has talked about experiencing bouts of depression and anxiety. In October of last year he said in an interview that he couldn't relax because he was working 14 hour days and couldn't stop thinking about work enough to sleep. He said that he would constantly worry if he did a scene right or would often think about whether his very successful show would be a failure.
Laurie has been married to Jo Green, who works as a theater administrator, since 1989. They have two sons and a daughter, all in their teens, and in 2005 Laurie said his children didn't want to stay in Los Angeles when they were there for a month.
"They've just been out here for a month… My kids were pretty sniffy about Los Angeles. It's not quite snobby, they just need to be convinced.

"My eldest son continues to be that way. He's very English… My daughter's up for it. She's now decided Los Angeles is a good thing and my middle son, who's 14, sort of could go either way."
[From Contact Music]
Laurie's family has since moved back to England and while the guy is a huge success over here he's not able to enjoy it and has said he doesn't like being apart from his loved ones.
In July, 2006 Hugh Laurie got a raise to what was thought to be $300,000 an episode. In the 2006-2007 season there were 24 episodes, and so far 12 episodes have run for the fourth season from 2007-2008. That means the guy has made $10.8 million working on "House" in the last two years. And if it's a few less million than that, it's still a lot of money. That sounds like success to me.
Hugh Laurie is shown at the airport on 3/9/08.