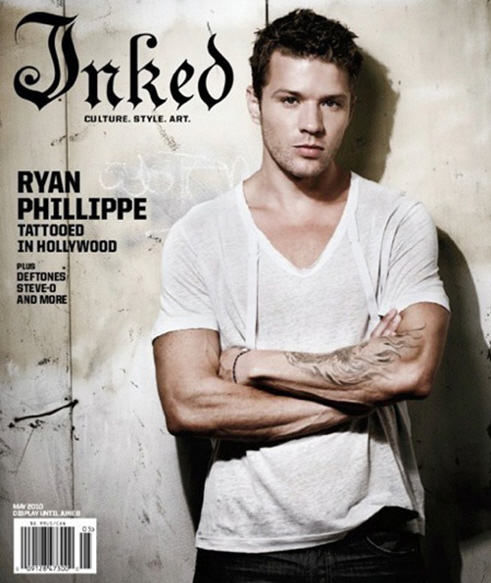 You know, I honestly used to like Ryan Phillippe. I used to think he was a really nice, decent guy. I used to think he was a very underrated actor too. I don't know when it really changed for me, although it was some time after he and Reese Witherspoon broke up. I didn't really blame him for that, although I know the popular opinion was that he cheated and she left, I always thought it was probably more complicated than that. But at some point over the past few years, Ryan has just developed this skeezy, whiny, self-pitying, annoying personality, in my opinion. He goes on Howard Stern and slams his exes, he seems petty and immature, and he also seems like he's trying too hard to bag his next hot chick.
Anyway, Ryan is the cover boy for the new issue of Inked Magazine. I've never really paid attention to Ryan's tattoos, but apparently he's very proud of them, and he talks about them in detail. I found those parts annoying, but if you'd like to read the full piece, go here. Ryan devotes most of the interview to whining, though. Do you feel bad for him?
On discovering acting and playing a gay teenager on a soap opera: "I was shunned by the church after I did it," Ryan recalls. "Ostracized, in a way. It was a nerve-racking job at 17, when you're just kind of understanding your sexuality. I didn't know any gay people. I was nervous and insecure. The other actors were like, 'You've got to speak up.' But it was an amazing learning experience. It grew me up."

On covering a tattoo: "No, but I did have a ladybug on my foot covered up. Its significance was with an ex. I put a stingray over the top of it. When people ask me why, I say, 'Any animal that could take down the Crocodile Hunter deserves my respect.'"

On his messy break up with Abbie Cornish: "Those things are tricky, man. In this business, it's like, I don't know how people make it work—and they don't for the most part. You can cite very few examples of people who do. Very few. It's a challenge. There are long periods of separation, and there's lots of interference and speculation. It just makes it hard."

On the paparazzi: "In L.A. they are awful," Ryan says of the paps. "I don't understand. I am not Brad Pitt. I am not one of the biggest stars in the business. But for some reason they have it out for me." Some people buy motorcycles because they're fun to ride; Ryan bought his so that when the photographers chase him, he can lose them in traffic. "My mother hates it. She said, 'You promised me you would never ride motorcycles.' I'm like, 'Mom, if I need to go to a doctor's appointment, and I don't want it written about …'"

Fears for his children: "I live in fear of the day my daughter searches her name [online]," he says, shaking his head in disgust. "She could see her entire life, from baby until 10 years old. I understand that there's this curiosity, 'Let's see how the famous people made a child!' But it's incredibly creepy. Reese and I were really great at explaining all that stuff to them—they will never touch them or hurt them, and that the reason they're pursuing us is because a picture of Mommy is worth a lot of money." He breaks into a proud smile. "Our kids are brilliant, they've lived with it long enough. They've seen billboards of Mom on Sunset."

On Reese Witherspoon: "She and I have a great friendship related to them now. They're our focus, and I think we've done a really good job raising them and transitioning from what our life was to what it is now. I guess I haven't been that guy who's, like, loving attention. My thing always was, I love movies and I want to be an actor. That's where it begins and ends with me. Now I'm realizing, yeah, I've got to play the game a little bit more."

On his new film, MacGruber: "When Val Kilmer and I signed on to do the movie, the Internet haters said it was the end of our careers. They were like, 'Look how desperate … they must need money." The irony is I didn't [do it] to get paid. I did it because I loved the script. It's the movie I'm most excited for my friends to see. Will is the most fearless actor I've ever worked with. He'll do anything. He'll get naked at the drop of a dime and spread his butt cheeks. He does not give a f-ck. He's very rock 'n' roll. … I wish I was more like that."

More whining: "After the things I've been through in my personal life, the struggle that can be this industry, and all the bullsh-t that you deal with—people attacking you in the press and being hounded by paparazzi and then people shitting on whatever they estimate your talents to be—it can be really self-consciously heavy. You learn to ignore a lot of the negativity on the Internet. I don't search myself anymore. It can really spin you out, the shit people write. So it was fun to go into a silly and fun job."

On his future career: "Now that I'm getting older, I'm a little more open. I used to be like, 'F-ck going to a fashion show—it's superficial.' But now I have a different appreciation for it. Plus, there are business decisions you have to make in my industry. You need to be relevant, because otherwise you will be forgotten. I'm not seen as that guy who opens a movie. So I'm a lot more open to doing types of movies I wouldn't do in the past. Like, if I'm not known as a commodity, to some extent I won't get to make the films I want to make. It doesn't matter [if I've worked with Clint Eastwood]. It's out the window. It's a very strange thing, and it's incredibly frustrating. I used to model my career after a guy like Sean Penn, and those careers don't exist so much anymore."

He's thinking about getting a full sleeve: "Tattoos are like a map to your life," he says. "Permanence is bravery. So many things in our lives aren't permanent. Nothing lasts forever."
[From Inked]
Here's the thing – I get that it sucks to have your life analyzed to the nth degree, I get that it sucks when strangers take photos of your kids, and I get that not everyone is cut out to be under the microscope. If it was someone like Tom Cruise complaining about it, I would give him the point. But it's Ryan Phillippe! The only time the guy makes news anymore is when he whines about all of the press he gets. Or, you know, when he breaks up with a girl and she's all "I dumped him, he was a bitch."
Thanks to CoverAwards for the heads up!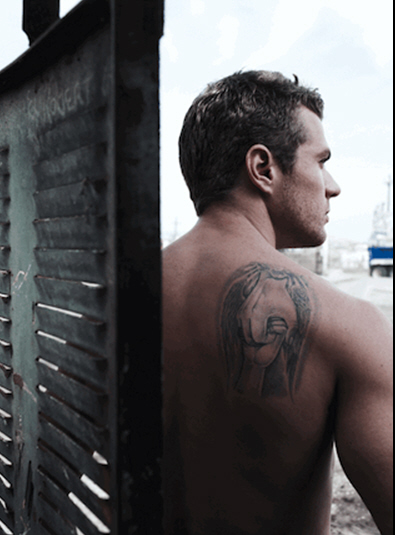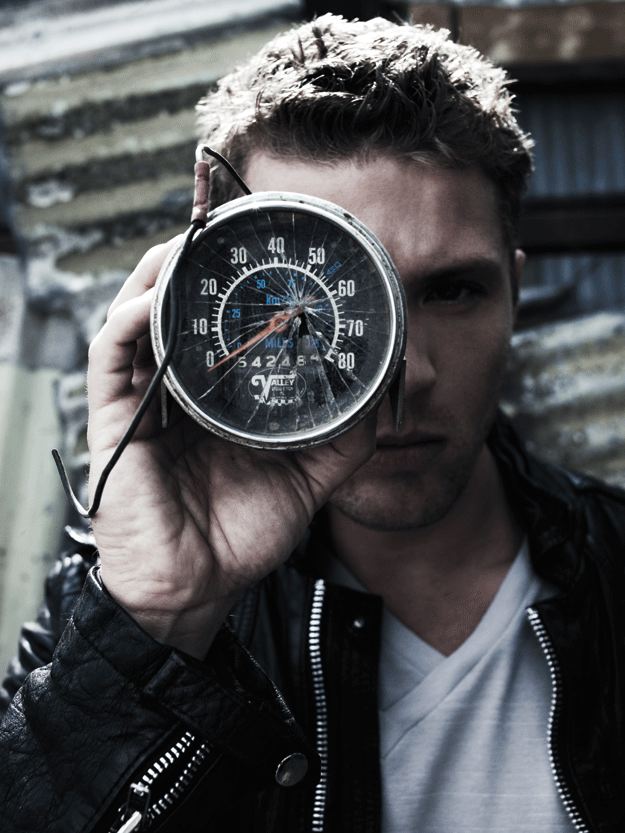 Photos courtesy of Inked online & CoverAwards.