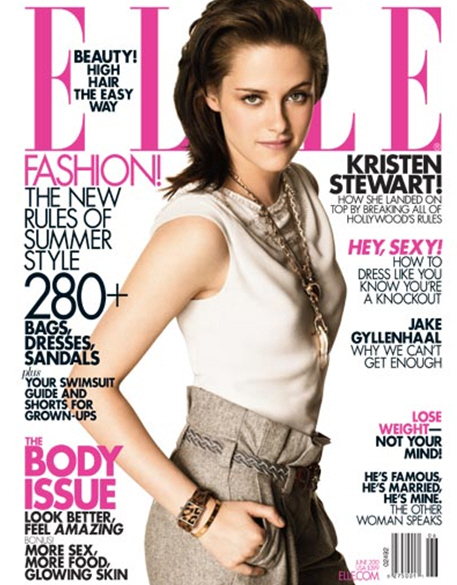 Kristen Stewart is the June cover girl for American Elle Magazine. Now, I like Elle a lot, but this is a craptastic cover. It doesn't look high-end at all. It looks like K-Stew is dressed in clothes from The Gap, and they threw her on the cover of Lucky or Seventeen. What's weird is that Kristen's look can go very high-end – remember her absolutely gorgeous, sexy photo shoot for Interview magazine? Thankfully, the other photos from Kristen's Elle shoot are slightly better, although Elle seems to be focusing less on clothes and more on fancy settings lately. It's weird.
Elle also put up some interview excerpts, where there's a lot of K-Stew angst:
On the madness that has become her life: "It's insane! Once somebody finds out, you have to get the hell out of wherever you are. People freak out. And the photographers, they're vicious. They're mean. They're like thugs. I don't event want to drive around by myself anymore. It's f-cking dangerous."

On her loss of privacy: "Somebody knocked on my hotel room door and asked for a light, then said that they were a big fan. I was like, 'Do you really need me to light your cigarette? How do you know what room I'm in?' I can't be by myself and I like being by myself."

On criticism of her public manner: "I think it's funny that when I go onstage to accept an award, they think I'm nervous, uncomfortable, and awkward—and I am—but those are bad words for them."

On her red-carpet demeanor: "People say that I'm miserable all the time. It's not that I'm miserable, it's just that somebody's yelling at me…I literally, sometimes, have to keep myself from crying…It's a physical reaction to the energy that's thrown at you."

On caring: "I hate it when they say I don't give a sh-t, because nobody cares more than I do. I'm telling you I don't know anybody who does this that gives a shit more than I do."

On Team Edward vs. Team Jacob: "I would never cheapen my relationships by talking about them. People say, 'Just say who you're dating. Then people will stop being so ravenous about it.' It's like, No they won't! They'll ask for specifics."
[From Elle Magazine]
Nobody cares more than her? Really? I'll buy that she cares about her craft, I'll buy that she cares about her performance, but I don't think she really gives a sh-t about the red carpets and the interviews and all of the extra stuff piling up that goes into being a professional actor these days. But, unlike some, I do buy that she's awkward and uncomfortable, and not so much bitchy and snotty - although she should stop going to events baked, and she should stop rolling her eyes when the cameras are around.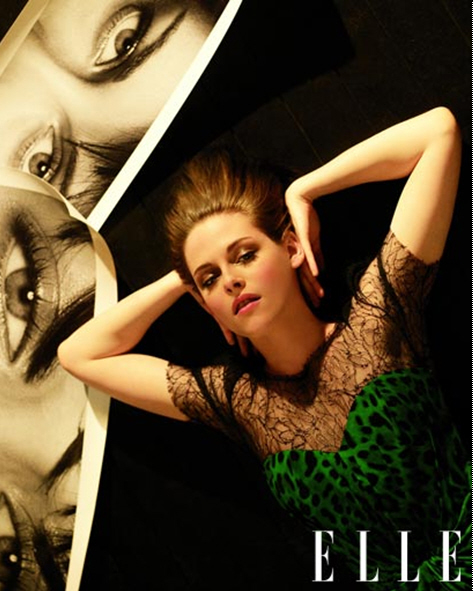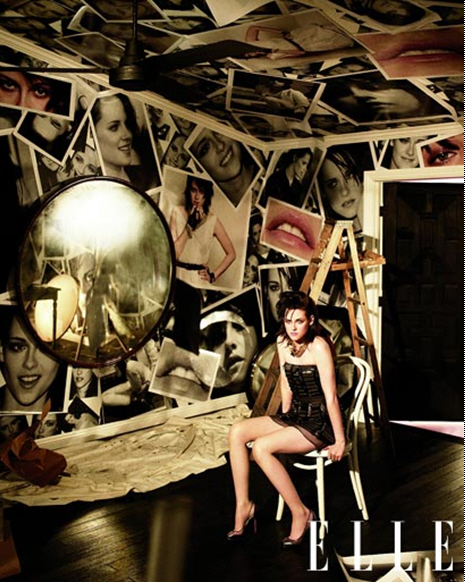 Photos and cover courtesy of Elle online.