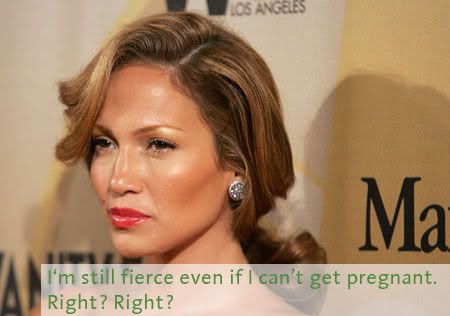 I'm starting to feel sorry for Marc Anthony. Not only is he married to Jennifer Lopez, he also looks like he's suffering from an intestinal disorder or is addicted to heroin. He really needs to take some vitamins and do a liver cleanse. Maybe J.Lo feels sorry for him too, which would explain the record-breaking nearly two year length of her latest marriage. Or she could just be such an ambitious woman that she refuses to give up on Anthony's sperm. She might think that since he already has three children he's got to have it in him to produce one more, even if he looks like he's at death's door.
TMZ quotes a boutique store employee as saying that Lopez still had flat abs when she shopped there with her new friend Leah Remini last week, and The Post Chronicle claims that J.Lo told an insider that the paparrazi are following her constantly because they think she's pregnant. According to a thinly veiled work of fiction about J.Lo, she deliberately tries to get the press to think she's pregnant for publicity purposes.
In these latest photos if her leaving the gym with Leah Remini [via] and at the 2006 Crystal & Lucy Awards, [via] she doesn't look pregnant at all.