I was kind of hoping MSat would come by this week and write about this, but she hasn't! So, I'm sorry I'm getting to this a few days late. Apparently, Lady Gaga did a pre-taped (?) performance on American Idol this week (performance above), and it was an unmitigated disaster. Gaga was criticized for the performance, and Fox was criticized for editing out a significant part. Gaga did the criticizing, on her Twitter: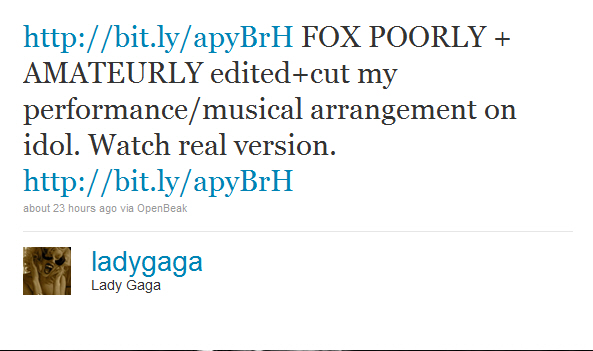 Gaga is encouraging you to go watch the unedited performance on Perez Hilton, here. But the performance is embedded below:
It's become a thing now. Gaga's monsters have filed a petition to Fox, saying in part: "GaGa gives performance art to the Pop World. Emphasis on the word art. Would you take a $250,000 painting, cut it in pieces, and put it together to better fit your wall? No. Thus, you should not take the art of this artist and do the same." I just watched both versions, and yes, the 7-minute one is better, but for goodness sake. Enough. I've watched Gaga thrash around with tulle too many times. I like Gah, but I've had enough, for real.
But I will show you two cool things from Gaga's fans. The first is from University of Oregon's all male a'cappella group On The Rocks performing "Bad Romance". These boys are really cool:
And here's the last cool video – some amazing American troops stationed in Afghanistan who decided to choreograph themselves, dressing up, dancing and lip-synching to Gaga and Beyonce's "Telephone". This came out last week, but I'm still watching it!
Don't ask, don't tell, boys! Come home safe.