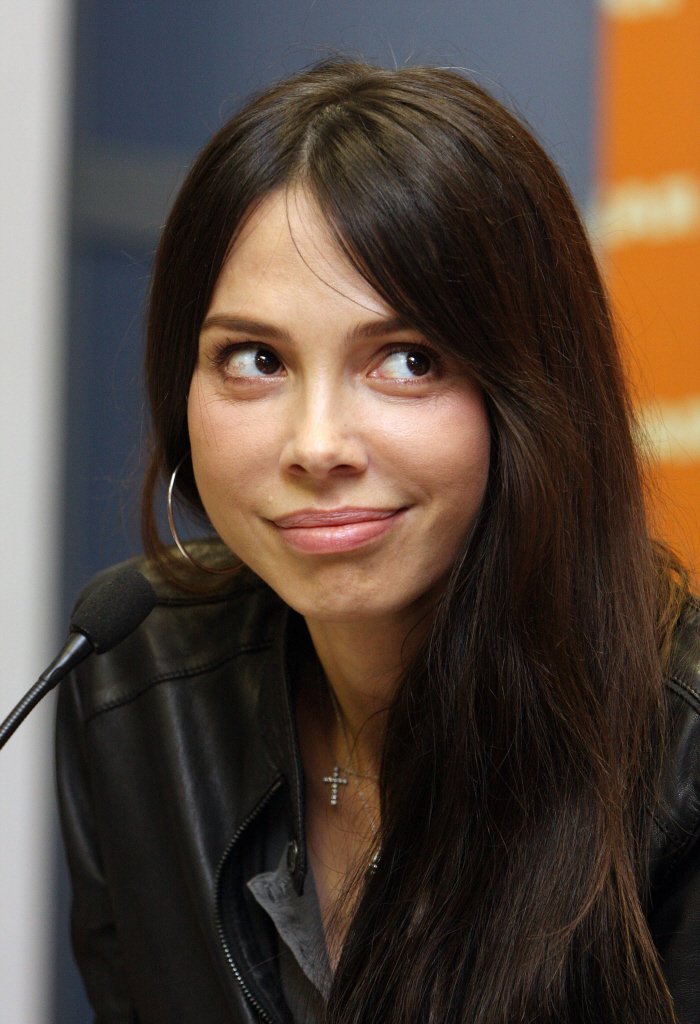 Since Oksana Grigorieva and Mel Gibson announced their split a few weeks ago, Mel has not made any public statements. Oksana did, though – while in Russia for a charity concert, she gave a press conference and told journalists:"I can tell you that after three years of relationship we have split up – suddenly and recently. Unfortunately, I cannot give you the reason. But you will find out everything quite soon. Here is the official version: We split up by mutual consent and we will raise our daughter together." I found her statement deliciously cryptic, and awaited the next scandalous, Sugart-ts-filled chapter. I didn't expect for that chapter to come in the form of a Polish porn producer alleging a three-month long affair, but there you go.
But now Oksana is laying down her side of the story in a new interview with Hello Magazine. We don't get our copy of Hello until tomorrow, but The Daily Mail had excerpts from Oksana's interview, in which Oksana claims (probably truthfully) that she and Mel were together for three years, not one, and that Mel never asked her for a paternity test on baby Lucia. Oh, and Oksana says Mel never cheated on her…? Crazy woman.
The mother of Mel Gibson's baby daughter has spoken for the first time of her heartbreak following her sudden split from the star. Oksana Grigorieva, who is 14 years Gibson's junior, gave birth to the couple's daughter, Lucia, last October.

But in claims that will shock Hollywood, the 40-year-old Russian musician claimed she had been in a relationship with the Oscar-winning actor for three years – not the one previously reported.

It means they first got together when Gibson, 54, was still married to his former wife Robyn, with whom he has seven children. Their 29-year marriage officially ended after it was revealed Miss Grigorieva was pregnant.

Calling Gibson 'the biggest love of my life', Miss Grigorieva also denied rumours he had cheated on her and demanded a paternity test for their daughter.

She told Hello! magazine: 'We were very much in love. He was the biggest love of my life and that's what Mel always told me.'

Miss Grigorieva, who also has a 13-year-old son, Alexander, by former James Bond star Timothy Dalton, said of their breakup: 'The reasons I cannot talk about but it will come out at some point. The truth always comes out. We've been together for three years – not one year as people have been writing.'

And she insisted Lucia was Gibson's child. 'She is the spitting image of him,' she said. 'She is very beautiful with blue eyes. It's definitely Mel. Little Mel.'

Gibson and his estranged wife Robyn announced their split in April 2009.

In divorce papers, Gibson listed the couple's separation date as 26 August 2006 – a month after the actor's infamous arrest for driving under the influence.
[From The Daily Mail]
So in Oksana's point of view, throughout their three-year relationship, he never cheated on her? Not even with his wife? Not with a Polish porn producer? Sure. And what do you think about "He was the biggest love of my life and that's what Mel always told me"? How will Timothy Dalton feel about that? (Grateful.) I do believe Oksana about the lack of paternity test though – I can see Mel's ego being big enough where he couldn't even comprehend how the baby wasn't his. And to their credit, I'm sure Lucia is Mel's child.
UPDATE: We just got the new Hello so I'm just going to pull some more quotes from Oksana's exclusive interview. By the way, Hello Mag describes Oksana as "sweet-natured, funny and undemanding". We'll see.
On the split with Mel: "It's obviously helping me with my diet. I've lost like 10 pounds, unwillingly. I think I'm still in shock actually. It's very sad. It happened so suddenly."
On not bringing Lucia to Russia: "Every minute away from Lucia and Alexander (her 13-year-old son) was heartbreaking. I decided not to take Lucia at the last minute – she's too young. I will never leave her – I can't do that again."
On Mel as a father: "He loves her very much… [he's] an amazing person, very kind and generous. And tremendous as a dad."
On being with Mel for three years: "The truth always comes out. We've been together for three years – not one year as people have been writing. So over the past three years, there have been a lot of untruths, written by the yellow press mostly."
On giving birth five weeks early: "You see I had her on 30 October and her due date was 2 December. She came a whole month and two days early – probably because the yellow publications were giving me such a tough time, that the labour began a month early!"
On reports that they would marry: "We never talked about marriage, ever. I was not into marriage, I've been married before – although I believe in the institution of marriage, it's a wonderful thing. But we didn't talk about it because it wasn't important at the time.
Did Mel do the dumping? "No, no. I can't get into this without telling you what it is. I can't, unfortunately."
Did Oksana dump Mel? "No. It was amicable actually. I had to leave Malibu – that's where we were living together."
Any chance they'll get back together? "I don't know."
How did they get together, three years ago? "When I met him he was a year a half separated from his wife, and for another six months, it wasn't even an option. We were just working together. I thought he was married… then it was explained to me what had happened and I thought, okay. And he was very much trying to woo me, is that the right word? He wrote me a lot of poetry… it was very beautiful, impressionistic, like an edgy modern iambic pentameter. Mel has a really good grasp of language, he's fantastic with words."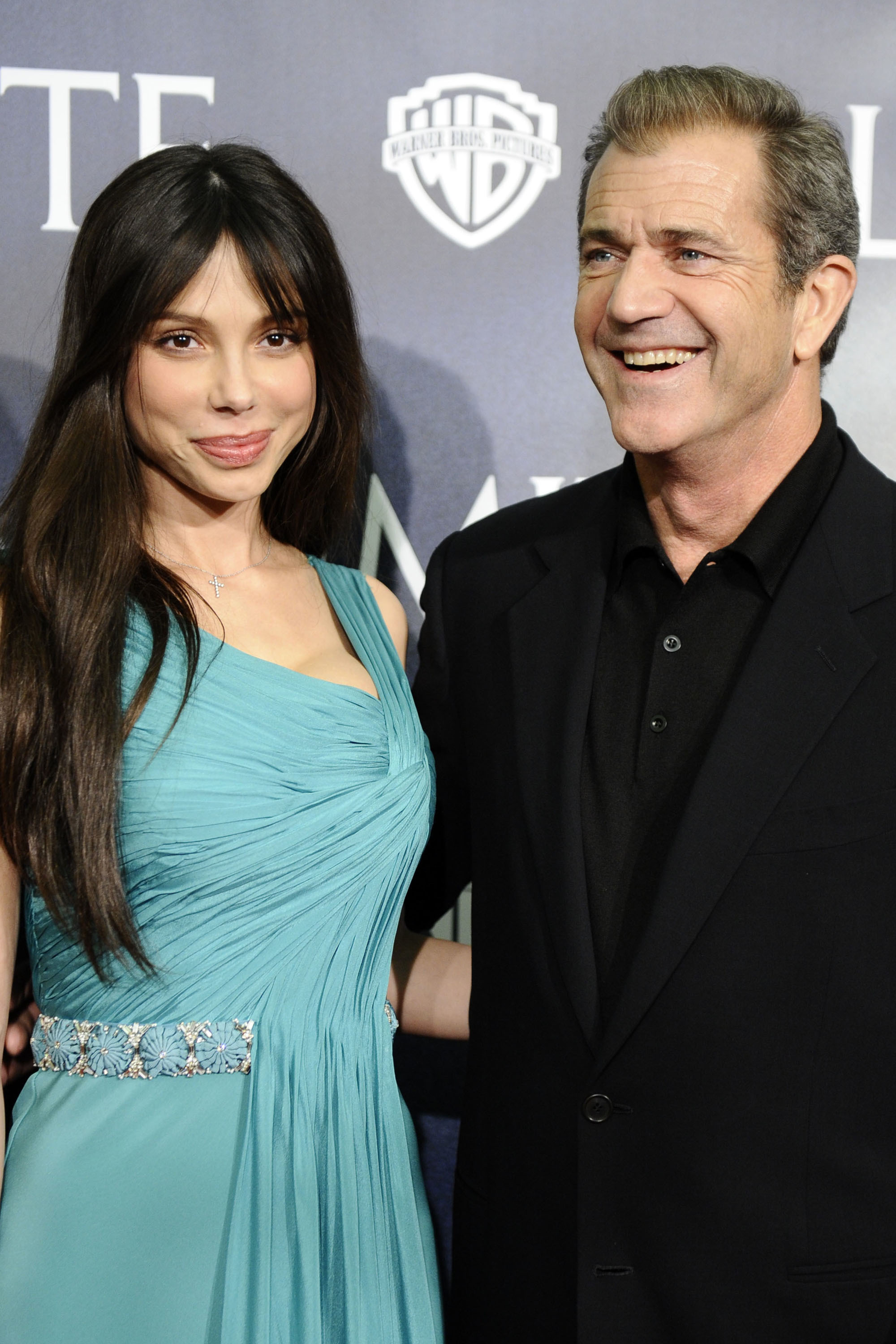 Oksana and Mel in Spain on February 2, 2010 & Oksana in Russia on April 19, 2010. Credit: WENN.