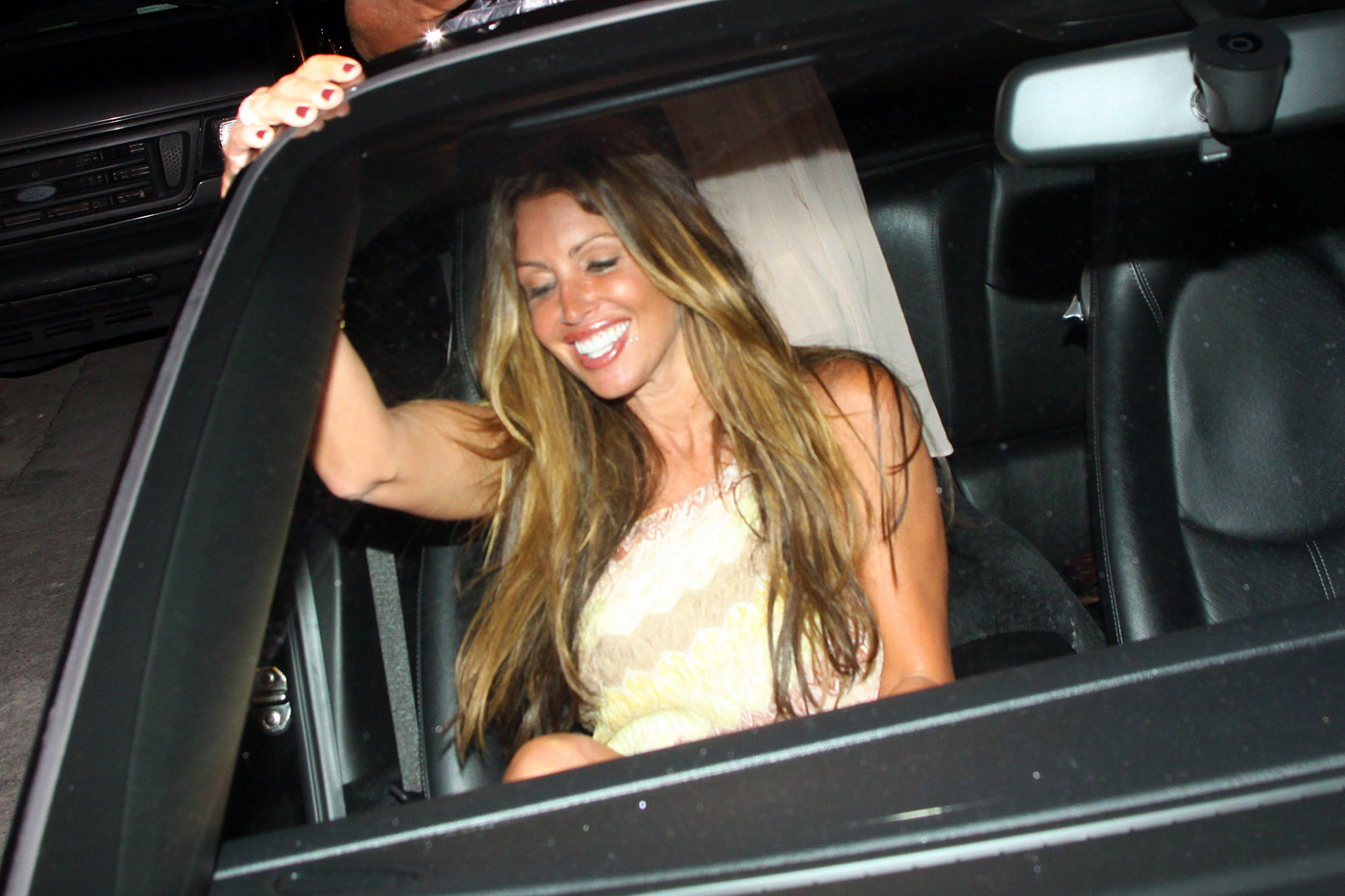 Ugh, this was the wrong story to read first thing in the morning. Radar has gotten their hands on what they claim to be the authentic text messages between David Boreanaz and Rachel Uchitel, his first rumored (or confirmed) mistress. There's still another mistress out there, the one who was trying to blackmail him, but we don't know her name. Even though Radar claims these texts are totally legit, I do have my doubts. Some of them sound like David (from what I've seen of him in interviews, I could hear him saying some of this sh-t), but they kind of make Rachel Uchitel sound demented. Maybe she is – but she was also smart enough to keep her mouth shut and collect $10 million from Tiger Woods, so really, how crazy is she? Anyway, the texts take place when David's wife Jamie was pregnant with their second child:
Before Tiger Woods there was David Boreanaz. Rachel Uchitel became a household name when she was revealed as Tiger Woods' mistress, starting a chain of events that let to the golfing great ending in rehab. But before Rachel's affair with Tiger she had an explosive affair with married Bones star David Boreanaz, and RadarOnline.com has exclusively obtained never-before-seen Blackberry Messenger messages between the couple.

The messages leave no doubt about the intensity of the affair and how Rachel pushed for the relationship to become permanent. In the Blackberry Messenger mesages Uchitel goes by the name of Puma and ranges from being graphically seductive with Boreanaz to raging at him for not spending enough time with her.

In the messages, Uchitel tells Boreanaz that she is unable to go see him in LA and urges him to come see her in NY instead, writing, "I need you here so we can be together."

Boreanaz tells her, "This is not a good time." His wife Jamie was pregnant with the couple's second child at the time of his affair with Uchitel.

Uchitel erupts in anger and writes, "I can't do this anymore…Just go. Just (bleeping) go and be with her."

This causes Boreanaz to get angry and he writes: "Why do u act like such a (bleeping) child!!! She is my wife"

But that doesn't cause Uchitel to back off and she replies: "Oh, please!!"

She grows more furious with him and writes: "You're such a liar. You're never leaving. You've wasted my time and I'm once again alone."

She adds: "I can't (bleeping) be alone anymore. I've been alone my entire life."

And Boreanaz fights back, writing, "What the HELL are you talking about. We spend more than enough time together."

The messages offer a rare and explicit look inside an affair between two people who would later go on to make national headlines for OTHER affairs.

Uchitel's affair with Tiger was exposed by the National Enquirer and caused his secret cheating life to be exposed. Boreanaz recently came forward and admitted to ANOTHER affair, saying that a woman was trying to extort him with details of that relationship. Boreanaz says he is now trying to put his marriage back together. But the messages obtained by RadarOnline.com that he was committed to sneaking around with Uchitel at this point in time.

Uchitel tells Boreanaz in one message that she is arriving in Los Angeles at 9.30 the next morning. A source close to the New York club hostess told RadarOnline.com exclusively that this is one of several secret meetings the lovers had in Los Angeles and that they hooked up at the swanky L'Hermitage Hotel – with Boreanaz footing the bill.

Uchitel also references another location, where, the source tells RadarOnline.com, the couple enjoyed a secret tryst. According to the source Uchitel flew on a US Air flight out of La Guardia airport with Boreanaz on June 21st 2009 and they had a three-day hook up.

"Rachel said they made love the entire time, she said David is amazing," the source tells RadarOnline.com.

In the sexually graphic messages Boreanaz references explicit pictures and video that he has sent to Uchitel, asking her what her favorite is. In response to Uchitel accusing him of not missing her, he replies, "I missss [sic] you more than words can express."

At one point Uchitel accuses Boreanaz of stringing her along, writing, "You're such a liar. You're never leaving. You've wasted my time and I'm once again alone."

When asked for comment through her attorney Gloria Allred, Uchitel had this statement issued to RadarOnline.com: "Rachel Uchitel has reviewed the text messages which are alleged to be between her and David Boreanaz. She believes that they are not authentic and that someone is deliberately trying to portray her in a false light. For this reason, Ms. Uchitel strongly asserts that these texts should not be published."

But RadarOnline.com confirmed the messages are indeed legitimate.

Uchitel received a nearly $10 million deal from Tiger Woods after her affair with the golfer was exposed. She has never publicly admitted to that affair.

Representatives for Boreanaz could not be reached for comment.

Uchitel tells Boreanaz that she needs to be "the only one" to which he replies, "That is extremely IMPOSSIBLE at this stage in my life., I fear Jamie will not let me see the baby."

In an exclusive interview with RadarOnline.com, Jamie's mom, Sue Bergman said her daughter plans to stand by her man – despite his two affairs. Saying, "It's not just David and Jaime that want to work through this, it's everyone that knows and loves them. That's what family is."
[From Radar]
I laughed at some of them. "We spend more than enough time together" is a classic, because of the implication of "We spend as much time as I'm willing to spend with you, a hooker." And what's with the guilt trip Uchitel is trying to lay at David's feet? "I'm once again alone." If you didn't want to be alone, why are screwing married men? Gloria Allred's denial is very strange to me too: "Rachel Uchitel… believes that they are not authentic and that someone is deliberately trying to portray her in a false light." Believes? So the hooker doesn't remember what she wrote to which married man?
Header: Uchitel in LA on May 5, 2010. Credit: PCN.