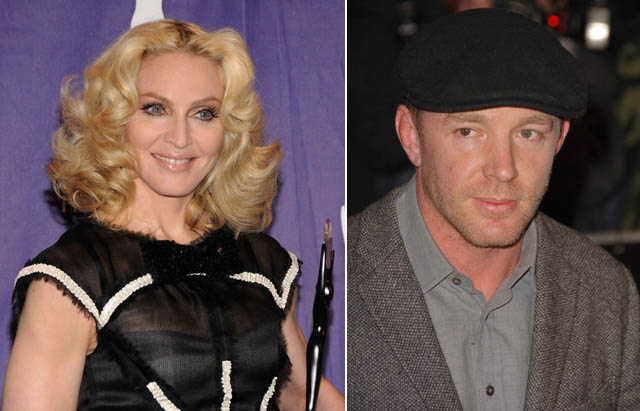 Madonna's album isn't even close to hitting shops yet, it won't be available until April 29th, but the hype is already building. She has producer of the moment Timbaland on the album, and Justin Timberlake. She's released the cover image, which is yet another crotch shot, but this time she's wearing a black leotard instead of the purple one she sported in 'Hung Up', and the leg warmers have been replaced with leather boots.
In order to make sure as many people as possible hear her new single, it's going to be released as part of a television commercial.
Pop superstar Madonna will premiere her new 4 Minutes To Save The World single in a Sunsilk shampoo TV ad on Monday night.

Madonna reportedly netted GBP5 million for the use of her image and hit song Ray of Light in a new Sunsilk ad and now she's using the campaign to launch her new track.

The song, from Madonna's upcoming album Hard Candy, is a collaboration with Justin Timberlake.
Madonna previously appeared in the Super Bowl commercial for the same company. The commercial means that no matter how hard you try, you probably aren't going to be able to avoid this song, and Madonna hopes, fall in love with it enough to buy her album.
Madonna was at the Hall of Fame induction ceremony alone this week, without Guy Ritchie. It seems the couple hasn't been photographed together for over two months, and obviously if they haven't been photographed together for months they can't have been together at all. Madonna only exists in the presence of the paparazzi.
News of the World, not the most reliable source, claims that the couple is over, but not planning to formally separate for another 18 months or so. This gives News of the World 18 months to be right, by which time everyone will have forgotten and Madonna and Guy will probably adopt another kid. Or at least a puppy. These two have been plagued by rumors since the day they married, in all truth he's probably just trying to concentrate on making a decent movie for a change. Madonna and Guy are hardly the most conventional couple around, perhaps they are separating for a time because they need a break from each other – somehow I suspect Madonna could be a little difficult to live with.
Madonna is shown at her Rock 'n Roll Hall of Fame induction on 3/10/08. Guy Ritchie is shown on 2/18/08 at the premiere of The Bank Job, thanks to PRPhotos.