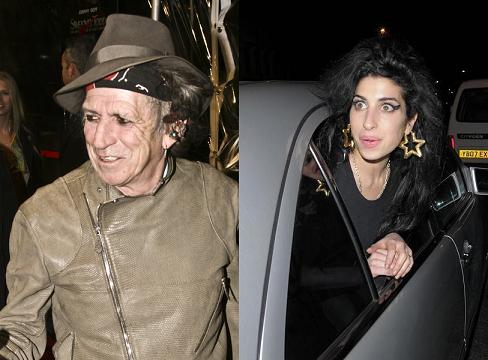 When Keith Richards gives you life advice, you listen. Why? Because he's freaking Keith Richards. Stories about him are legendary. There is no way to ascertain the difference between truth and legend with this man – but I would wager 98% of what you hear about him is the truth. This was the man who was knocked unconscious – resulting in a pretty serious head injury – falling out of a coconut tree. And this was fairly recent, not during the Rolling Stone's crazy glory days. Keith and Stones' singer Mick Jagger were interviewed by the Mail, and Keith told them Amy Winehouse was the only singer he finds worth mentioning – but that she'll be dead soon if she doesn't change her ways.
Rolling Stone Keith Richards has revealed the only modern pop star he rates is troubled Amy Winehouse. But the guitarist – famous for his huge consumption of illegal drugs – warned that Amy, who was pictured recently smoking crack, "wouldn't be around for long" unless she cleaned up her act. The Stones' lead singer Mick Jagger also said Winehouse's music would suffer because of the time she spent dealing with the authorities over drugs.

Asked which modern artists he rated, he said: "There's only one person. That girl Amy [Winehouse]. Mind you, that girl isn't going to be around long unless she sorts herself out pretty quick. Amy's got to get smart." Richards, 64, said he did not expect her to listen. He said: "I'm not a preacher. But I've been there and you have to pass it on."

Jagger, also 64, spoke of the band's trouble with the police over drugs in the Seventies. He said: "It completely took over our lives creatively and we couldn't do this and couldn't do that. You had to spend all your time trying to deal with the police. The same thing has happened to Amy Winehouse."
[From The Daily Mail]
Is this a case of the pot calling the kettle black, or is it more like, "Hey, when even Keith Richards is telling you to lay off, it's probably something you should consider?" Probably a little of each. If nothing else, Keith is a great cautionary tale. Look at that man's face. Tell me he doesn't look 92, and I'll tell you that you're a damn liar. The man battled a coconut for God's sakes. I realized I already mentioned that, but I'm a little hung up on it. It's not your average occurrence. If nothing else, I'd guess that Keith Richards and Mick Jagger are probably musicians Amy respects. Maybe their advice will merit a bit of consideration for that reason.