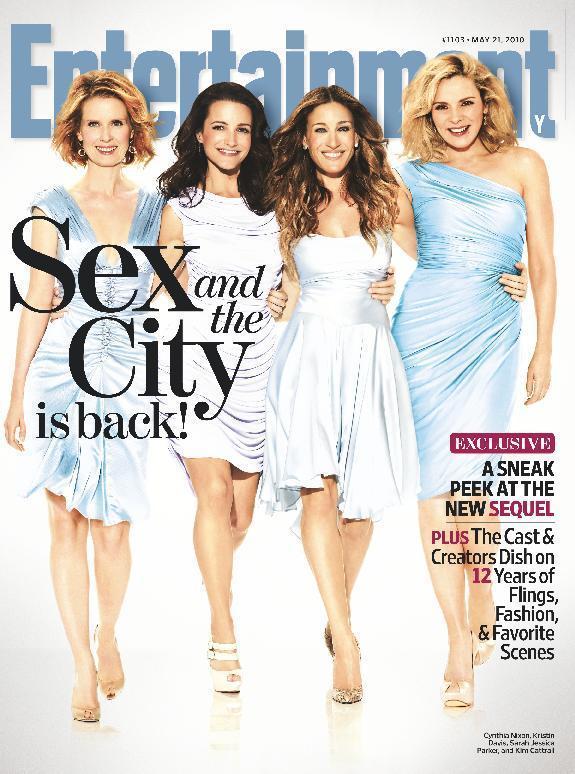 At some point, someone high up in the entertainment industry just has to come out and say it – there isn't a Photoshop program big enough, advanced enough, hardcore enough to make the Sex and the City ladies look like they're still in their 30s. It wouldn't be so bad, except for the simple fact that no one wants to acknowledge that all of the women are past 40 years old, and they don't need to look 30. Except that Hollywood is afraid, I think, of marketing a film about four women over 40 years old. They simply don't know how to do it. Thus, we get these horrible Photoshopped magazine covers and posters, where it looks like the women are cartoons – Vaseline-covered cartoons. Blurry, unfocused, frozen, waxy. Ugh.
Meanwhile, In Touch Weekly is still promoting their cover story this week with endless stories about Sex and City 2. Here are some of the stories compiled, although I only think one of the quotes is really interesting – they spoke to SATC costume designer Patricia Fields at length, and she's bitching about how the girls are styled for the promotional images. Woman, you're looking at their clothes?!? What about their cartoon faces?
As any Sex and the City fan knows, the clothes help tell the story, so who better to give the scoop on the new movie than famed costume designer Patricia Field? "I'm very, very happy," Patricia tells In Touch of the finished product. "I give it an A and I don't give As out very often. It was different than any other movie I've seen lately. I could call it 'Sex and the City musical.' It's just one happy surprise after another. It was visually beautiful." A lot of that is thanks to Patricia, who also helped design an exclusive bottle for SKYY Vodka based on Sex and the City style — but there's one part she wants nothing to do with. "I did not do the movie poster — that's why it didn't look like it should," she reveals. "I guess they didn't want to pay my price!"

With the glitzy backdrop of Abu Dhabi and 41 costume changes for Carrie Bradshaw — including pieces by designers like Halston, the late Alexander McQueen and Pucci — it's no surprise that stylist-to-the-stars Phillip Bloch, who was on the set, estimates the Sex and the City 2 wardrobe budget at a whopping $10 million! "Some of these pieces cost more than an SUV," he says. "But they get better mileage!"

Fans will not be disappointed with the pricey accessories and stunning designs worn by Carrie and her pals. SATC stylist Patricia Field — who Sarah Jessica Parker calls "indispensable" — worked her wardrobe magic again, flawlessly mixing high- and low-end pieces for stylishly innovative looks sure to set trends across the globe. "When you're in a recession, you want to have a good time!" says Field. As if we weren't envious enough of the clothes already, Kristin Davis reveals that the actresses get to keep their wardrobes! "We're really careful though, because they're often one-of-a-kind samples from the runways," she says. "So we don't eat in them!"
[From In Touch Weekly]
Come on, that's really what the movies are about at this point. Where the television series always had good or interesting fashion porn, the focus really was on character development and the relationships these women had with men and with each other. Not anymore – now the films are just about the fashion and how with enough Vaseline on the camera lens, you too can pretend that you're 35.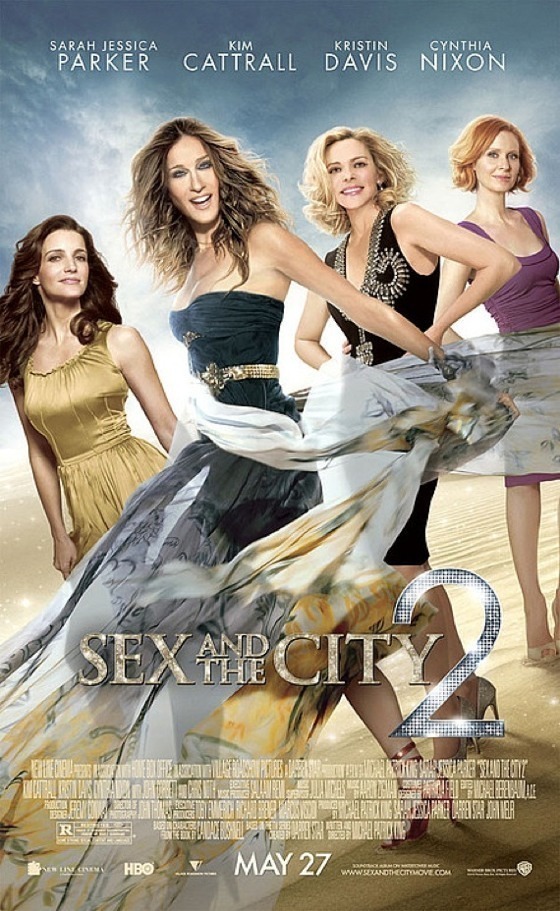 EW cover & poster courtesy of HuffPo.