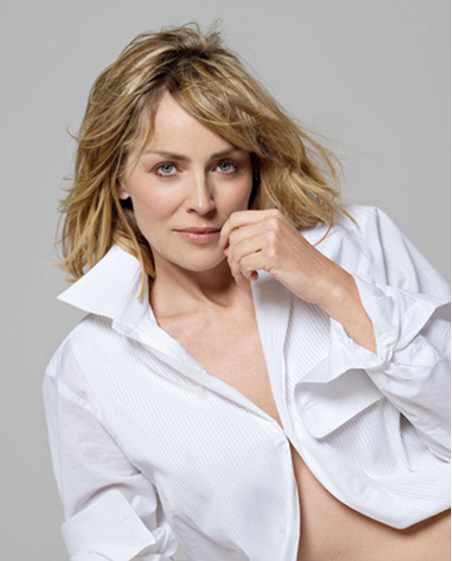 Sharon Stone is the June cover girl for More Magazine. In the interview (which is online, here), Sharon talks about getting lip injections and how she's "shameless" et cetera. Of course, she's also talking about how her love life is like the Mojave, so maybe she's not that shameless. Regarding the lip injections, I always wonder if Sharon has had any major work done – she's one of those women (like Catherine Zeta-Jones) where I can't tell if they've had no major work or just had really amazing work that looks natural. Here's more from Sharon's interview:
Sharon Stone is shameless. The actress considers it a skill to have no shame. She thinks everyone should try it, though she cautions that if you're female, shamelessness can cost you. Her refusal to feel guilty, she says, has gotten her labeled difficult, or worse.

"I'm like a Prohibition-era flapper. I'm like a juke-joint hussy," Stone says over lunch at an Italian restaurant near Beverly Hills. But better to be called names than to be pressured into not being herself. Feeling ashamed, she says, "is not an organic state of being, so shamelessness is closer to godliness. You have to put shame down."

The actress, who broke through as the shamelessly sexual villain in Basic Instinct and most recently did a four-episode guest stint on Law & Order: SVU, says, "I'm detached from my celebrity; I don't need to be 'it' anymore." She's been thinking a lot lately about getting older, about womanhood and about lost love. What she's concluded may surprise you.

"Life and love is like the ocean," she says between bites of a Caesar salad. At 52, she is stunning up close—blue eyed, lithe and radiant in ripped jeans, a white T-shirt sans bra and a linen vest. "Sometimes the tide is in and sometimes the tide is out, and sometimes it's like the frigging Mojave." Where's the tide now? "For me? Mojave! Fortunately, I like the desert. I'm a desert flower."

Of course, a dry spell in Stone's life can sound like a torrential downpour to the rest of us. For example, she acknowledges that since her divorce from former San Francisco newspaper editor Phil Bronstein six years ago, "I really get pursued by men in their twenties, like, a lot." Her theory on why? "They probably know there's food in the fridge and that somebody's going to talk to them and ask them how their day was."

Her divorce, she tells writer Amy Wallace, hit her harder than she has revealed up till now, starting with insecurity about her looks. Loneliness and self doubt caused her to get something—she doesn't recall what—injected into her lips. "Nobody loves me. I'm 103. My life would be better if I had better lips," she says, recounting the thoughts that went through her head pre-injection. Just one thought occurred to her afterward: "What the hell?" Her lips were so overplump, gloss wouldn't stay put; what's more, her lips no longer matched. She looked "like a trout," she says. She adds that she's shunned plastic surgery ever since.

As for her feelings about Bronstein, Stone, who has previously had a sort of tough-as-nails demeanor when discussing their split, says now that she married him "with every best intention for every good and wonderful thing." And when the marriage was over, it crushed her. "It takes a long, long time to come to the point where you can actually say that you got married because you were in love with the person. And it makes me cry," she says, dabbing at her eyes. It's easier to be angry. But to let that go and "to admit your own lovingness was, for me, a harder step. Not to be embarrassed or ashamed that I could love somebody who didn't love me. And that can be OK."
[From More Magazine]
Do you buy that Sharon has 20-something dudes coming up to her? Perhaps. But – and I'm seriously not trying to be rude and mean, I swear – I think if guys in their 20s come up to her or proposition her, it's for the kitsch value of it. Like, those are the guys who had their first masturbatory celebrity fantasy to Sharon in Basic Instinct. Of course, maybe she's a lot of fun and really cool to be around and there really are 20-something dudes just salivating to hit that. But I doubt it, on all counts.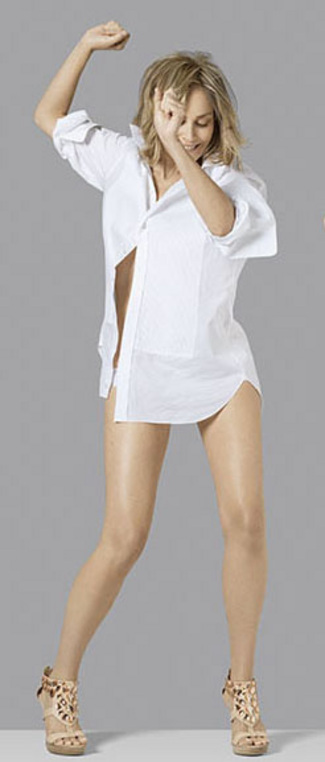 Pics of Sharon, courtesy of More online.