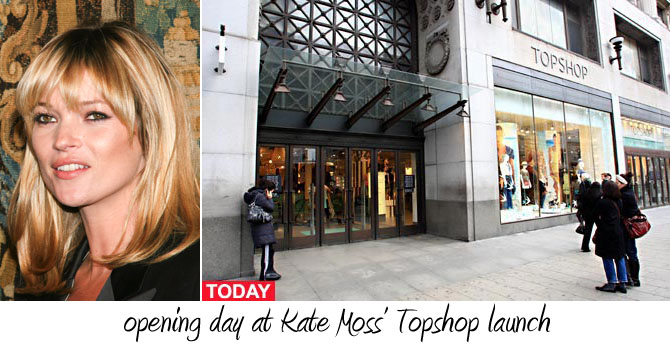 Kate Moss has a new collection for Topshop, full of the regulation shorty shorts and tank tops that everyone wears all summer when it's hot. Coming a year after her first collection, which inspired hysteria on the High Street, this one has barely got a look in. London entertainment site This Is London has pictures from outside the store this year and last year, 2008 noticeably without any crowd.
I'm beginning to think that a celebrity range of clothing is losing it's appeal. Whitney Port, Lauren Conrad and Heidi Montag from The Hills all have a range coming out, Nicole Richie is planning a maternity line, and the ugliest clothing I have ever seen, celebrity designed or not, has got to be Chloe Sevigny's floral nightmare. I can't imagine anyone would ever wear it, unless it's nightwear, as between the sheets it would serve as a pretty good contraceptive.
Last March Forbes ran a piece about celebrity fashion lines, suggesting they were just another way for a celebrity to make money and keep their profile high. While I don't think this is a blanket rule for all celebs, I would have to admit that a lot of their clothes seem more 'inspired by' then actually designed by the celebrity. How many people outside of the fashion industry would have the skills required to create a fashion range anyway?
Kate Moss' latest range from Topshop is pretty cute, you can check it out here.
Note by Celebitchy: Some of the dresses and tank tops are cute, but there are also some truly awful shirts in Moss' collection. Here are some of her clothes from her new TopShop line.