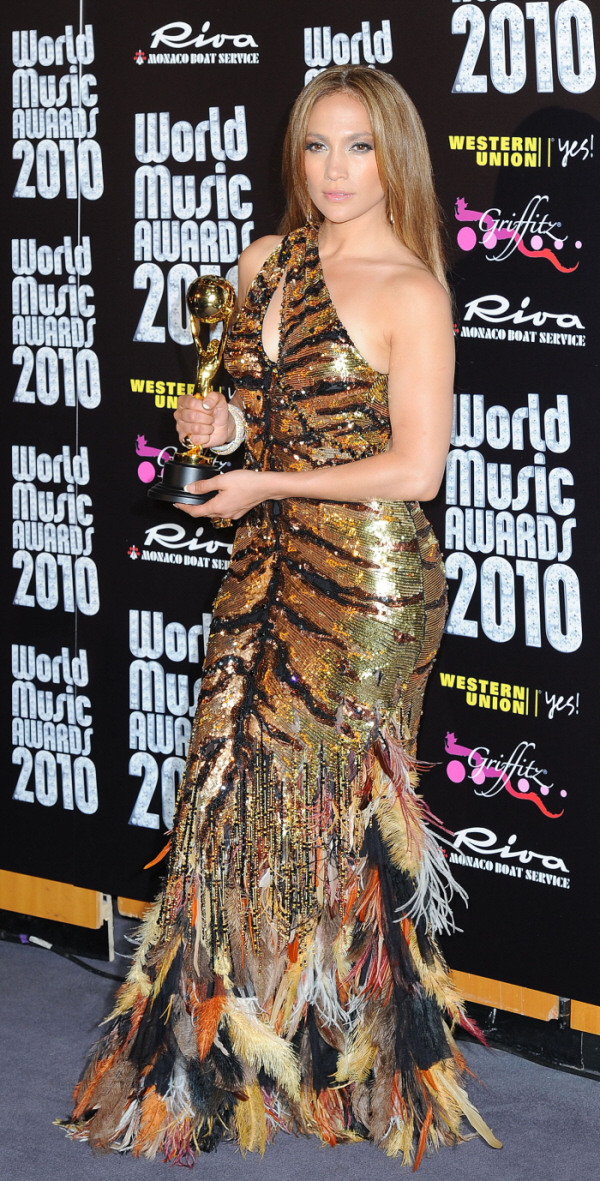 These are all photos of Jennifer Lopez in Monaco yesterday, at the World Music Awards. She not only showed up for the red carpet (in the black and white gown), she performed (in the minidress and boots) and she won some award (in the gold and black gown). Three costume changes for one event? Our old J.Lo is back! Oh, and how. The Daily Mirror got their hands on Jennifer's rider (her list of demands) for her performance in Monaco, and it's priceless. She needed a helicopter on standby… just because. She needed $3000 daimond-encrusted headphones… just to keep the noise of the motor boat (re: poverty) down. Oh, and don't even ask for her specifications for the motorboat:
When J-Lo agreed to sing at the World Music Awards she was determined everyone would dance to her tune. Before gearing up for the star-studded event in Monte Carlo last night – where guests included Peter Andre and Heroes actress Hayden Panettiere – Ms Lopez made sure her every whim would be catered for.

We got our paws on her rider as she was ferried by speedboat from Cannes to Monaco – and as far as diva-like demands go, it makes Mariah Carey look small time. As well as a helicopter "on stand-by", Jennifer, 40, insisted on a custom-fitted speed boat – complete with love seat, faux leather seats and a champagne fridge – oh, and a pair of £3,000 diamond-encrusted headphones to keep the noise of the boat's motor down.

On her list for when she actually arrived in Monaco was an on-call masseuse, a 12-strong hair and make-up team, a hotel floor to herself and a stretch of private beach.

But when we bumped into the stunning star, who was to receive a WMA gong for Outstanding Contribution to the Arts, she couldn't have been nicer.

We met Jen as she checked into her five-star hotel with hubby Marc Antony and their twins Emme and Max. And she promptly invited us to join her backstage at the awards.

After ordering a massage, she headed back to her suite, but not before telling us: "Hey ladies, I'll be seeing you later! Get ready to party." You're on.

Our source says: "Jennifer was partying on board Sir Philip Green's yacht in Cannes before being transferred by speed boat to Monaco for the WMA. Her people requested that she have an entire floor of the hotel to herself to ensure she wasn't hassled. Privacy was a main concern so she had a piece of beach roped off, too. She spent the morning playing there with the kids. But she declined the offer of a butler, insisting she was happy to do things for herself."

Like what – brush her own teeth?
[From The Mirror]
So she's still lives in a world that guarantees her diamond encrusted headphones to block out the sounds of poverty. She's a diva, alright? And a diva can withstand any recession.
Meanwhile, I just can't get enough of these photos. Jennifer really does think she's God's gift. Bless her heart.
Jennifer in Monaco, with Marc Anthony on May 18, 2010. Credit: WENN.