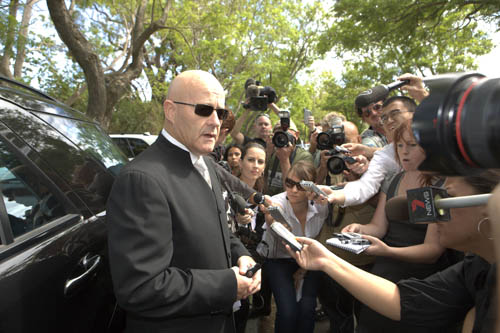 Heath Ledger's uncles have gone public with their concerns over Heath's father Kim Ledger's spotty track record of managing financial estates. After Heath's death, it was revealed that the actor left his assets to his parents and sisters, because he hadn't updated his will since before his relationship with actress Michelle Williams and the birth of their daughter Matilda. Now, Kim Ledger's brothers are expressing worry that Kim's lack of asset management skills could jeopardize the estate.
Heath Ledger's uncles are speaking out against his father Kim's handling of the actor's assets, saying Kim has a bad track record of estate management.

Ledger's father so mishandled the management of their grandfather's estate 15 years ago in Australia that Kim was removed as executor, the uncles claim.

"It plunged into enormous debt," Mike Ledger, one of Kim's brothers, tells PEOPLE.

Heath died in January at age 28 of an accidental mixture of prescription drugs – leaving behind a daughter, Matilda, by his ex, actress Michelle Williams. His will, written before his relationship with Williams, leaves everything to his parents and sisters.

Ledger's uncle Mike insists the family has nothing to gain by removing Kim: "Our only vested interest is to assure that Matilda is well looked after."

Mike added that Kim's recent statement that Matilda "will be taken care of" was not enough assurance. "When you are talking about large sums of money like this," he says, "it should be an independent executor, but Kim hasn't chosen that way."

Williams's Father Raises Questions
Another of Kim's brothers, Hayden, tells PEOPLE that Williams's father, Larry, asked him if Kim was capable of managing the actor's estate. "I just said, 'No, not if he handles it like ours,' " he says.

The bitter dispute among the brothers dates back more than 15 years, when Kim became an executor of their grandfather Sir Frank Ledger's estate, which they estimate was worth about $2 million in the mid 1980s. The family patriarch was a respected engineer in Perth.

According to the newspaper The Australian, Frank's daughters filed a motion in Supreme Court asking to have Kim removed as the executor. The submission to the court stated that Kim's handling of his grandfather's estate "placed the assets at risk." A report in Australia's The Sunday Times says that a Supreme Court judge eventually removed Kim from overseeing the estate.
Quite frankly, it's none of the uncles' business how Kim Ledger chooses to manage his son's estate. But this does illustrate how important it is for people to update their wills and make sure their financial assets are in order, even when they're only in their 20s. You just never know what will happen, and it's really a strain on the surviving family who has to figure all of that out after you're gone. I'm sure little Matilda is going to be provided for, no matter what. Heath's family and Michelle Williams will see to that.
Kim Ledger is shown in the header image outside his son's funeral on 2/10/08, thanks to Splash News. (We said we would post no funeral photos, but this one is a little different.) Heath is shown below in London taking his daughter out in her stroller.