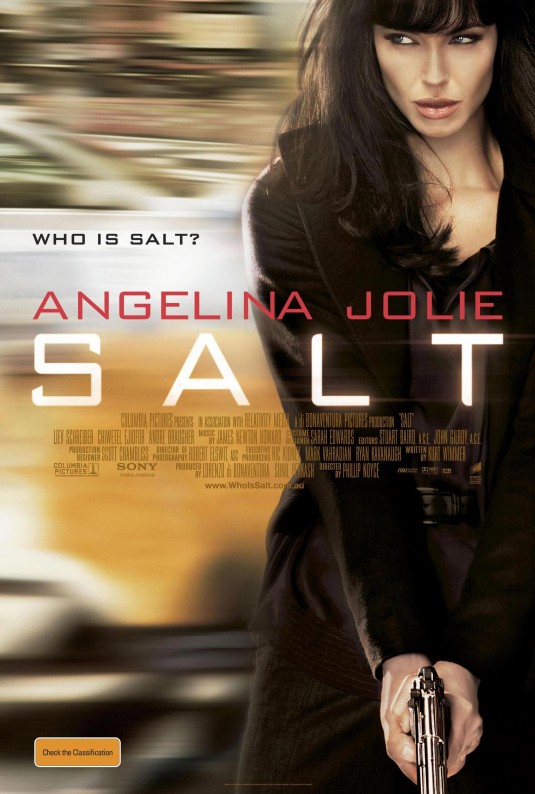 Angelina Jolie just couldn't let Jennifer Aniston have the only grossly Photoshopped face this week. Angelina is a Photoshop-thunder-stealer. She is a 'Shop-wrecker. Anyway, this is the newest poster for Jolie's movie Salt. The first poster (below) was just of Angelina's face, off-kilter, in the black wig. In this one she's still got the wig, but they've done something to her eyes and upper lip. She looks like Alien Jolie. Like Angelina mixed with Xenu. Xenolie? Xenulina?
It looks like Angelina Jolie may have gotten a little work done — via Photoshop — in a just-released new poster for her action flick Salt.

The 34-year-old actress and mom's face appears dramatically different in the new image for the film, which premieres July 23 in the U.S.

The film centers around Evelyn A. Salt (Jolie) a rogue CIA operative trying to clear her name. The part of Salt was originally written for a man: Tom Cruise.

"She's a character you never know," producer Lorenzo di Bonaventura previously told USA Today. "People who think they know the real her may or may not. Those who think they can tell whether she's in a disguise also may or may not."
[From Us Weekly]
Is this the worst Photoshop of the week? I don't know, it's only Tuesday Wednesday (whatever). What is going on lately with the poster-makers and they're masturbatory Photoshop adventures? Personally, I don't find this one as frighteningly offensive as the Sex & the City disasters, where the ladies honestly look like cartoons, but this is not good.
Here's the trailer for Salt: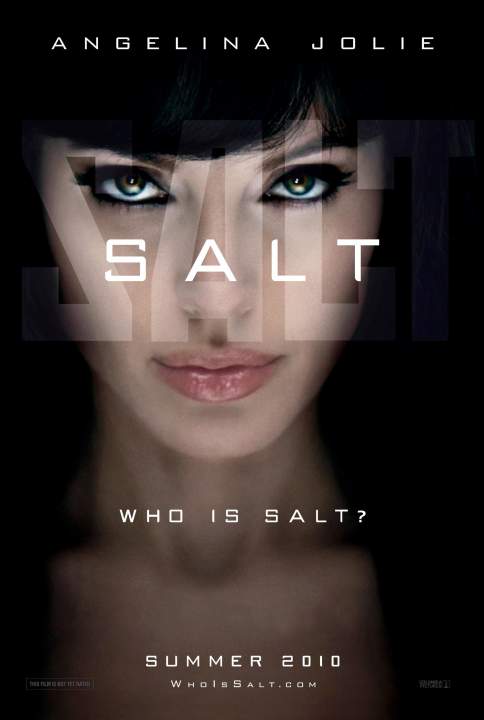 Salt posters courtesy of Filmofilia.