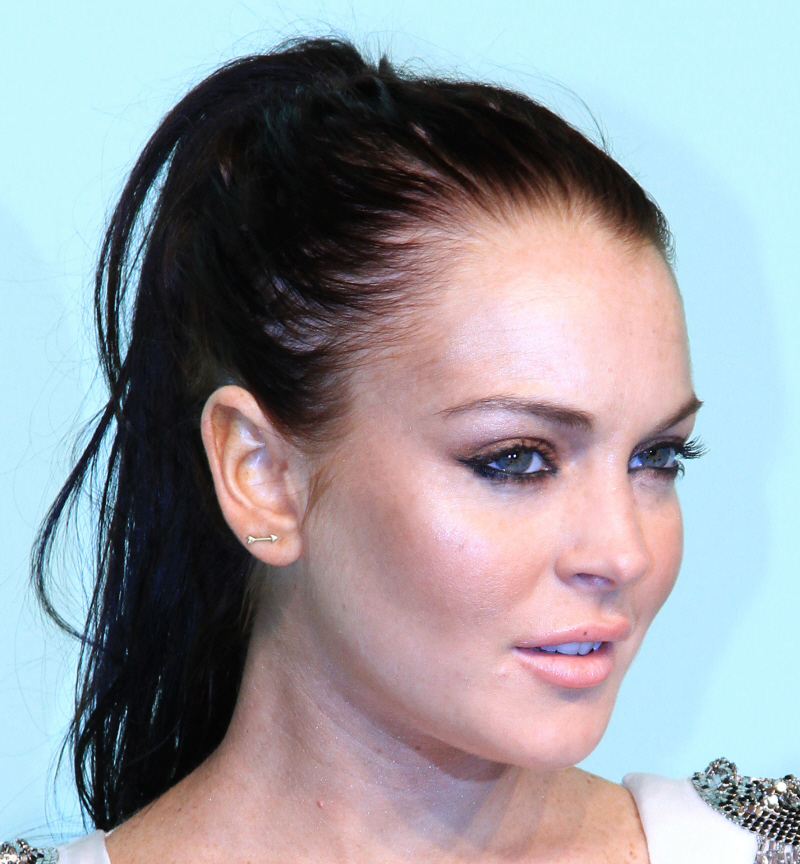 Yesterday, I tried to sum up all of the sketchy, cracked out excuses Lindsay Lohan was making for her inability to fly back to Los Angeles to face her court date, which is today. Her lawyer claimed that Lindsay had lost her passport, and that they were trying to get some kind of emergency temp passport from the American embassy. Dina Lohan went to Radar and threw herself a little pity party because there wasn't "someone in a higher echelon to help us" at the French embassy. Uh… French embassy? That would be necessary if a French citizen was caught in America. Not an American citizen caught in France. Ugh, Dina, f-ck your damn lies. Anyway, as predictable as this sounds, it turns out that the Lohans got caught out on their bullsh-t quick. Radar is reporting that according to the duty officer at the U.S. Embassy in France, Lindsay has not applied for a new passport.
Lindsay Lohan has not requested a new passport and may be stuck in France for a little while longer, RadarOnline.com has exclusively confirmed. Maryse Nebatti, the Duty Officer in Marseille for the U.S. Embassy in France, told RadarOnline.com that Lindsay reported the passport stolen but "has not requested a new passport."

The embassy office in Marseille is the closest location to Lindsay who has been in Cannes promoting her latest role as porn star Linda Lovelace.

Lindsay's mother Dina told RadarOnline.com that her passport was stolen and she was turned away from a flight back to the United States on Tuesday.

"This was not a planned scheme," she said.

The U.S. Embassy confirmed that Lindsay faxed a copy of her passport to their Paris embassy but has not specifically requested a new one. According to the Duty Officer, neither Lindsay nor her mother Dina have contacted the Embassy, but a representative of hers from the United States phoned the Embassy in Paris at 6:25pm local time.

The Embassy closed at 6pm local time but the representative spoke to an after hours staffer.

Nabatti told RadarOnline.com that even though she has not received a request for the new passport, she has contacted the Consul to alert them of Lindsay's situation.

"There is nothing we can do this late," Nabatti told RadarOnline.com.

According to the Embassy, Lindsay needs to fill out the paperwork to get a temporary passport. That paperwork cannot be obtained until Thursday morning. Danette Meyers, the Deputy District Attorney in Los Angeles who is handling Lindsay's case, told RadarOnline.com that she will seek to jail Lindsay for up to 180 if she is found to be in violation of her probation. Lindsay's mother Dina insisted this was not an excuse for Lindsay to get out of the court hearing on Thursday in Los Angeles.

"I'm exhausted… I've been up for the last 24 hours with Lindsay and her attorneys dealing with this," she told RadarOnline.com earlier on Wednesday. "We are actively dealing with the French Embassy as we speak but unfortunately they close at a certain hour so we¹re trying to get someone in a higher echelon to help us."
[From Radar]
Jesus, what cracked out drama. And for what? Because Lindsay wanted to party in France. Because she wanted to f-ck Dominic Cooper and pose on red carpets and do the heavier French drugs. And because she doesn't give a sh-t about court appearances or even doing the very bare minimum to see that she doesn't go to jail. Well, she's still "stuck" in France. So she's going to jail.
By the way, LaineyGossip did a really great, epic post about Lohan Drama yesterday and she pointed out several two points. One: "They were floating around the excuse that she might not make it due to volcanic ash. Please. The ash is only affecting flights to the UK. France to Germany and then connecting to North America – at press time – is fine…. She's here because she's an asshole." Second point: "On the advance tip sheet for a party happening tomorrow night, her name was ON IT. So if she was supposed to be back in LA, how come someone told the party organizers that she'd be showing up?" Because Lindsay's plan was to have a cracked out adventure in France all along. Wouldn't it be awesome if she stayed there, a la Roman Polanski? Like, she would be a cracked-out fugitive from justice.
By the way, I'm doing these close-ups of her so you can see how f-cking dirty her skunky crackface is. Look at her filthy face! How do her ears get that nasty?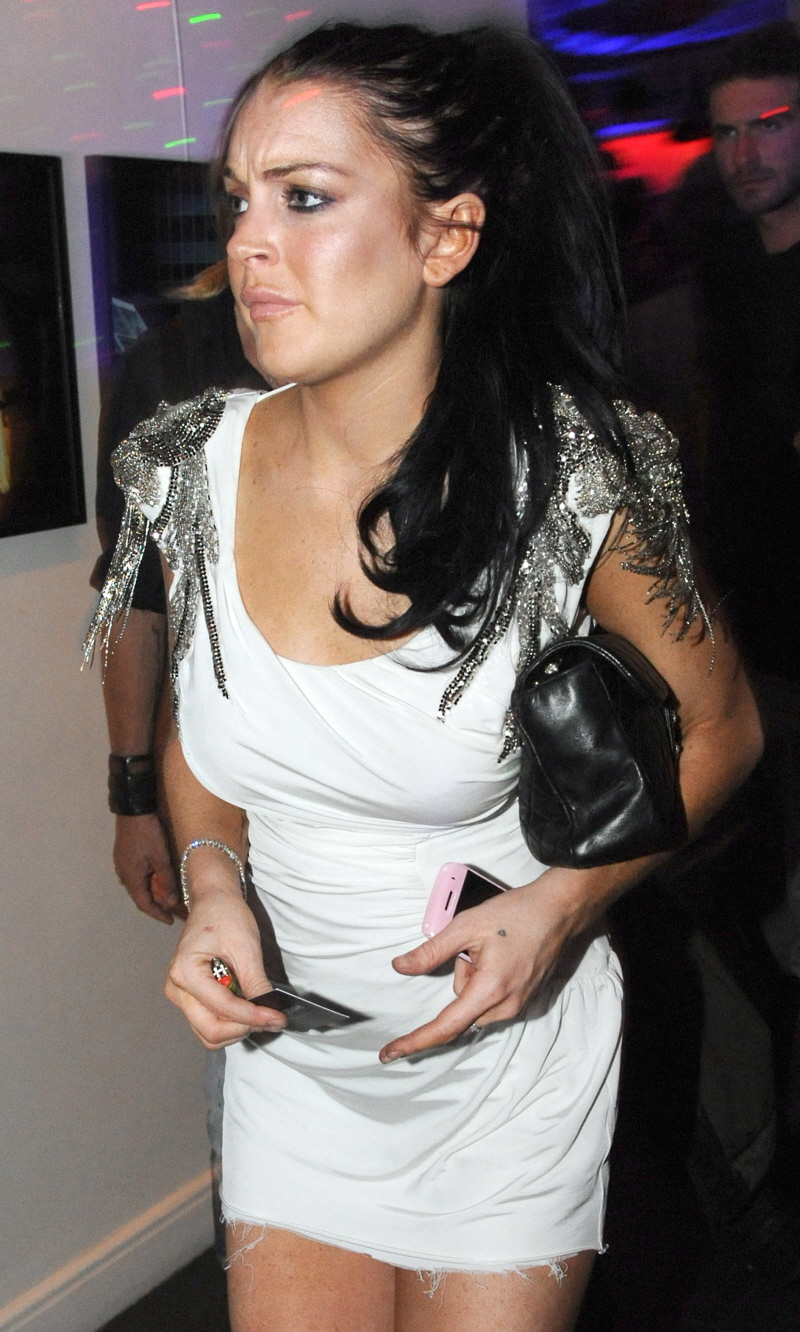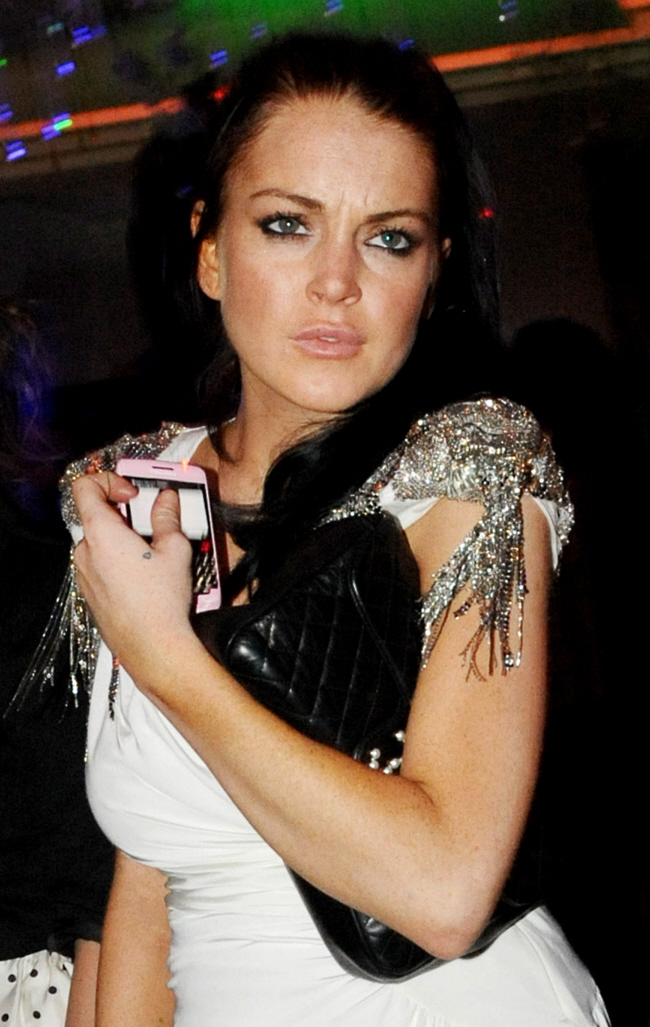 Lindsay Lohan in Cannes on May 17, 2010. Credit: WENN & ANG/Fame.