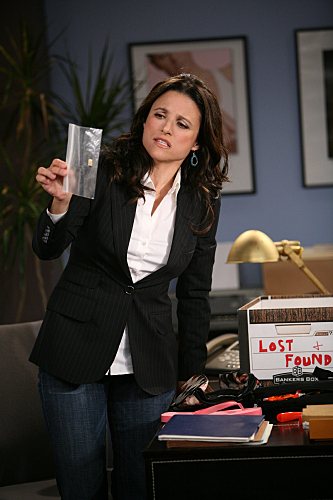 Yesterday I considered covering the news that CBS had announced its fall schedule, and that several shows were canceled. It's the upfronts week, when the networks present schedules hoping to woo advertisers, and there's plenty of news about what shows we can look forward to seeing more of and which we have to say goodbye to. (If you'd like to know more, here are the 2010-2011 schedules for ABC, CBS, NBC and The CW.)
Among the shows canceled by CBS are the cheesy but good Ghost Whisperer, with Jennifer Love Hewitt, and comedy The New Adventures of Old Christine, with Julia Louis-Dreyfus. Ghost Whisperer has been on for five seasons and I have to admit I've enjoyed it on the few (ok, many) occasions I've watched it. It's like reading one of those Chicken Soup for The Soul books, you know it's supposed to suck and won't challenge your brain but you still enjoy it. My mom watches New Adventures of Old Christine, which also wasn't renewed for a sixth season. I've only watched a couple of episodes. At first I found the jokes lame but it was kind of funny once I gave it a chance. There's something annoying about Louis-Dreyfus' self centered lead character, although I love her sarcastic best friend, played by Wanda Sykes.
EW's Mark Ausiello reported that Old Christine and/or Ghost could potentially get picked up by ABC, so there's hope that the shows will continue on. Old Christine's creator isn't holding her tongue in an effort to woo another network however. In an interview with TV Guide, creator Kari Lizer slammed CBS for not supporting the show and practically called the network sexist:
The creator of The New Adventures of Old Christine has criticised the show's cancellation.

Speaking to TV Guide Magazine, Kari Lizer suggested that CBS's decision to axe the series was sexist.

"As far as what happened at CBS, we've suffered from a serious lack of support from them since the beginning," she said. "I hate to say it, but I'm afraid they don't care much for the female-of-a-certain-age point of view over there. How else do you explain them squandering the talents of Julia [Louis-Dreyfus] and Wanda [Sykes]?"

Lizer played down speculation that the show will be picked up by ABC, but added that she wants the series to continue.

"I don't think we're going to know anything about ABC for a few days," she said. "I'm hoping for life after CBS."
[From Digital Spy]
It's possible that Kari encountered a lot of resistance from the good 'ol boys network at CBS, but is it wise to mention that? The show was on for five seasons and it's not like it was canceled in its freshman year. Maybe she dealt with an unbelievable amount of crap, though, and is actually being reserved in the way she's explaining it. We have no way of knowing unless more information comes out.
I personally wouldn't care either way if the show was picked up by ABC, but I know it will make a difference to my mom. And, you know, I'm kind of hoping Ghost Whisperer comes back.