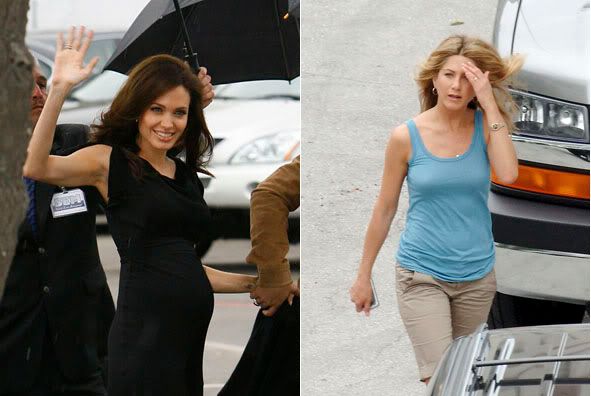 Jennifer Aniston is said to be writing a tell-all book, where she spills the beans on what really happened at the end of her marriage. Or at least it will share her side of the story.
Jennifer Aniston will write about Angelina Jolie and Brad Pitt in a new book, say reports.

The Friends star is going to speak out about the breakdown of her marriage to Pitt and about his current relationship with Jolie, claims the Daily Star.

A source said: "This book could ruin Angelina and Brad. Jen will prove that the pen really is mightier than the sword."
This story was shot down last year when Star Magazine ran a "Jennifer Aniston's $5 Million Tell All" cover story in which it came out that they had photoshopped a catalogue she was carrying to make it look like a manuscript.
The wheels of the Brangelina rumor mill just keep on turning, and here's the latest from In Touch magazine. It's the same story we've heard before that Angelina Jolie is expecting twins, except now they're claiming it's a boy and a girl.
The couple has yet to confirm the baby news, even though Jolie's ever-growing belly suggests she's with child, and their publicist is offering a firm "no comment" on the latest reports.

According to In Touch, Jolie was overheard cooing about her unborn babies on the set of Pitt's new movie, Tree of Life, in Texas, telling one pal the little ones are "kicking and moving."

A source tells the publication Jolie and Pitt were overjoyed when they heard they'd be having twins after a visit to their obstetrician/gynecologist Dr. Jason Rothbart last week.
I'm over the whole Angelina Jolie has another baby thing. The rumors are not going to get confirmed until the end of the pregnancy anyway so they may as well quit making up stories about it.
Some other speculation on the pregnancy is that Brad and Ange will be naming the girl twin Mallory at the request of Maddox, and that the pregnancy is the result of fertility treatment. At this point, like the Jennifer Aniston tell-all book, it all sounds made up.
Note by Celebitchy: Jennifer Aniston is shown on set in Miami on 3/17/08, thanks to Splash News. Angelina Jolie is shown at the Independent Spirit Awards on 2/23/08.